Utop – FPT Software's startup on blockchain-based loyalty programs has officially launched an online shopping ecosystem named TL-Base in collaboration with Thang Long Industrial Park – one of the largest Japanese-run industrial parks in Vietnam. The ecosystem aims to benefit over 60,000 workers as well as the businesses in the industrial park.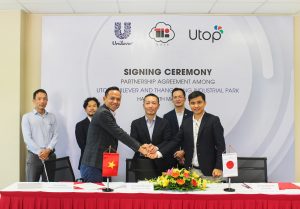 The signing ceremony among representatives of Unilever, Thang Long Industrial Park and Utop
Built on Utop application, TL-Based offers Smart O2O solution – online-to-offline retail which combines traditional and online selling methods through digital technology. This innovative solution helps narrow the gap between businesses, suppliers, and consumers quickly, which in turn enhances customer experience and convenience by promoting the use of cashless payment and establishing a network with high-level information security.
For workers and households in Thang Long Industrial Park, TL-Base ecosystem on Utop allows them to buy daily necessities online from manufacturers like Unilever, Vinamilk… and from those stores located in traditional markets around the area. This helps users save time as they can flexibly pick up goods at factories, industrial park, or proximate retail stores. They can shop anytime and anywhere by scanning QR code using their internet-connected devices.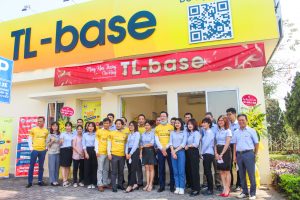 An official TL-Base store at Thang Long Industrial Park
In addition to the online shopping ecosystem, TL-Base on Utop also facilitates the employee reward systems of businesses in Thang Long Industrial Park by converting bonus and welfare funds to reward points. Besides, TL-Base allows users to earn points and exchange gifts at hundreds of different stores across the network of Utop partners in Vietnam.
Consumer goods enterprises such as Unilever and Vinamilk can use TL-Base on Utop to reach end-users directly instead of going through traditional channel intermediaries, which reduces incidental expenses thereby optimizing their selling prices. In the foreseeable future, Utop intends to connect more businesses into the TL-Base ecosystem to offer more diverse products and services to workers in Thang Long Industrial Park.
Mr. Pham Nguyen Vu – Founder & CEO of Utop shared: "The cooperation with Thang Long Industrial Park marks a significant milestone of Utop in the digital transformation era. We have collaborated with many kinds of stores in the industrial park and transformed them into a new retail model, which eventually provides convenient services to users and businesses in Thang Long Industrial Park."