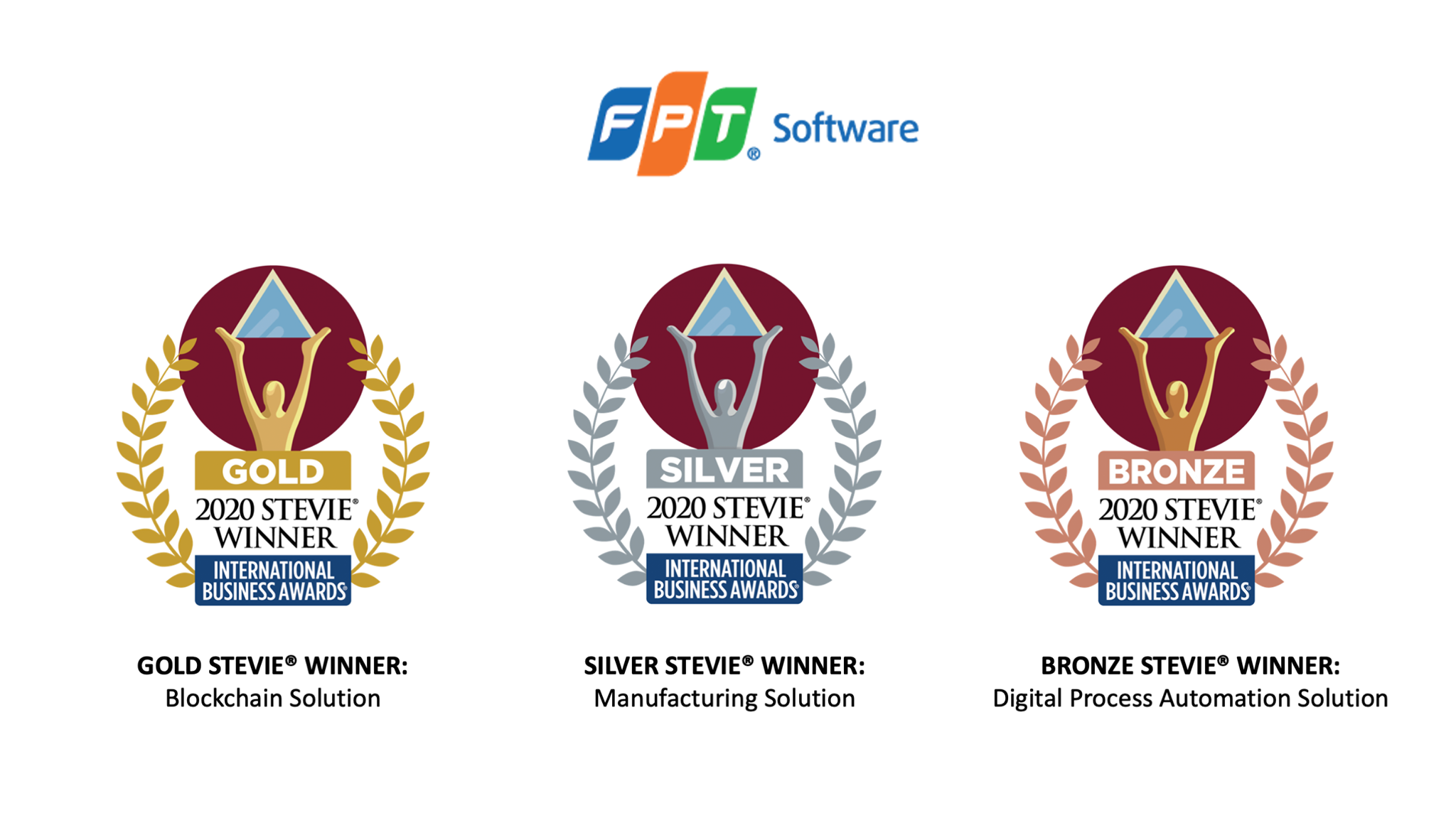 HANOI, Vietnam, September 10, 2020 – Vietnam's leading IT services provider, FPT Software, has won Gold, Silver, and Bronze Stevie awards at the 17th Annual International Business Awards®. Joining for the first time, all of its three winning nominations are in the Business Technology Solution categories.
The International Business Awards® is among the eight programs of the Stevie® Awards series, which have established a reputation as the "Oscars of the business world". Launched in 2004, this premier business awards program recognizes excellence in the workplace, from customer services to digital solutions that help transform education and enterprises.
This year, the winners were selected from more than 3,800 nominations from organizations in 63 countries and territories. FPT Software's products have won top places in these categories:
akaChain, its enterprise blockchain platform, won Gold Stevie for Blockchain Solution category, which recognizes the best solutions for creating and shared, immutable ledgers for recording the history of transactions;
akaMES, its manufacturing platform received Silver Stevie for Manufacturing Solution category; and
akaBot, the comprehensive Robotic Processing Automation (RPA) solution, was awarded Bronze Stevie for Digital Process Automation Solution, which recognizes the best solutions in automating complex workflows and digital business processes.
These winning nominations are among FPT Software's flagship products, developed to provide companies with readily customizable and easy-to-implement digital tools to solve their business challenges. While akaChain positions itself as a Blockchain-as-a-service provider, offering solutions in loyalty and reward network, credit scoring, and digital ID, akaBot helps businesses streamline their repetitive and manual tasks and processes, and akaMES is designed to help factories achieve optimum manufacturing management.
"FPT Software is thrilled to be recognized by the International Business Awards® for our technology solutions. This recognition is a testament to our world-class solutions and our position as the world's digital transformation pioneer", said Tran Dang Hoa, FPT Software's Senior Executive Vice President and Chief Operation Officer. "Whether it is Blockchain, Artificial Intelligence, RPA, etc., we are committed to leveraging the top-notch digital technologies to help our worldwide customers achieve operational excellence and create new business models at speed.", he added.
"Despite the unprecedented impact the COVID-19 pandemic has had on organizations and working people worldwide, the number and quality of nominations we received in this year's International Business Awards attests to the continued outstanding performance of many organizations. The commitment we've seen through these nominations to maintaining the success, health, and safety of employees, customers, and communities is truly impressive," said Stevie Awards president Maggie Gallagher.
According to the International Business Awards® organizer, the winners were determined by the average scores of more than 250 executives worldwide who participated in the judging process from July through early September.
Earlier this July, this product trio also competed against more than 1,000 nominations from 29 countries in the Asia Pacific region and won two Gold and one Silver awards at the 7th Asia-Pacific Stevie® Awards.
About FPT Software
FPT Software is a global technology and IT services provider headquartered in Vietnam, with nearly USD 463 million in revenue and more than 16,000 employees in 25 countries. As a pioneer in digital transformation, the company delivers world-class services in Smart factory, Digital platforms, RPA, AI, IoT, Cloud, AR/VR, BPO, and more. It has served over 700+ customers worldwide, a hundred of which are Fortune Global 500 companies in the industries of Automotive, Banking and Finance, Logistics & Transportation, Utilities, and more. For more information, please visit www.fpt-software.com
About the Stevie Awards
Stevie Awards are conferred in eight programs: the Asia-Pacific Stevie Awards, the German Stevie Awards, the Middle East & North Africa Stevie Awards, The American Business Awards®, The International Business Awards®, the Stevie Awards for Women in Business, the Stevie Awards for Great Employers, and the Stevie Awards for Sales & Customer Service. Stevie Awards competitions receive more than 12,000 nominations each year from organizations in more than 70 nations. Honoring organizations of all types and sizes and the people behind them, the Stevies recognize outstanding performances in the workplace worldwide. Learn more about the Stevie Awards at www.StevieAwards.com.
Media Contact
Hue Le (Ms.)
PR Manager
FPT Software
Email: [email protected]
Mobile: +84866867745