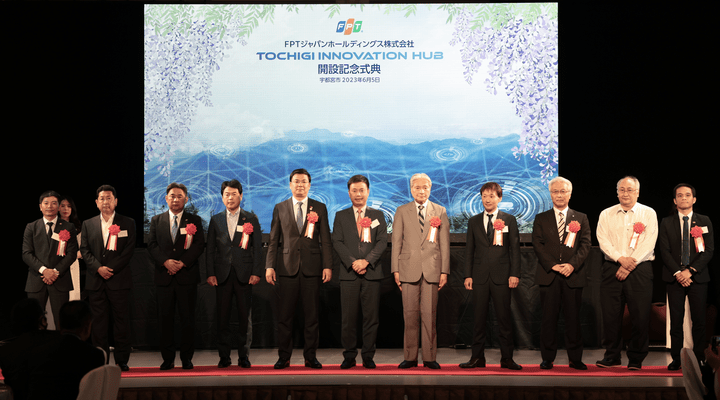 FPT Software celebrated the opening celebration of its Tochigi Innovation Hub, making it the company's 66th global location and 15th office in Japan.
The ceremony took place on June 5th, 2023, gathering nearly 100 guests, including the Vietnamese Ambassador Extraordinary and Plenipotentiary to Japan, Japanese government delegates, and executives from FPT Software's partner companies.
The new office opening allows regional customers to experience FPT Software's technical advantages in Digital Transformation, AI, and other emerging technologies. FPT's Tochigi Innovation Hub also offers comprehensive best-shore delivery, which includes onshore, nearshore, and offshore consulting - implementation services. This promises to deliver Japanese customers with business resilience, agility, and utmost efficiency, benefiting their digital transformation and operational processes.
Tochigi Prefecture, in close proximity to Tokyo, serves as a hub for automotive, aviation, healthcare, and retail industries. Given its strategic location and thriving business landscape, it presents a promising opportunity for FPT Software to expand its operations and effectively cater to clients across the entire region.
FPT's Tochigi Innovation Hub aims to grow its workforce tenfold by the end of 2025, targeting 300 employees to meet the urging regional needs for digital transformation.
At the ceremony, FPT Software's CEO, Mr. Pham Minh Tuan, highlighted the significance of Tochigi as a renowned hub for various industries, including automotive, aviation, medical, home appliances, and pharmacy in Japan. He emphasized that the opening of the Tochigi office represents a strategic move to enhance FPT's presence and expand its reach in Japan.
We are committed to bringing more core teams to Tochigi to support our Japanese clients as well as the region's sustainable growth and societal development.", Tuan affirmed.
Mr Mahito Shikama, Honda Motor Company's Head of Software Development, expressed his appreciation towards FPT Software's support during the company's market expansion to Vietnam and his firm belief in the promising contribution of FPT's Tochigi Innovation Hub to the prefecture.
The Governor of Tochigi prefecture underscored the region's competitive advantages in automotive manufacturing, aerospace, and healthcare industries, which are also among FPT Software's focused sectors. With 2023 marking the 50th anniversary of the Vietnam-Japan bilateral relationship and the 150th anniversary of Tochigi prefecture, the Governor commended FPT Software for its role in bolstering diplomatic ties between the two nations and enhancing the technological prowess of the region as a whole.