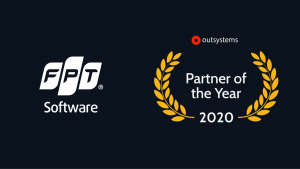 HANOI, Vietnam, 11 September – Vietnam's largest IT firm FPT Software announced it had recently been recognized by OutSystems, the global leader in low-code application development, as a "Rising Star" Partner of the year in the Asia-Pacific region.
Beginning a partnership with OutSystems in late 2019, FPT Software has managed to build the largest team of developers certified on the low-code platform, currently with 395 certifications, making them the largest team amongst all partners in the Asia-Pacific region.
"These results show that an investment in people, digital skills, and technological capabilities is always rewarding. We are committed to leveraging digital technologies to bring more value to our customers and partners", said Tran Dang Hoa, FPT Software Senior Executive Vice President and Chief Operation Officer.
"In a world where speed and agility have become increasingly imperative, low code applications will be the answer. We are proud that our collaboration with OutSystems has made this emerging software development approach more accessible to businesses in the region, thus accelerating their digital transformation journey", he added.
FPT Software was honored among more than 20 top-performing partners of OutSystems who have contributed to building out centres of excellence and delivering exceptional digital transformation projects for clients around the world.
"Our partners are an essential part of the OutSystems team because our customers rely on their expertise for both strategy and execution," explained Peter Dunlap, VP Channels and Alliances at OutSystems. "Their industry and use case expertise and consultative services make these award-winning partners integral to the success of our shared customers."
By 2024, low-code application development will be responsible for more than 65 percent of application development activities globally, according to a report released by Gartner last year. The Asia Pacific region is expected to record the fastest growth from 2019-2024.
Being the first Managed Services Partner of OutSystems in Japan, FPT Software provides a comprehensive range of services from development, operations to the maintenance of software applications on its low-code platform. Having more than two decades leading Southeast Asia in IT services, the company is gradually transforming itself into an end-to-end digital transformation services provider. With a presence in nearly 20 countries worldwide, FPT Software looks to attribute half of its global revenue to digital transformation services by 2025.
About FPT Software
FPT Software is a global technology and IT services provider headquartered in Vietnam, with nearly USD 463 million in revenue and more than 16,000 employees in 25 countries. As a pioneer in digital transformation, the company delivers world-class services in Smart factory, Digital platforms, RPA, AI, IoT, Cloud, AR/VR, BPO, and more. It has served over 700+ customers worldwide, a hundred of which are Fortune Global 500 companies in the industries of Automotive, Banking and Finance, Logistics & Transportation, Utilities, and more. For more information, please visit www.fpt-software.com
Media Contact
Hue Le (Ms.)
PR Manager
FPT Software
Email: [email protected]
Mobile: +84866867745