In the annual International Broadcasting Equipment Exhibition (Inter Bee) held in Chiba, Japan, FPT Software introduced for demo Annotation Tool Services and Video Indexing Systems – a solution in Akaminds Platform. The solution has attracted great interest and received positive feedback from participants.
At the exhibition, FPT Software is honored to be invited to showcase technology solutions in demo booth of our customer – a leading company in the electronics industry. Annotation Tool Services (Video Indexing Systems) is one of the strategic solutions in Deep Learning ecosystem of Akaminds Platform, which helps to address the matter of extracting video's object and content, therefore searching video will be faster and easier for broadcasting stations as well as businesses operating in media, internet contents, film-makers, etc.
Broadcasting stations normally have huge demand to reuse video as raw materials. Currently, the biggest drawback when reusing video is that it takes much time to review old videos. However, with this solution, users can easily search videos using key words via 'search text' function; afterwards, Video Indexing will identify name of the video and the exact time (minute, second) of that content in the video.
After the exhibition, the representative of the customer expressed his sincere thanks to FPT Software's cooperation that contributed to the success of the exhibition, stated that the solution from FPT Software had attracted great interest beyond all expectation. There were lots of clients who showed their attention, gave positive feedback towards Annotation Tool and expressed their expectation to try using this solution. He also wished that two parties would strengthen cooperative relationship to commercialize this solution in the near future.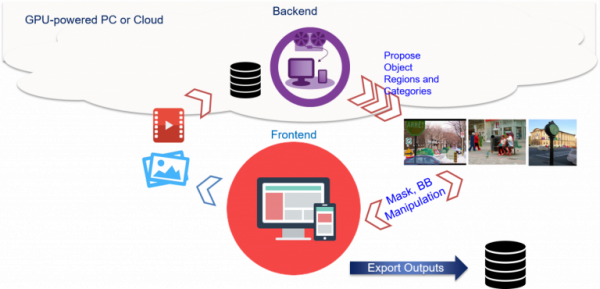 Akaminds is a platform about AI, IoT and data analytic, developed by FPT Corporation. 'Akaminds' term is the combination of 'Aka' (abbreviation of 'infant' in Japanese) and 'mind', implying that artificial intelligence is like the brain of an infant, which can learn quickly. In Akaminds Platform, there are Deep Learning, IoT, Data Analytic ecosystems to provide high-tech solutions to various domains such as Automotive, Finance, and Manufacturing etc.
Inter BEE (International Broadcasting Equipment Exhibition) is a well-known event in broadcasting field, which takes place annually and attracts participation from Japan's central broadcasting station – NHK, and local broadcasting stations from Hokkaido to Okinawa, as well as world-wide broadcasting stations, with the purpose to look for partners in terms of new broadcasting technology and equipments.