FPT Software reaffirmed its leading technology capabilities by earning two titles at the ceremony of Vietnam's Top 10 ICT Companies 2022 Awards last week, including membership in the first-ever Trillion VND Club.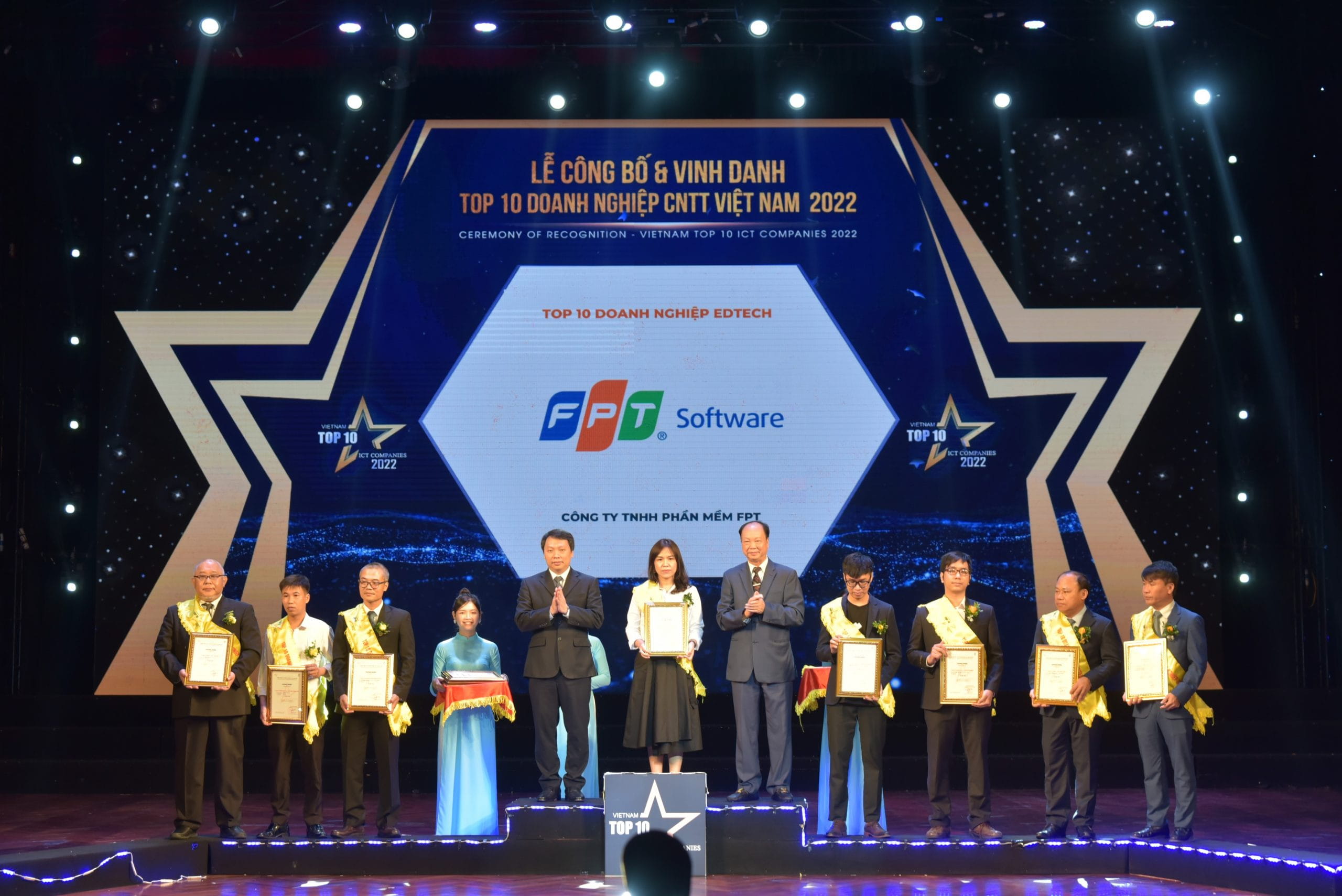 FPT Software recognized at Top 10 ICT Companies Awards 2022
Vietnam's Top 10 ICT Companies is the annual award program organized by Vietnam Software and IT Services Association (VINASA) to honor the country's best-performing technology and IT services companies that contribute to putting Vietnam on the world's technology map. A judging committee comprising industry experts and representatives from ministries and press agencies gathered to evaluate and select the most outstanding companies into 18 categories. Recognized companies must meet stringent criteria in terms of business results, technology capabilities, human resources, growth potential, and so on.
FPT Software was included in Trillion VND Club, which recognizes enterprises with revenue reaching at least VND 1,000 billion in the past year. Trillion VND Club was introduced to this year's award program for the first time to affirm the leading position of Vietnamese ICT companies and set out the mission to accelerate the nation's digital transformation progress along with the Government and other IT companies and start-ups.
As a complete IT services provider, FPT Software has been praised for its digital solutions and capabilities in blockchain, cloud and cyber security in several award seasons. This year, the company was the only organization eligible for Top Edtech Companies, demonstrating its wide range of expertise.
VioEdu and ViOlympic are the highlighted products in FPT Software's EdTech ecosystem. Launched in 2019, VioEdu is the leading Edtech system in Vietnam providing optimal customization for students, teachers, parents and schools. Launched in 2010 as a CSR project of FPT Corporation in collaboration with the Vietnam Ministry of Education and Training, ViOlympic hosts online competitions in Mathematics, Mathematics in English and Physics in the form of gamification for students from 1st to 12th grade. VioEdu and ViOlympic have more than 50 million users in total.
Also joining the award program, FPT Corporation and other sister companies of FPT Software were named in seven other categories including Digital Transformation Platform Providers, Digital Transformation Service/Solution Providers, Information Security Solution Providers, Cloud computing/ Big Data/ Digital Platform Companies, Fintech Companies, PropTech Companies, and Smart City Solution Providers.
As Vietnam's leading ICT firm, FPT aims to build a "Made by FPT" ecosystem leveraging AI, Cloud, Big Data, Blockchain, Hyper Automation, and more, to solve the pain points of organizations in a wide range of domains, such as government, transportation, healthcare, finance and banking, telecommunications, education, retail and so on.