FPT Software, German Business Association (GBA), and Vui App - the first Earned Wage Access application in Vietnam - successfully co-hosted a workshop on Digital HR Transformation in Ho Chi Minh City on September 21, 2023. The event, attended by 80 participants of business representatives and industry experts, looked into the role of technology in improving human resource (HR) management and employee experience for modern businesses.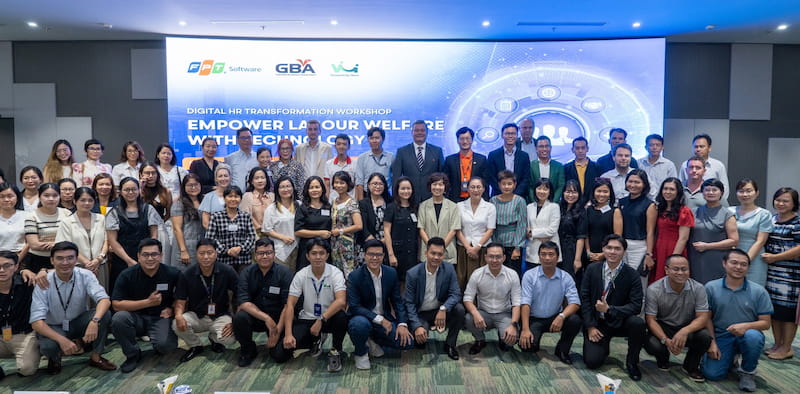 "Digital HR Transformation Workshop: Empower Labour Welfare with Technology" took place at FPT Software's F-Town 3 campus, Ho Chi Minh City
The workshop took place at FPT Software's campus F-Town 3, which offered participants an opportunity to explore its state-of-the-art facilities and sustainable design that helps save energy and maximize green space.
The highlights of the workshop were the keynote speeches featuring Dao Duy Cuong - Chief Digital & Technology Officer (CDTO) of FPT Software, and Dzung Dang - Co-founder & CEO of Nano Technologies. They shared their insights and experiences on leveraging technology to empower labor welfare and enhance employee engagement.
In his presentation, FPT Software CDTO emphasized the importance of technology in innovating HR management, providing optimal experience for employees, thereby improving employee engagement at work. He then demonstrated with examples of FPT Software's comprehensive technology solutions for HR management, including a portal that integrates multiple management tools serving over 27,000 FPT Software's employees worldwide. In the future, FPT Software plans to continue applying AI to enhance employees' productivity and predict turnover rates.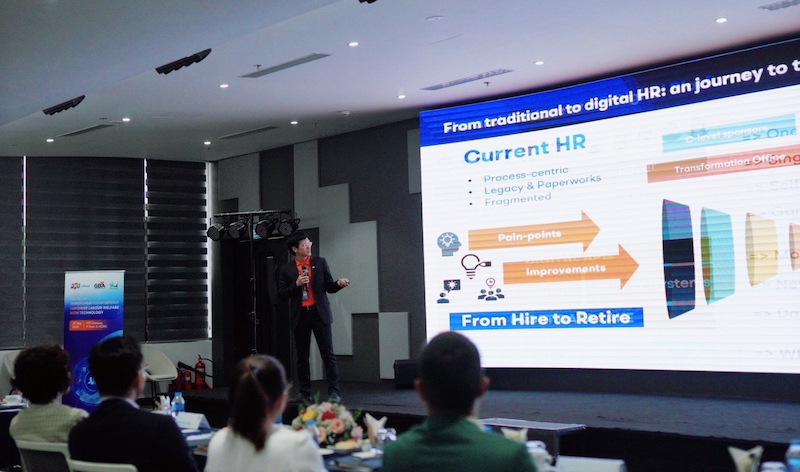 FPT Software CDTO Dao Duy Cuong explained the digital HR transformation roadmap
During the event, participants also had the opportunity to visit FPT Software's Digital Hub and discover the use cases of the company's digital solutions in Cloud, Data, AI, and IoT, for both customers and internal use.
The workshop concluded with a networking session to forge important connections and exchange ideas. The event was an opportunity for business leaders and managers to update the latest tech trends and expand collaboration opportunities on the road to digital transformation.