Speaking of colossal and unique software campuses, one cannot ignore the office spaces of the GAFA group – the technology quartet comprising Apple, Facebook, Google, and Amazon. CNBC has referred to the corporate campuses of these tech giants as the " incredible edifice complex" of Silicon Valley. These corporate campuses are not only built on a large footprint in both width and height, but they also integrate full-fledged amenities to comprehensively serve the living and working needs of tens of thousands of personnel, setting a new standard for upscale working spaces that goes beyond traditional boundaries.
Following this trend, in Vietnam, FPT Software has invested resources in building its own campuses quite early, and up to now, it has established 8 campuses in Hanoi, Da Nang, and Ho Chi Minh City. Sharing about the reasons behind developing these campuses across Vietnam over the past decade, FPT Software CEO Pham Minh Tuan stated that attracting and accelerating human resource development is regarded as the foundation of FPT Software to become an internationally prestigious enterprise. Therefore, he envisions transforming the campus complex into an emblem of Vietnam's IT industry and reaching a leading position in the Asia-Pacific region. It aims to become a "magnet" for global technology engineers.
Successively constructed in the High-Tech Zone of District 9, Ho Chi Minh City, F-Town 1 (2011), F-Town 2 (2014), and F-Town 3 (2019) have become the cradle of technology, serving as workplaces for thousands of Vietnamese programmers and global experts. This place has also become the first destination for foreign diplomatic delegations, educational institutions, and international media agencies to visit and collaborate. F-Town encompasses not only office areas, research and solution development centers, training areas, and meeting rooms, but also relaxation and entertainment zones, dining areas, childcare facilities, medical rooms, indoor and outdoor multi-purpose sports areas, aiming to relieve stress, rejuvenate the workforce, and establish community connections. Among these, F-Town 3 is uniquely designed with layered gardens, utilizing natural light to integrate the structure with nature, optimizing and conserving energy resources. This is also the construction trend observed among major technology companies in the renowned Silicon Valley.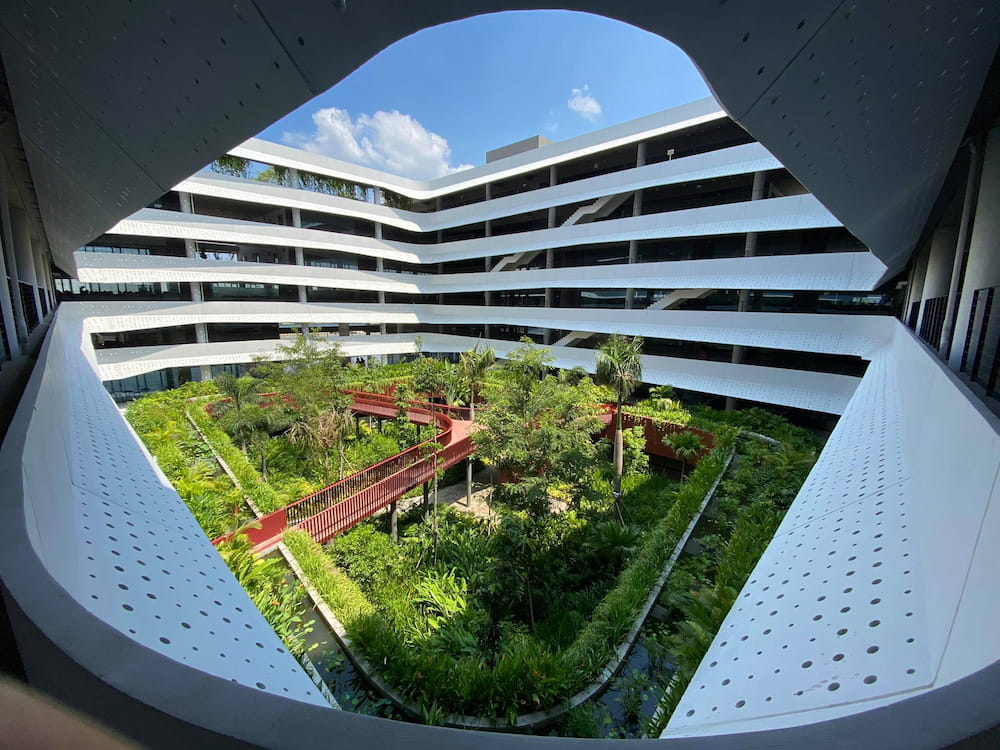 The architecture of F-Town 3 is inspired by the concept of a "tropical rainforest," aiming to create a creative and sustainable working environment for employees.
In Hanoi, it can be said that FPT Software is one of the few businesses that has undertaken the earliest and largest-scale infrastructure investment in the Hoa Lac High-Tech Park. Hola Park, built on an area of 120,000 square meters, is a modern and green campus featuring highly secure office areas, weekly bus routes, and an especially comprehensive and upscale ecosystem of facilities such as canteens, cafes, golf courses, soccer field, gym, swimming pools, resting areas, etc., to meet the needs of 6000 personnel.
In addition to F-Ville 1 (2012) and F-Ville 2 (2016), FPT Software is about to launch F-Ville 3, expected to accommodate seating for around 7000 people. The architecture of F-Ville 3 embodies the concept of infinity, reflecting FPT's relentless drive for development. It also features fluid, enclosed curves that combine with walkways surrounding the central courtyard, providing unrestricted panoramic views.
The campus is filled with greenery, creating a feeling of relaxation for employees whenever they enter HOLA Park
In the Da Nang High-Tech Park, the F-Complex spans an extensive area of 5.9 hectares, with a capacity for up to 10,000 individuals across its 6-story structure. It encompasses various amenities such as green parks, water features, motorbike and car parking facilities, soccer field, golf practice areas, gymnasiums, yoga studios, hair care services, medical facilities, and over a dozen restaurants catering different Vietnamese cuisine.
This is FPT Software's largest high-tech complex in the Central region, harmoniously blending landscape and workspace, akin to the approach adopted by prominent global technology corporations and conglomerates.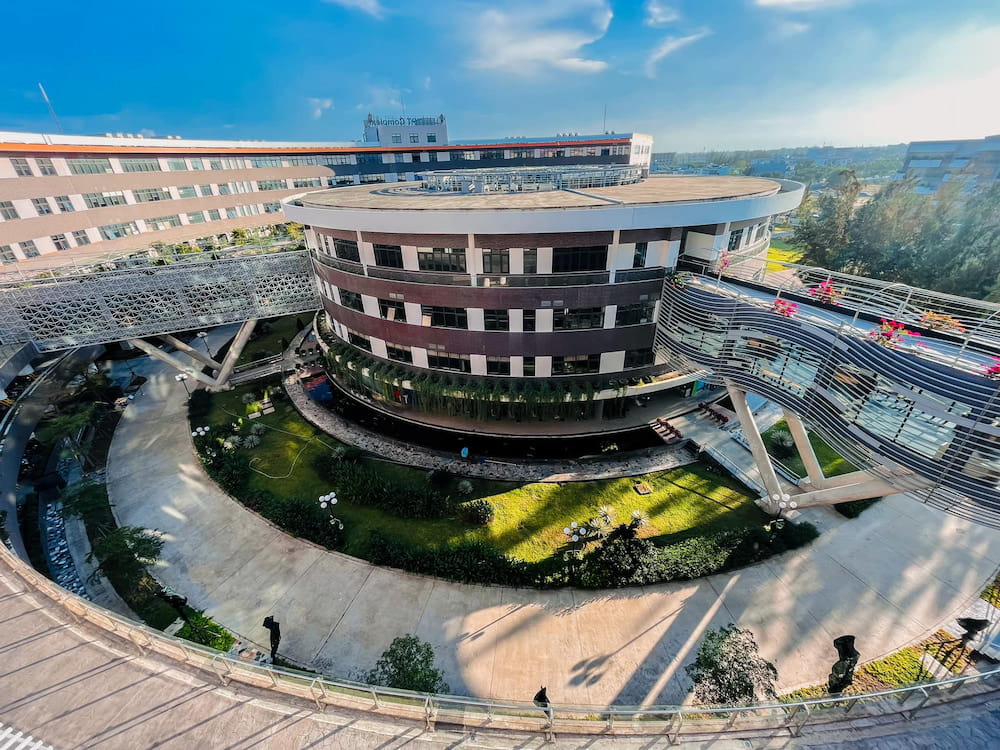 FPT Complex is the most modern building by FPT in Da Nang
Built following the standards of leading technology campuses, it's evident that the workspace of FPT Software programmers is surrounded by numerous green areas – a crucial supporting element in fostering creativity. Additionally, these spaces provide practical amenities for employees' daily commuting and activities, enabling them to unleash their full potential. Beyond the facilities' advantages, FPT Software's core focus is on creating a Codecation experience for all employees - erasing the boundaries between work and life enjoyment, becoming the distinctive working style of IT engineers.
Codecation, a combination of "Code" and "Vacation," is a novel concept initiated by FPT Software to promote a free and flexible working experience for coders. Following this, the distinction between work (coding) and life enjoyment fades away, bringing about a state of equilibrium and a sense of happiness in the workplace. Above all, Codecation represents the distinct personality and vibrant atmosphere that are nurtured at FPT Software's campuses.