Earlier this week, FPT has introduced its five flagship solutions for digital transformation in a virtual exhibition at annual global tech event ITU Digital World.
Fifty years on from the first event, ITU Digital World went virtually for the first time this year from October 20 to 22 due to COVID-19 pandemic. Co-hosted by International Telecommunication Union (ITU) and Vietnam's Ministry of Information and Communications, ITU Digital World 2020 brought together ministers of ITU member countries, international organization leaders and world's leading tech experts to discuss the critical role of digital technologies and global cooperation during and after the pandemic.
The event's highlight was the online exhibition available in 2D or 3D format, where visitors were able to use mobile devices and new technologies like augmented reality and virtual reality to explore innovative products and digital transformation achievements.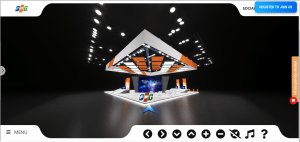 FPT's virtual booth at ITU Digital World 2020
Developed by FPT's subsidiary FPT Software, akaChain and akaBot were showcased at FPT's exhibition booth. Both solutions are built to address complex business problems. akaChain is an enterprise blockchain platform built on HyperLedger Fabric to renovate loyalty program, create credit scoring model and Digital ID, while akaBot is a comprehensive RPA platform that helps businesses streamline manual and repetitive processes. Due to their innovation and disruptive impacts, these two products were honored in prestigious APAC Stevie Awards and International Business Awards. Other solutions introduced were artificial intelligence platform FPT.AI, information security solution FPT.EagleEye MDR, and intelligent healthcare ecosystem FPT.eHospital 2.0+. These solutions are part of FPT's optimal DX ecosystem to improve productivity, save costs and utilize resources to navigate through the crisis.
"The world is changing each and every second with the booming of inventions, innovations and new technologies. To survive now and reach prosperity in the future, enterprises need to quickly embark on digital transformation to build new business models and furthermore, digital enterprises", said FPT CEO Nguyen Van Khoa. "FPT's solutions are the answer to enterprises' urgent problems, while at the same time creating a breakthrough in operation, customer experience and business model for a more sustainable development in the future", he noted.
Visitors can still access FPT's exhibition booth here. Videos introducing products and enterprises will be available for about a month afterwards.