MARINA BAY SANDS, Singapore – As an early adopter of the digital Fintech trends, FPT brings to Money2020 Asia 2019 its digital transformation expertise and innovative solutions in the financial industry. 
During the three-day event, FPT focuses on showcasing its latest blockchain-based solutions for the industry: Akachain. Powered by blockchain technology and smart contract, Akachain is designed to provide the technology infrastructure to support financial institutions in transforming business models and achieving operational excellence. One of Akachain's major use cases is UTop, one of the first Blockchain-based loyalty network in South Asia, which promises to enable the conversion of customers' accumulated loyalty into a pre-defined common point that can be used to exchange for tangible reward in subsequent purchases. The two solutions are the testaments to the company's continuous belief in the disruptive power of blockchain technology in the financial industry.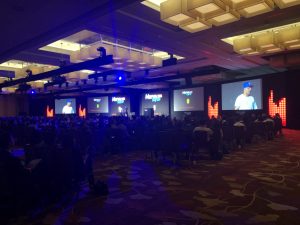 FPT will also be presenting to the Asia Pacific market its success stories & capabilities in Fintech, including digitizing Banking systems, reimagining Insurance Industry and modernizing the Capital Market. Visitors can learn more about FPT's expertise, success cases & solutions at Kiosk number 16, level 5, Marina Bay Sands Expo.
Money20/20 Asia, a part of Money 20/20 global series events, is the largest Asian event enabling payments and financial services innovation for connected commerce at the intersection of mobile, retail, marketing services, data & technology. Drawing 3,500+ attendees, including more than 1,500 companies and 70 countries, Money20/20 is critical to realizing the vision of disruptive ways in which consumers and businesses manage, spend and borrow money. Money20/20 Asia is held in Marina Bay Sands Expo, Singapore from 19th to 21st of March, 2019.