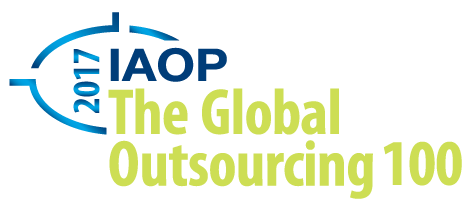 FPT was recently named in the IAOP Global Outsourcing 100 list for the fourth consecutive year, in the leader judging size category. FPT has been awarded this honor since 2013 for its excellent performance across assessment categories namely delivery excellence, size and growth, innovation and CSR.
The 2017 Global Outsourcing 100 and The World's Best Outsourcing Advisors recognizes the world's best outsourcing service providers and advisors. These lists are based on applications received, and judging is based on a rigorous scoring methodology that includes an independent review by an independent panel of IAOP customer members with extensive experience in selecting outsourcing service providers and advisors for their organizations.
"Choosing the right partners is more important than ever. Companies that outsource, not only in the traditional sense but also through the wide array of the ever-changing collaborative business models are scrutinizing their providers very closely," said Debi Hamill, IAOP CEO. "The GO100 is the definitive guide to help companies research and compare service providers with whom they are considering relationships."
The recognition from IAOP not only affirms FPT's position as a leading IT outsourcing company in the world, but also proves the company's continuous growth over the years. With over 25 years of experience in software engineering and nearly 20 years in IT outsourcing, FPT has distinguished itself among outsourcing providers through its relentless focus on improving clients' business performance while reducing cost. The company's effort to leverage business with technology has helped companies to increase speed to market, solve resource shortages and enhance customer relationships.
"I'm proud that FPT Software is once again recognized in the top 75 leaders of the Global Outsourcing 100 list by IAOP, which we have maintained our appearance since 2013." – stated Mr. Hoang Viet Anh, FPT Software's CEO – "This recognition together with our global expansion to have presence at 20 countries globally in 2016 reflects our strategy to focus on local delivery to always deliver highest quality services to our clients. FPT Software are also investing heavily on Digitalization services as key growth engine to help our clients transform their business in the coming 4th Industrial Revolution."
About IAOP
IAOP is the go-to association leading the way to improve outsourcing outcomes by bringing together customers, providers and advisors in a collaborative, knowledge-based environment that promotes professional development, recognition, certification and excellence. With over 120,000 members and affiliates worldwide, IAOP is not only on top of the latest trends but in front of them. Through its expansive global chapter network, premier training and certification programs, knowledge center, member community and more, IAOP helps members learn, grow and succeed. For more information and how you can become involved, visit www.IAOP.org.
The Global Outsourcing 100 and its sub-lists are essential references for companies seeking new and expanded relationships with the best companies in the industry. The lists include companies from around the world that provide the full spectrum of outsourcing services — not just information technology and business process outsourcing, but also facility services, real estate and capital asset management, manufacturing and logistics. To see the full list, please visit https://www.iaop.org/Content/19/165/4701