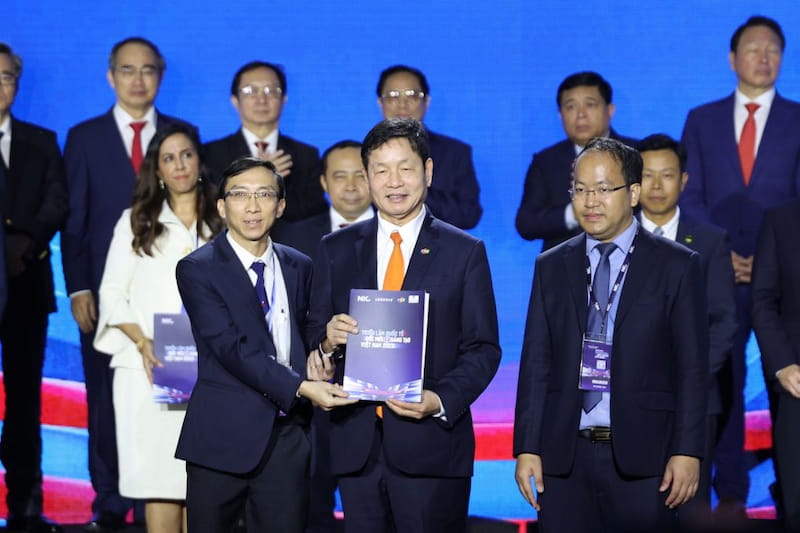 Mr Truong Gia Binh, Chairman of FPT Corporation (center), together with Mr Vu Quoc Huy, Director of National Innovation Centre, Vietnam Ministry of Planning & Investment (right)
FPT Corporation recently entered into a cooperation with the National Innovation Center (NIC) and TreSemi, an American technology expert organization with a network of experienced semiconductor experts, to establish the Vietnam Semiconductor Training Center (VSHE - Vietnam Semiconductor Hub for Education).
This significant step was taken during the Inauguration Ceremony of the NIC Hoa Lac campus, coinciding with the Vietnam International Innovation Exhibition 2023 (VIIE 2023). The ceremony was witnessed by Vietnamese Prime Minister Pham Minh Chinh and Minister of Planning and Investment Nguyen Chi Dung, along with other esteemed delegates.
Vietnam is making strong progress in advancing its standing in the global semiconductor supply chain as many of the world's largest chip manufacturers have landed in the Southeast Asian nation. Preparations, especially in human resources training, are needed for Vietnam to anticipate growing opportunities in the semiconductor industry in the upcoming time.
With the semiconductor value chain gradually shifting to Southeast Asia, the establishment of the VSHE holds great promise for Vietnam's semiconductor industry. The Center aims to bolster the training of local semiconductor talent, sponsor semiconductor projects, and facilitate the transition of integrated circuits (IC) design concepts into real-world applications.
As part of this collaboration, the parties will collectively work towards the ambitious goal of cultivating a skilled workforce of 50,000 semiconductor engineers by 2030, with a vision extending to 2045. Moreover, the partnership has pledged to provide 300 scholarships for outstanding students in the semiconductor field at 20 top Vietnamese universities.
In 2022, FPT Software has launched a new subsidiary, FPT Semiconductor, marking a key milestone for the company as it enters the booming semiconductor industry. By the end of 2023, FPT Semiconductor plans to supply 25 million chips globally in seven types to meet diverse needs in telecommunications, IoT, automotive technology, energy, electronics, and others.