FPT recently celebrated its 32nd year in business with its annual musical show, which, took place virtually for the first time on September 13. The show was broadcasted live on its video streaming platform FPT Play and enterprise communication platform Workplace with nearly 10,000 views.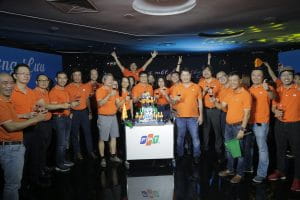 FPT's leadership team raised the toast to celebrate the company's 32nd anniversary
Themed "On the same river", the nine-chapter musical depicted FPT as a river flowing for 32 years, winding through many twists and turns. People of FPT are together on the same river, sharing the same spirit to overcome any obstacle ahead. The highlight of the show was performances of FPT senior leaders. Chairman Truong Gia Binh and CEO Nguyen Van Khoa starred as artists, surprising the audience with their inspiring performances, which conveyed subtle messages on passion, determination and belief during the difficult time.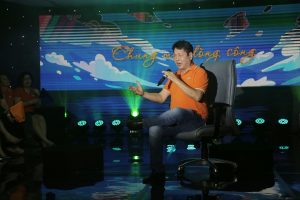 FPT Chairman showcased his talent in a performance
FPT's anniversary this year took place amid the COVID-19 pandemic. This did not halt the excitement and pride of FPT's employees as they have actively joined a streak of pre-birthday social media activities, including photo-taking, performance voting, wish sending, etc. Last month, its subsidiary FPT Software also celebrated the 15th birthday of the Central Vietnam branch with a massive online drinking party. These virtual events allow FPT people all over the world to join at the comfort and safety of their own home while still feeling connected as a part of the organization.
FPT's 32nd anniversary is a significant milestone underscoring the company's vision to become world's leading digital transformation service provider. Over the past three decades, FPT has grown from only 13 members to 36,751 employees. It now has ten subsidiaries and affiliates, as well as 46 offices in 22 countries and territories across the globe. FPT has served hundreds of customers worldwide, 100 of which are among Fortune Global 500 companies