FPT, Vietnam's leading technology firm, has provided German automotive supplier Schaeffler with consultation to develop a holistic digitization concept amid Vietnam's thrust into digital transformation. This cooperation is a part of Schaeffler's global pilot project for new digital manufacturing concept deployed at its modern manufacturing plant in Vietnam's southern Dong Nai province.
Schaeffler Vietnam plant in Bien Hoa, Dong Nai province (photograph: www.schaeffler.vn)
Located at one of Vietnam's largest manufacturing centers, the plant was inaugurated in May 2019 with an investment of 45 million euros and equipped with state-of-the-art technologies and machinery. It is the first plant in South East Asia using the Industry 4.0 solutions. Since the start of operations, the company has added two production lines including one for the flagship product Needle Roller Bearings; it is expecting three more to be extended by the end of 2020.
According to Helmut Bode, Schaeffler Asia Pacific's Former CEO, Vietnam is chosen for digital pilot plant project due to its visible trend towards high technology development with FPT as an outstanding example. "FPT is one of the top companies in the world, and we have already had a lot of experience with them", he noted.
Given FPT's consultation, digitization is set as the key enabler for Schaeffler's product excellence. The digitization frontier will be conquered by relentless efforts from an integrated team comprising members from both companies in setting up the optimum infrastructure, equipment, and software solutions.
"FPT has continuously surpassed our expectations in their robust project governance and capabilities in key software development areas", said Min Ling Chan, Head of Industry 4.0, Industrial Asia Pacific, Schaeffler Asia Pacific.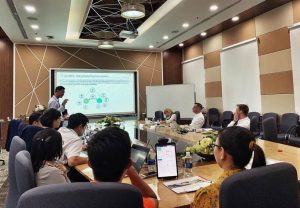 FPT and Schaeffler senior executives met to discuss solutions and roadmap for digital factory in Bien Hoa, October 2019
Since 2018, FPT has joined Schaeffler in its digital transformation journey with several successful projects, which have helped Schaeffler move faster towards digitization and reinforce the collaboration between the two partners.
"FPT is proud to help Schaeffler accelerate their digital transformation efforts. With strong capability and long-term collaboration with world-leading firms like Schaeffler, we pledge to always stand side by side with our business partners to help them achieve significant breakthroughs, especially in the challenging time of COVID-19 pandemic", said FPT Chairman Truong Gia Binh.
Beyond the partnership with Schaeffler, FPT has positioned itself as a digital transformation consultant providing extensive knowledge, innovative technology solutions, and prompt technical support. As Vietnam's largest technology company, FPT aims for Top 50 world-class providers of comprehensive digital services and solutions in 2030.
About FPT Corporation
FPT Corporation is a global leading technology and IT services provider headquartered in Vietnam, with nearly US$1.2 billion in revenue and 29,000 employees. As a pioneer in digital transformation, FPT delivers world-class services in Smart factory, Digital platforms, RPA, AI, IoT, Enterprise Mobility, Cloud, AR/VR, Embedded Systems, Managed services, Testing, Platform modernization, Business Applications, Application Services, BPO, and more. The company has served over 700+ customers worldwide, a hundred of which are Fortune Global 500 companies in the industries of Aerospace & Aviation, Automotive, Banking and Finance, Logistics & Transportation, Utilities and more. For more information, please visit www.fpt-software.com.
About Schaeffler
The Schaeffler Group is a world-renowned German supplier to the automotive industry. With three successful brands namely INA, FAG and LuK, Schaeffler's products include high-precision components and systems for engine, transmission, chassis applications, rolling and plain bearing solutions for a variety of industrial applications. The group generated approximately 14.4 billion euros in revenue in 2019. Schaeffler is one of the world's largest family companies with around 86,500 employees, a global network of approximately 170 locations, including manufacturing sites, research and development facilities, and sales companies in over 50 countries. For more information, please visit www.schaeffler.com.
Media Contact
Hue Le (Ms.)
FPT Corporation
Email: [email protected]
Mobile: +84866867745