Recently during Vietnamese Prime Minister Nguyen Xuan Phuc's visit to Japan, the Vietnam PM had a breakfast meeting session with nearly 40 leading Japanese companies. FPT Chairman Truong Gia Binh also joined the session. Of the 40 Japanese enterprises, more than one-third is in cooperation with FPT.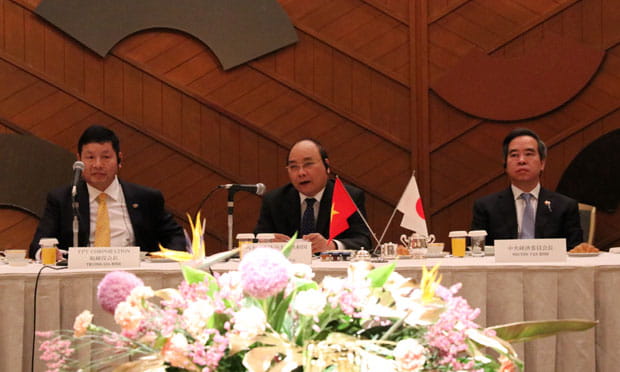 Over the years, FPT  has been actively involved in connecting the Government and enterprises of Vietnam with the business community in Japan. With about 800 employees in the country and nearly 5,000 engineers in Vietnam involved in projects with Japanese clients, FPT is now the largest foreign IT company in Japan.
Earlier in April, FPT Japan also opened its R & D Center in Okinawa, which aims to improve the company's access to advanced technology and accelerate the company's growth in the Japanese market.
This recent business trip of Vietnam Prime Minister Nguyen Xuan Phuc's visit followed the invitation of his Japanese counterpart Shinzo Abe, taking place on June 4-8. The purpose of the visit was to affirm, strengthen and deepen the relationship between the two countries in all areas. In addition, the visit aims to promote comprehensive economic cooperation with Japan at both central and local levels, especially in the fields of investment and trade. Prime Minister Nguyen Xuan Phuc emphasized that Vietnam wants to focus on investment in two areas of Hi-tech Agriculture and Information Technology. "Japanese businesses are big potential investors, and I am united with Mr. Abe, and the two countries are moving towards a new era of bilateral relations," he said.