The Asia Pacific Economic Cooperation (APEC) Summit 2017 was held in Da Nang city, Vietnam from 6th to 9th of November with the participation of 21 countries. World leaders as well as top global companies did participate in this event.
Mr. Truong Gia Binh – Chairman of FPT Corporation, took part as coordinator for the session boosting investment opportunities between Vietnam and other APEC countries on November 8th. Leading members from the Ministry of Industry and Trade, Ministry of Science and Technology of Vietnam and leading companies including UPS, Mizuho Bank, UL and Ageda Outside took part in this session with the topic "Vietnam: Thriving a changing world".
During this session, participants had the opportunities to exchange views on sought-after topics: the importance of a stable investment environment; the position of a substantial and mutually beneficial cooperation between enterprises and the government; the value and direction of the development in logistics, healthcare and online tourism; subjects of information exchange between borders and digital transformation in Vietnam.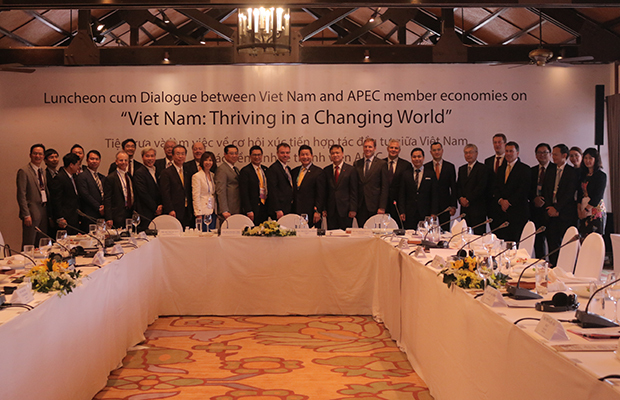 According to the World Economic Forum (WEF), Vietnam has advanced 5 ranks in the global competitive capability and 14 ranks in the business environment.
In addition to the investment environment, other topics drawing attention of participants were technology and Digital Transformation. Technology enables the development and optimization of business activities in logistics, tourism, healthcare, etc.
Mr. Philipp Roesler, CEO of WEF, emphasized: "Technology is the key to the future development of Vietnam, so Vietnam should utilize this opportunity to further the economics and leverage positioning."
Sharing the same view, Mr. Wouter Van Wersch, President and CEO of General Electric ASEAN, stated that digital transformation was one of the leading elements and GE had been focusing on investing this field firmly to provide the industry with better operation.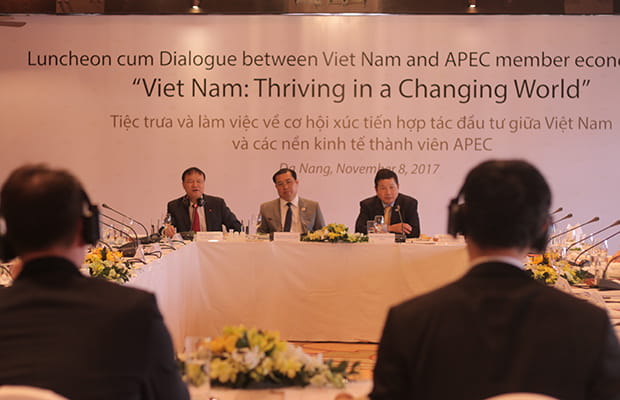 During the session, Mr. Truong Gia Binh also reaffirmed that FPT has been Vietnam's largest technology company and the pioneer in this field since 1988. Attending the APEC summit is a worthwhile opportunity for FPT to approach leading enterprises in the world. FPT aims to become partners of leading companies from America, France and Japan in various sectors including automobile, retail and healthy in the process of digitalizing their business.
"Digital economy was first mentioned in 2016 at Davos; however, FPT has been involving in projects of digital transformation and cloud computing since 2000. FPT has been partner of GE in developing Predix Industrial Cloud-based Platform as well as cooperating with other global organizations to build their own platforms." Said Mr. Truong Gia Binh, Chairman of FPT Corporation.