On April 26th, FPT and La Poste co-operated to host the Vietnamese Forum and the Industrial Revolution 4.0 in France. The event was attended by Vietnamese Ambassador in France, Mr. Nguyen Ngoc Son, leader of La Poste and 150 leaders of major corporations, start-ups in France.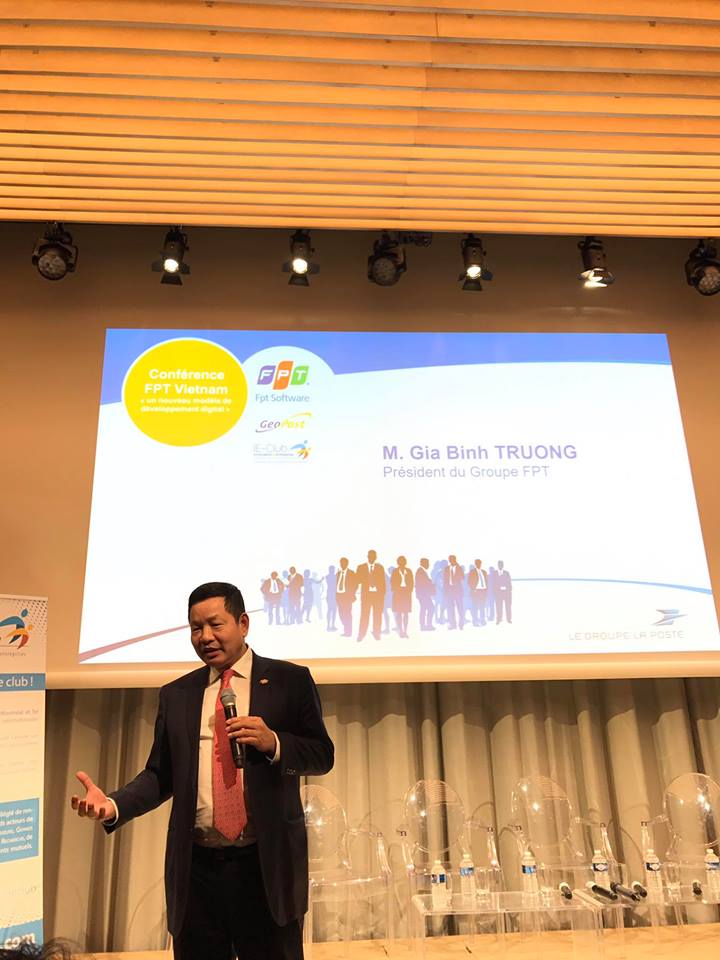 At the event, FPT Chairman Truong Gia Binh affirmed that FPT would like to cooperate with French businesses to promote the 4th industrial revolution. FPT is cooperating with technology partners such as AWS, Microsoft, GE Predix and many others to create more human resources for this revolution.
In addition, FPT introduced 3 win-win cooperation models of FPT with its clients/partners in France, including the software outsourcing; App Factory for Digital Transformation Team (ATS) and the model for co-research and development of products for the Vietnamese market. These models have been successfully implemented by FPT with some big customers in France as well as over the globe. Typical success stories were discussed at the conference.
Also at the event, FPT Software's Chief Technology Officer, Mr. Tran Huy Bao Giang presented FPT's innovative solutions to match for the Industrial Revolution including Cloud, Internet of Things, Digital Transformation on various fields. According to Mr. Ngo Duy Khang, Director of FPT France, this is a rare opportunity for FPT to introduce to French customers the technologies and platforms that FPT is working on with partners around the globe.
On the side of La Poste, Mr. Philippe Wahl – Chairman of the Group, said that this was the first time the Group was honored to welcome the Vietnamese Ambassador as well as to organize a specific conference on Vietnam. Vietnam is one of the important steps in the development of La Poste Group in Asia. According to Philippe Wahl, in terms of technology Vietnam is also developing strongly and FPT is one of the pioneers. La Poste wished for more cooperation and such conferences helped the two parties better understand each other and promote the cooperation.