Forbes Vietnam recently announced the list "Vietnam's 40 most valuable brands in 2018" chosen from more than 300, in which FPT is ranked in top 10.
FPT has been named on this list for three consecutive years. The list of 40 most valuable brands is collated and published annually by Forbes Vietnam. The most valuable brands are those earning the largest revenues in the sectors in which these brands dominate.
The Forbes Vietnam's list shows that the total value of the brands included has increased 50% compared to last year's list. According to Forbes Vietnam, FPT's brand value in 2018 is estimated at $169 million. FPT, with a reputed brand and solid partnership with more than 450 global customers, has satisfied specified standards of both market position and potential of stable profitability in the future.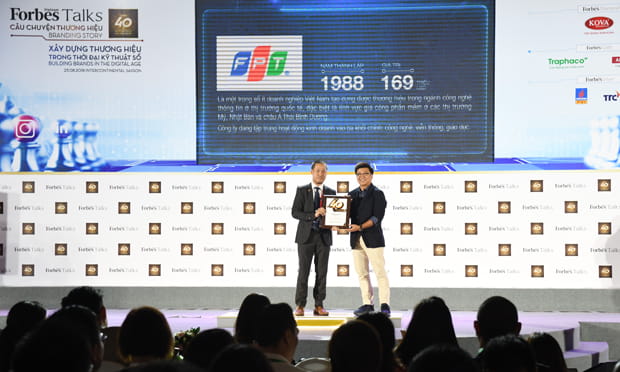 The tech giant's key business areas include: technology, telecommunications and education, among which software development and Digital Transformation services significantly contribute to FPT's robust growth. In 2017, the revenue growth rate of Digital Transformation services reached 50%, accounting for 21% of the total revenue of technology unit. In July 2018, FPT has bought majority stake in Intellinet – an US-based consulting firm, affirming its Digital Transformation leadership and increasing revenue in business.
Forbes compiled the list by looking at brands' incomes before and after tax based on their financial reports and data on the stock market, calculating the brand's contribution to the company's business performance.
The other brands in the top ten are the country's biggest brewery Sabeco, the residential property arm of Vingroup – Vinhomes, one of Vietnam's big three mobile operators Vinaphone, etc.