This October, FPT America, an overseas subsidiaries of FPT Software, marks its 12th year since entering the North America market.
Established its first office in Texas in 2008, the company has expanded its presence to seven offices in North America. Since then, it has grown from a team of five employees to more than 400. Despite the impacts of COVD-19, FPT America still manages to experience a 50 per cent y-o-y growth in production profits in the first three quarters of 2020.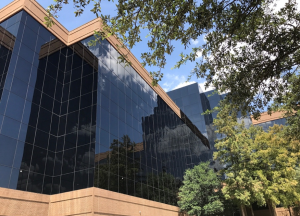 FPT America' Headquarter in Richardson, Texas
"The US has always been one of FPT's critical markets. During 12 years of development, it has contributed significantly to realizing our visions and goals.", said Ms. Chu Thi Thanh Ha, FPT Software Chairwoman, "During the challenging times of COVID-19, I am proud to have seen the spectacular transformation of FPT America, especially its new strategic partnerships with other industry giants."
"I hope that FPT America can maintain this spirit to conquer new heights of success and help FPT become a global Top 50 IT and digital transformation services provider.", she added.
As FPT's fastest-growing subsidiary, FPT America has been a trusted partner of over 100 enterprises, including Fortune Global 500 companies in various industries such as banking and finance, telecom, automotive, manufacturing, and more. To expand its footprint in the market, in 2018, FPT acquired 90 per cent stake of US-based consulting and technology firm Intellinet in a deal worth US$30 million. The company has also been active in supporting the Vietnamese and US governments to strengthen their relationship. In 2018, FPT America organized a breakfast briefing with His Excellency Nguyen Xuan Phuc, Prime Minister and the representatives of leading corporations in the US to discuss the opportunities and areas for collaboration in digital transformation.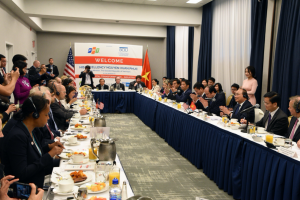 In September 2018, FPT America hosted a breakfast briefing between Vietnamese PM Nguyen Xuan Phuc and leading companies in the US to discuss digital transformation. (Photo: BCIU)
According to Mr. Dang Tran Phuong, FPT America's CEO, due to the impacts and restrictions associated with the COVID-19 pandemic, this year, FPT America employees will celebrate the company's 12th birthday anniversary virtually.