During his official visit to Vietnam from 25 to 29 November, 2017, Mr. Peter Pellegrini – Slovakia's Deputy Prime Minister for Investment did visit FPT Corporation and worked with Mr. Bui Quang Ngoc, CEO of FPT Corporation. H.E Peter Pellegrini emphasized that IT sector is one of the key pillars in the development of Slovakia's economy and highly appreciated FPT's investment in Slovakia.
At the meeting, Mr. Bui Quang Ngoc, FPT's CEO proposed that Slovakia has a support mechanism to grant visa for Vietnamese experts and engineers to work in Slovakia and expedite FPT to develop and provide IT services on Smart Factory, Smart Transportation, Education and Insurance in Slovakia. FPT's CEO also expressed FPT's desire to transform FPT Slovakia into a development center to deliver IT service globally.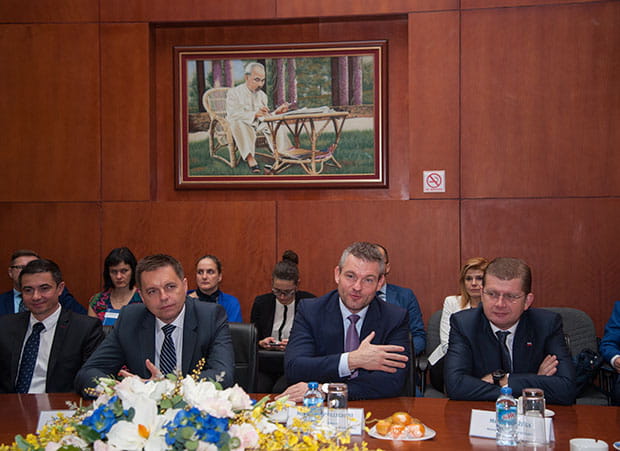 Slovakia's Deputy Prime Minister affirmed that he would work with Slovakia's authorities to quickly solve the problem of work permit for foreign companies investing in Slovakia. He hoped that FPT Slovakia could expand its business in Slovakia, utilizing the support from Slovakia's government as well as the abundant resources of high quality workforce.
FPT established FPT Slovakia in 2014 through the acquisition of RWR IT Slovakia. Currently, FPT Slovakia has nearly 400 employees working in Slovakia, Czech Republic, Germany and Vietnam. FPT Slovakia not only provides services for RWE Group but also implements other projects in various business sectors such as Energy, Logistics and Automotive. In 2017, FPT's revenue from EU market is estimated to reach 30 million USD of which revenue from FPT Slovakia accounts for more than 40 percent.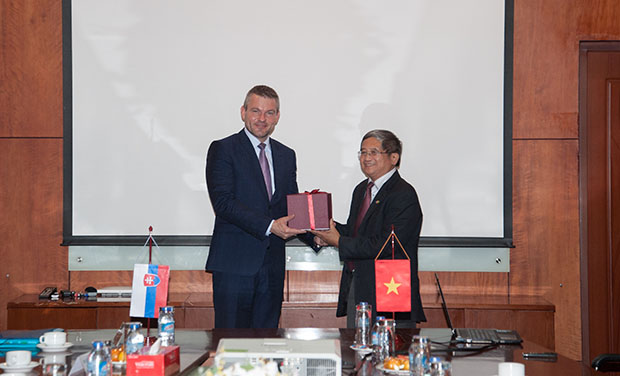 The visit of Deputy Prime Minister of Slovakia is an opportunity for FPT to expand its business in the country as well as in the Europe. The Slovakian side also agreed to cooperate under the previously signed memorandum with Vietnam's Ministry of Information and Communications.