Vietnam's leading IT corporation, FPT, has recently announced its acquisition of Base Enterprise (Base.vn), a technology company that owns the most popular corporate governance platform in Vietnam. This strategic investment is part of FPT's efforts to grow its comprehensive digital transformation ecosystem for 800,000 enterprises nationwide.
The deal was announced at an event held in Ho Chi Minh City, Vietnam, earlier this week. As per the agreement, FPT owns a majority stake of Base.vn. Base Enterprise's products will inherit FPT's latest core technologies such as Artificial Intelligence, Blockchain, Cloud, and more. With FPT's global presence across nearly 30 countries, the company will also help Base.vn compete in the global market.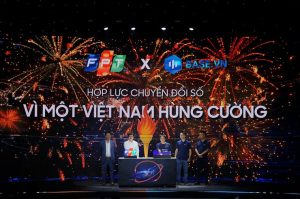 Photo: FPT & Base.vn acquisition announcement event (Ho Chi Minh City, Vietnam)
Launched in 2016 as a software-as-a-service (SaaS) startup, Base.vn has become known for its business management platform, which helps streamline management and operation activities such as hiring, payroll, and team collaboration. It has a clientele of more than 5,000 corporations in Vietnam.
According to FPT CEO Nguyen Van Khoa, "Over the past years, FPT has always been alongside with large Vietnamese and global enterprises on the journey of digital transformation. FPT's strategy is to build a comprehensive digital transformation platform for small and medium enterprises to be the number 1 in that market. Accompanying Base.vn is one of the shortest ways for FPT to achieve that goal".
"Base.vn has been solving three big issues of businesses including productivity enhancement management, information transparency, human resources management and development. We plan to develop other major solutions such as financial management, customer management and business development on one unified platform. The cooperation with FPT, a leading technology company with a wealth of experience and human resource, will help Base to save at least 10 years to become a comprehensive digital transformation ecosystem for the world's leading business.", said Pham Kim Hung – Founder & CEO of Base.vn.
This acquisition of Base.vn follows FPT's series of action in strengthening its digital transformation capabilities. Earlier this February, it also unveiled the launch of FPT Digital, a subsidiary dedicated to digital transformation consulting services. The company recently set digital transformation revenue from overseas markets to hit $209 million in 2021 – an increase of 50 percent on year. FPT also sets to be among Asia's Top 50 digital transformation service provider by 2030.