Five years since FPT Software announced it would invest 200 million dollars for M&A deals as part of its strategic plan to become a billion-dollar IT services provider, we sat down with Chief Strategy Officer Bui Hoang Tung to reflect on the progress and discuss the next steps in 2021 and beyond.
Thank you, Bui, for sparing your precious time for us today. FPT Software has actively pursued M&A as soon as the company set sights on the billion-dollar revenue target. How do you feel looking back? Any achievements you would like to highlight?
FPT Software went global very early on. But it wasn't until 2014 that we decided to seek mergers and acquisitions as a way to enter major markets such as Europe and North America. Since then, we've rebadged an IT subsidiary of Slovak Energy Corporation RWE and acquired major stake of Intellinet in the US, as well as joining forces with companies in logistics, telecommunications, manufacturing, etc. These M&A and rebadging deals not only gave us access to new technologies, customer base and global workforce but also created added value for our counterparts. Today, FPT Software has grown into a global IT firm with a presence in 26 countries and nearshore centers around the world. Our revenue just topped 500 million dollars last year, recording a 28 per cent on-year growth in spite of an ongoing global pandemic. That's something to be proud of!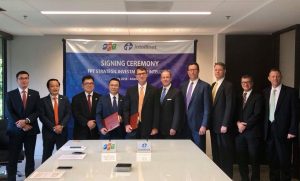 FPT Software and Intellinet's senior management signed the acquisition deal at Atlanta (the US) in July 2018
You mentioned outstanding strategic partnerships with clients over the years including rebadging deals dating back to 2014. Why is rebadging more relevant now than ever before?
In the digital space, businesses are struggling to scale and transform – and that was true even before the current global pandemic. Further magnified by COVID-19, we expect operational efficiency and cost-optimization to become top priorities in the battle for bottom-line performance.
While much focus is on these issues, these large companies are also major employers with hundreds to thousands of employees. Outsourcing is often negatively viewed and portrayed to the advantage of critics and competition, and the intended operating expense savings are often not enough, nor do they occur fast enough.
Meanwhile, rebadging solves for organizational inefficiency, responsiveness, value per dollar spent on IT, and innovation. As an employer, we help customers take care of their IT staff as rebadged employees simply become our employees with the same primary responsibilities as before, with the added opportunity for professional growth from reskilling and reassignment to serve other clients. Also, many of our customers have enjoyed as much as 25 percent in operating expense savings in the first year through rebadging. I do believe that more and more businesses will turn to rebadging to minimize staffing costs while better focusing on their strategic IT programs.
Looking forward to 2021 and beyond, what does your M&A and particularly rebadging strategy look like? How does it align with FPT Software's overall business strategy?
To further our domain expertise and expand our Centers of Excellence across the industries we serve, we will pursue more US-based IT and business consulting firms with 20-100 consultants that share our passion for digital transformation solutions and have demonstrated a track record of excellence and client satisfaction advising Fortune 500 clients.
In terms of industry, our expertise and focus remain in automotive, BFSI, Media and Entertainment, Healthcare, Logistics, and Manufacturing.
Nearshore, offshore, and best-shore delivery capability remains a high priority in our strategy. We will identify software development firms with presence in the United States, Latin America, and Europe, as well as IT and Software Development and Services firm with global distribution center presence with up to 1,000 full-time employees that align with FPT Software's responsiveness and speed-to-market goals for clients.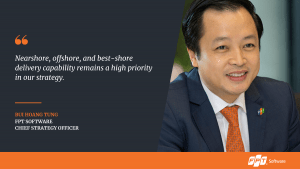 Our IT Personnel Rebadging strategy emphasizes building long-lasting strategic partnerships. To accomplish this vision, we have assembled a dedicated team that will be led by Nick Arthachinda as Head of Corporate Development. Nick's unique background in business consulting, capital markets, and private equity across our select industries lends well to our M&A and Rebadging approach to pursue win-win alliances for both FPT and its family of companies.
Our partners and clients trust FPT Software with their digital transformation aspirations. They chose us for our expansive capabilities and expertise as a full service global digital transformation firm. With at least two M&A and three rebadging deals per year, I am confident that FPT Software is right on track to becoming a billion-dollar company by 2023!
Thank you!