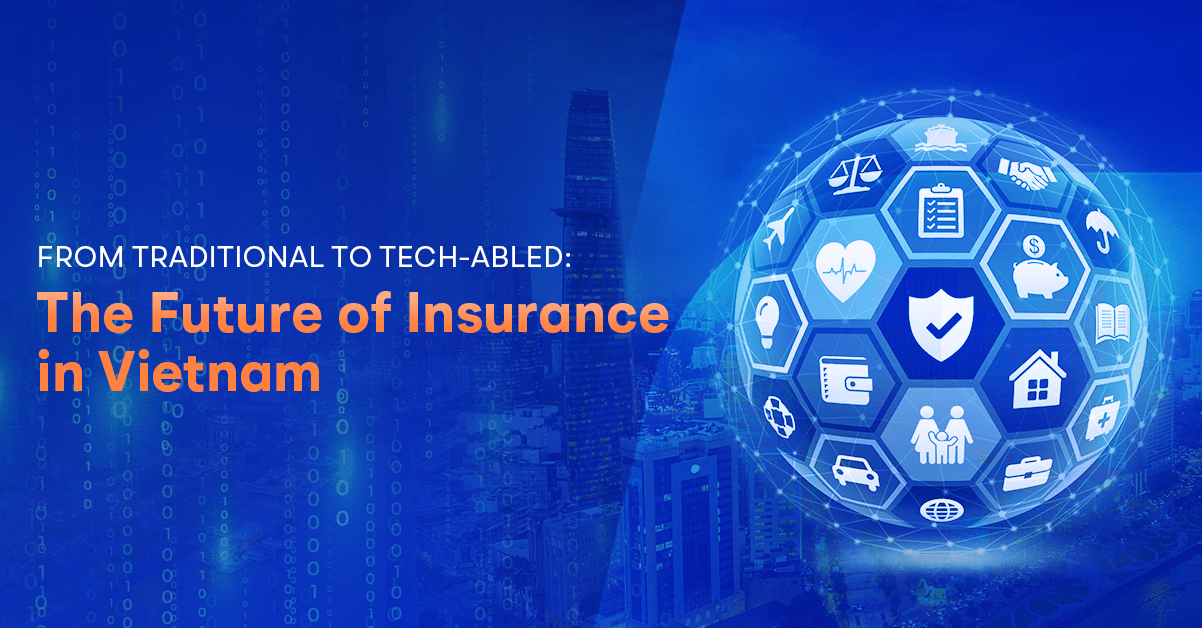 Vietnam's insurance industry has proliferated in the past decade, but it now encounters numerous challenges due to a lack of speed and agility in meeting customer demands. However, the industry has the potential to unravel these hurdles by leveraging Vietnam's robust digital infrastructure, favorable demographics, and thriving business environment. With the right approach and trusted technological companions, insurers can explore what is possible in the digital age and pave the way towards a more tech-abled "Make in Vietnam" Insurance.Vietnam's thriving insurance sector
Vietnam's insurance market has experienced significant growth in correlation with the country's rapid economic development. Before the 1990s, the Vietnam insurance market only covered non-life businesses and was dominated by the state-owned insurance group, Bao Viet. After the pandemic, Vietnamese people have shown increased interest in insurance products and have become more accustomed to online consumption. The country's vulnerability to climate change, and higher disposable income, also contributed to the significant increase in the willingness to purchase insurance products online. As of 2021, there are approximately 77 insurance companies in Vietnam, including 32 non-life insurers, 24 life insurers, and 19 insurance brokers. The total premium value of non-life insurance businesses amounted to over USD 2.4 billion, almost three times higher than the recorded value at the beginning of the decade [1].
Despite the remarkable growth, many potential customers are still discouraged from purchasing insurance products due to the complex paperwork, convoluted terminology, lack of helpful support, and concerns over claim settlement processes and reliability. To tackle these challenges, many insurance companies turned to technologies that would help them optimize their speed and improve agility. Technology has enabled insurance companies to streamline their operations, reduce paperwork, automate processes, and improve customer service.
The rise of tech–abled insurance
The insurance industry has witnessed a remarkable increase in the utilization of technology applications in recent times. The global insurtech market was valued at USD 5.45 billion in 2022 and is projected to grow at a compound annual growth rate (CAGR) of 52.7% between 2023 and 2030 [2]. Advanced technology and digital platforms such as AI/ML, automation, cloud, and data analytics, allow insurance companies to streamline processes, automate underwriting, and enhance customer experiences. This enables faster policy insurance, claims processing, and policyholder interactions, reducing turnaround times and increasing convenience for their end customers. What is more, those who invest in risk assessment models and data analytics have higher capabilities to adapt to evolving customers' needs and market dynamics. All these aspects contribute to proactive communication, transparency, and efficient claims settlement processes that build trust and reliability among customers. Indeed, more and more agents and brokers are transitioning to using digital tools, while customer demand is also skyrocketing with the emergence of self-service digital channels. A finding by Gartner revealed that 89% of respondents expect the digitization process to accelerate and predict that channel integration will undergo even more significant changes [3].
Meanwhile, Vietnam has embarked on a visionary journey towards becoming a digital nation by launching the "National Digital Transformation Program by 2025, with orientations toward 2030". The program aims to establish a digital government, economy, and society while empowering Vietnamese digital businesses to compete at global capacity. Together with the favorable demographics and IT infrastructure, Vietnam represents a fertile ground for tech-abled companies to flourish and capitalize on the nation's abundant resources. The insurance sector was quick to catch on with the waves.
According to a report by Google and Bain in 2022, Vietnam's insurtech sector is growing at a rate of nearly 50% per year, on par with Indonesia and the Philippines [4]. However, the overall market value of the insurance industry in Vietnam is still relatively small compared to the global market. Global Data analysis estimates the scale of Vietnam's insurance industry to reach around $3.5 billion by 2026 [5]. Yet, it is stated that the majority of the untapped potential in Vietnam's insurance market remains unexplored.
FPT Software, one of Vietnam's leading technology organizations, has been one of the driving forces behind insurance innovation. With a dedicated workforce of over 27,000 skilled employees and more than 20 years of experience in the BFSI sector, FPT Software has helped renowned global clients maintain their edge in a highly competitive market. Enabled by Vietnam's solid digital infrastructure and vast talent pool, FPT Software offers comprehensive support to insurers seeking digital transformation. Based on the specific business demands, the company would develop tailored strategies and roadmap that offer speed and agility, flexible resource allocation, continuous learning, and facilitate strong collaboration to ensure all stakeholders are on the same page. Their portfolio encompasses a wide range of solutions and products that can significantly enhance insurers' operations and efficiency, such as akaBot for process automation, Confidon for automated underwriting, akaMeet for safe and secured business, application development, cloud migration, e-contract solutions, and more.
Scaling up is a crucial ability for insurers to acquire if they wish to keep pace with the fast-changing digital landscape. A recent collaboration between FPT Software and a major life insurance provider, which involved migrating the client's system to the cloud, demonstrates the significance of up-scaling. The rapid growth in business and an increase in the number of customers necessitated faster processing times and more efficient data management. Without these upgrades, the system could have become overloaded and put their business continuity at risk. Hence, the client entrusted FPT Software to migrate 48 applications to the cloud environment. In a remarkable feat, FPT Software scaled their team up to 70 experts in just 24 months to deliver this wide-scope project. This included building new cloud foundation platforms, centralizing and migrating data to the new systems for the insurance company. With the digital landscape and technologies evolving by the second, it is imperative that insurers require the capability to quickly scale up their team and shorten time-to-market, to guarantee success in their digital endeavors.
Digital transformation success for insurance companies also relies heavily on the company's agility. Automation offers businesses a potent tool to maintain agility and enhance efficiency by reducing expenses, enhancing precision, and boosting productivity. A great example of this is FPT Software's recent efforts with a prominent multinational insurance and finance corporation based in Central Hong Kong, where they successfully transformed the company's underwriting and claim procedures through automation. The previous processes involved complex assessments and time-consuming manual efforts, leading to inefficiencies and delays. With the implementation of Microsoft Dynamics 365 alongside Confidon, FPT Software's solution for automated underwriting, the client business managed to increase the processing time by an astounding 600 times, reducing the average time per claim to just 20 minutes and underwriting to approximately 2 seconds. This remarkable achievement brought along significant gains in productivity and generated more than 2 million leads, in which 58% of customer transactions were processed straight-through, over 87% of customer inquiries were solved in the first call, more than 95% of policies were electronically issued, and all claims were digitally paid.
Looking to speed up your workflow and increase lead generation? Read more about our case study here.
Nevertheless, the journey to digital transformation is filled with hurdles, especially for a traditional sector such as insurance. The first obstacle for insurers to overcome is shedding their monolithic legacy system. Another major challenge is the resources to implement new technologies, which can be difficult due to the lack of requisite digital infrastructure, expertise, and trusted partners. Furthermore, even with an established ecosystem, centralizing control and oversight to ensure efficient management is no walk in the park. This is especially essential for high-growth companies who are relying on multiple vendors, which consequently leads to greater complexity and increased business risks. Overcoming these challenges would require a concerted effort and strategic planning.
Seamless integration, insured performance
An established ecosystem comes with great work delivered by many different parties. While diversity adds spice to life, an excessive variety of vendor lineups can lead to headaches. Recognizing this, many enterprises are embracing the idea of vendor consolidation and its advantages. According to Gartner, 75% of businesses are currently implementing a vendor consolidation strategy [6]. Reducing the number of vendors means fewer touchpoints for management, which translates to fewer invoices, contracts, and vendor scorecards, thereby reducing complexity and mitigating business risks. Furthermore, a smaller vendor pool opens up opportunities for fostering robust partnerships, improved accountability, better deals, and overall cost savings. To put it simply, vendor consolidation allows insurers to leverage synergies, optimize processes, and drive innovation by working closely with a select group of trustees.
Being the strategic partner of many insurance companies and platform providers, FPT Software assists insurers in streamlining their vendor landscape with their industry knowledge. They provide comprehensive support in assessing the current vendor ecosystem, identifying redundancies, and mapping out a consolidation plan. FPT Software's strong technology capabilities, such as application development, cloud migration, and process automation - enable seamless integration of systems and platforms. By leveraging this expertise, insurers can optimize their operations, streamline processes, and create a technology-driven ecosystem that is agile, adaptable, and ready to embrace the changes of the industry.
Conclusion
Embarking on the journey of digital transformation may seem daunting for those in the insurance industry, but it offers a unique opportunity to reimagine their operations, innovate, and exceed customer expectations. Vietnam's digital – ready resources and IT talent pool provide an excellent opportunity for insurers to explore the boundless potential of digital transformation, ultimately leading to a technology-driven insurance future.
Sources
[1] https://www.statista.com/topics/6228/insurance-in-vietnam/#topicOverview
[2] https://www.globaldata.com/store/report/vietnam-life-insurance-market-analysis/
[3] https://www.gartner.com/en/information-technology/topics/digital-transformation
[4]https://nic.gov.vn/wp-content/uploads/2023/04/ENG_Vietnam-Innovation-Tech-Investment-Report2023_final.pdf
[5]https://www.globaldata.com/media/insurance/general-insurance-industry-vietnam-reach-3-5bn-2026-forecasts-globaldata/#:~:text=16%20Mar%2C%202022%20General%20insurance,bn%20in%202026%2C%20forecasts%20GlobalData&text=The%20general%20insurance%20industry%20in,bn)%20in%202021%20to%20VND90.
[6]https://www.gartner.com/en/newsroom/press-releases/2022-09-12-gartner-survey-shows-seventy-five-percent-of-organizations-are-pursuing-security-vendor-consolidation-in-2022