Background & Scope
Robotic process automation (RPA) is a revolution in business process automation with predicted global market growth from $0.9 billion in 2018 to $8.75 billion in 2014.
As a part of the FPT's akaMinds ecosystem, akaBot is a comprehensive RPA Solution, helping to automate business process for enterprises in various sectors such as: Banking & Finance, Logistic, Health care, Customer care, Telecommunication, Manufacturing and Retail…This platform does not impact on existing IT landscape and adapt to any business changes.
This automation process can save up to 80% operation cost and increase productivity because of 24/7 operation which improve Turnaround Time from hours to minutes and minutes to second. In addition, RPA helps to reduce the rate of human errors and prevents information leakage thereby providing a lower level of operational risk. With reduced errors, improved efficiency and more accurate information, the quality of the customer experience is significantly increased, which increases customer satisfaction and loyalty. Besides, deploying RPA releases your high-value resources from tedious tasks and spend on more creative ones.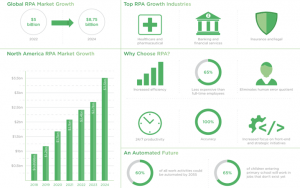 2. akaBot advantage
akaBot comes up with One-Stop RPA service of FPT including: Assessment & PoC (Proof of concept), Center of excellence (CoE) development, Implementation, and Maintenance.
On the other hand, akaBot is integrated with FPT's AI platform, build-in domain packages of IT, Banking, Admin – BO, Procument, Retail…,24/7 worldwide support by domain experts so that it can adapt the high demand from enterprise not only the product features, but also additional service and business value.
Additionally, competitive price is a considerable factor. FPT Software provides most attractive offer in the industry with many added incentives.
3. Akabot features
Akabot has three features: Bot Studio, Bot Center and Bot Agent.
AkaBot Studio provides a wide spectrum of activities to model almost any business processes within an organization. Scale unlimitedly, from simple to complex, by connecting multiple platforms, automating within websites, desktop applications, working with databases, or even interacting with human activities.
Akabot Studio is designed friendly for user. Graphic-based workflow is highly intuitive, no coding required. Moreover, it can be reusable by ability to add workflows to central library. Especially, workflows can have multiple authors and components can be shared between teams and projects for easy collaboration.
AkaBot Center is a web application that enables you to monitor and manage AkaAgents during the implementation of repetitive automation processes such as scheduling, logging and queing. With AkaBot Center, the initialization, monitoring, and deployment of resources in your environment is always under your control.
Besides, with detailed logging and statistics functions, AkaBot Center provides valuable information so that your decision making can be easier, faster and more accurate.
AkaBot Agent is a live robot that implements the automation processes built from AkaBot Studio including web automation, app automation, data automation and centralized configuration. It can handle many different applications and data structures efficiently, quickly and stably. On the other hand, it is controlled by akaBot Center remotely. Therefore, managing and deploying the automation processes is easy and straightforward.
Here is Architecture for Enterprise-level.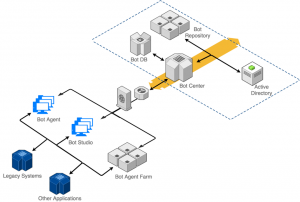 4. How akaBot is implemented?
Assessment & Proof of Concept (POC)
Firstly, business processes in enterprises will be examined in order to assess the feasibility of applying akaBot. Then, a specific procedure is chosen and a trial akaBot is applied to test the effectiveness. According to it, customers understand that akaBot can be deployed in any process within the enterprise then assess the benefits based on the pilot application, especially to make the final decision for applying akaBot.
Implementation
When a business does not have CoE (Center of Excellence), FPT provides a package of akaBot deployment services which comprehends: analyzing requirement; developing RPA programs based on the chosen platform, testing robots (akaBot Agents) and establishing them into the working environment.
As a result, the business has a set of akaBot Agents ready to be at your service. By applying akaBot, enterprises would boost their productivity and quality as well as minimize operating and labor costs.
Maintenance & Support
Upon completion, we will continue monitoring the operations for a specified period of time as well as involving RPA experts to assist in troubleshooting when necessary.