FPT Software's subsidiary – FPT Software Korea – attended World IT Show from April 19 to 21 at COEX Exhibition in Seoul.
Hailed as the leading ICT event in South Korea, World IT Show brought together 460 businesses this year. The event features an exhibition to showcase digital transformation technologies and conferences on IT industry outlook.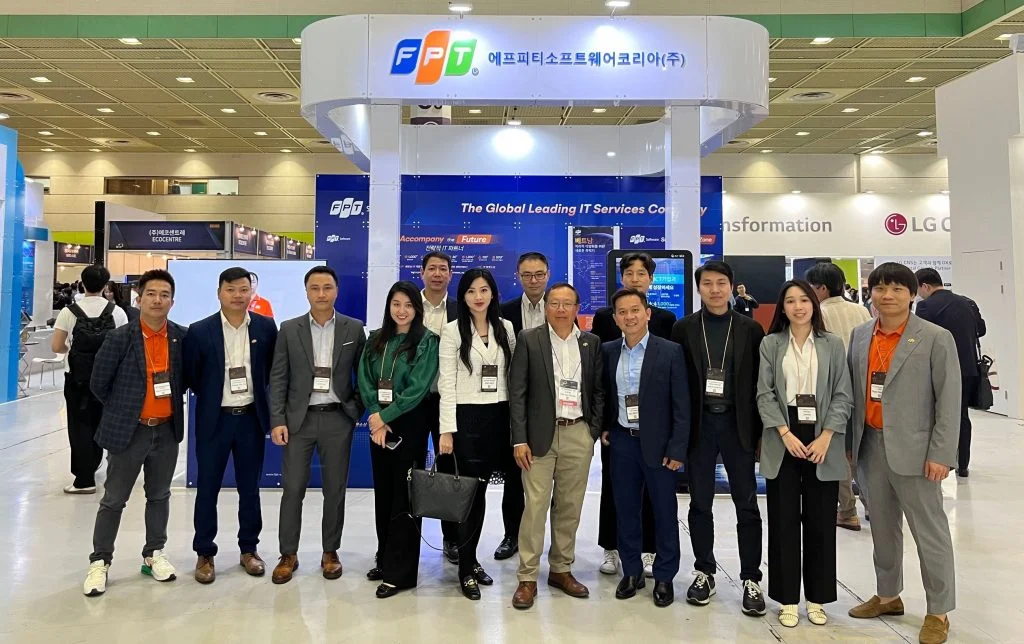 FPT Software's representatives at World IT Show 2023, Korea
As part of the event's conference, FPT Chief Advisor on Digital Transformation Phuong Tram delivered a keynote titled "Leading the Disrupted Digital and IT Transformation Curve". Phuong Tram had been CIO of global leading chemical company DuPont, helping the company transform its legacy systems with his seamless digitization strategy. Through a 30-minute presentation, Phuong provided insights on a fresh digital transformation methodology to transition into a new business normal, and the requirements for leadership in the business of tomorrow.
FPT Software Korea also showcased its services in digital transformation, SAP, Low-code, AUTOSAR and IVI for Automotive, Fintech, Insurance, and others. The company welcomed more than 400 visitors and audiences to its booth and to the keynote session.
As the biggest Vietnamese IT service company operating in South Korea, FPT Software Korea offers a wide range of IT services and solutions for IT talent shortage of local businesses by leveraging its Global delivery model. The company has a talent pool of 100+ onsiters and 1,200+ software engineers in Vietnam serving Korean projects. FPT Software Korea's clientele has gone up to 30+ with some names in the ROK's top 20 companies.
Last month, the company announced the opening of its second office in Seoul with the aim to strengthen the ability to connect and accompany customers despite time and geography.