VioEdu, an AI-powered e-learning platform formerly managed by FPT Corporation's Technology Department, has recently been merged into FPT Software. This merger is expected to fully harness the resources of the two sides and strengthen FPT Software's position in the Education Technology sector.
VioEdu is an e-learning educational platform developed for inter-level students, and inherits 12-year experience of online exam platform ViOlympic in organizing competitions in education for children. From June 1, VioEdu has been under the leadership of FPT Software Chief Operation Officer Tran Dang Hoa and Director of FPT Software's CodeLearn/EduNext Cao Van Viet. Bringing this AI-powered educational system to FPT Software, COO Tran Dang Hoa affirmed that he and his team would strive to uncover the potential and expedite the growth in size and business of these units in the EdTech market.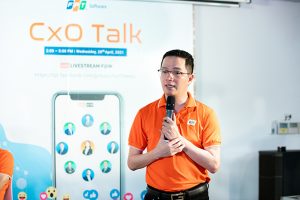 VioEdu will be led by FPT Software Chief Operation Officer Tran Dang Hoa
"The amalgamation does not affect the internal power and existing strength of each side. Instead, with its personalities, FPT Software and VioEdu will complement each other to reap new successes and progress further together on the EdTech journey", said Director Cao Van Viet.
This move is also in line with FPT Corporation's plan in forming an EdTech specialized department to tap into the unlimited values and opportunities of the growing EdTech industry. Global EdTech venture capital funding in 2020 set a record of 16.1B USD — nearly doubling the previous high set in 2018. Amid Covid-19, more educators and students begin to understand the benefits of engaging through online mediums, making EdTech among the sectors that attract the most investments in Vietnam during the pandemic.
As Vietnam's largest technology company, FPT Software is looking to build a robust EdTech ecosystem with the arrival of CodeLearn – a direct system and interactive platform to learn and practice programming skills, EduNext – an online learning website developed by FPT Software, and FUNiX – Vietnam's first online university.