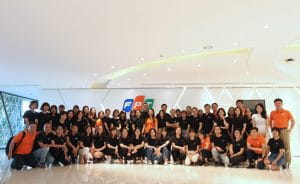 Representatives of FPT Software and FUNiX at the ceremony held at F-Ville campus
On June 16, FPT Software officially acquired FUNiX, Vietnam's first online university and a subsidiary of FPT Education, in a ceremony hosted at the company's F-ville campus in Hanoi. The move is in line with FPT Software's plans for nurturing skilled tech talents and building a lifelong learning culture.
According to FPT Software's COO Tran Dang Hoa, the company joins forces with FUNiX to experiment with new educational models such as Hannah and Mentor, which emphasize on hands-on learning experiences and interactive activities. Having a online training program in-house, FPT Software employees will get to update their digital skills through degrees and certificates that range from Data Sciences, Software Engineering, Blockchain to Machine Learning.
In return, FUNiX students would gain access to the company's advanced technology and extensive resources of real-life case studies, whitepapers, and so on.
As predicted by online recruitment site Vietnamworks, the country is in demand for 78,000 new tech employees each year. However, only 27 percent of IT graduates can meet workforce requirements.
Prior to the acquisition, FPT Software and FUNiX had actively worked together to build digital talents and address the shortage of high-skilled IT manpower in Vietnam. Last July, the company has helped FUNiX design curriculum and dedicated IT experts to FUNiX as mentors, as well as provided online learners with academic and professional support.
As one of Vietnam's largest technology companies, FPT Software has taken human development seriously through a wide range of initiatives to encourage lifelong learning such as Campuslink, Fresher Program, on-demand training activities, compulsory MOOC learning, and so on.