On the occasion of 30th anniversary of FPT's establishment and development, the corporation held FPT Tech Day 2018 in which three new technology products were launched.
FPT Tech Day 2018 represented FPT's technology pathway from the past to the present and into the future. The event has attracted more than 5,000 participants including nearly 200 strategic partners and customers, as well as local and foreign news agencies. The invited guests and technology experts joined with FPT to discuss the new technology initiatives under Industry 4.0 as well as explore the latest technology ecosystem of FPT.
At the event, FPT introduced comprehensive Digital Transformation solutions and products for enterprises. The first is the new version of FPT.AI with new features such as creating chat scripts, selecting messages for different clients, automatically analysing customer needs and managing messages with customers. FPT.AI, after one year of launching, has received 7.5 million of requests and been applied on 1000 chatbots.
AkaRPA – a comprehensive digital conversion solution for enterprises, also grabbed attention from many participants. It helps to automate repetitive and systematic tasks such as data processing, periodic report, mass email sending, etc., aiming to help businesses improve their productivity and cut labour costs. Until now, akaRPA has been brought into use at some banks and enterprises.
In addition, FPT unveiled Voice Remote for FPT Play Box users which is able to recognize both Vietnamese and English voice commands via Bluetooth 4.0. Removing up to 90% of the set of buttons and optimizing TV remote manipulation are the greatest benefits that this product delivers to users.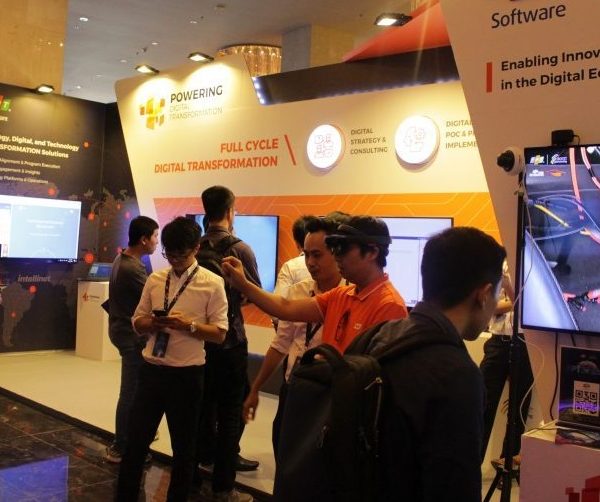 FPT Tech Day 2018 also comprised of over 26 exhibition booths presenting latest technology demos in intelligent healthcare, transportation, e-government and interactive television. Besides, a virtual reality space with a gate opening to the future world of 5.0 were also featured at the event.