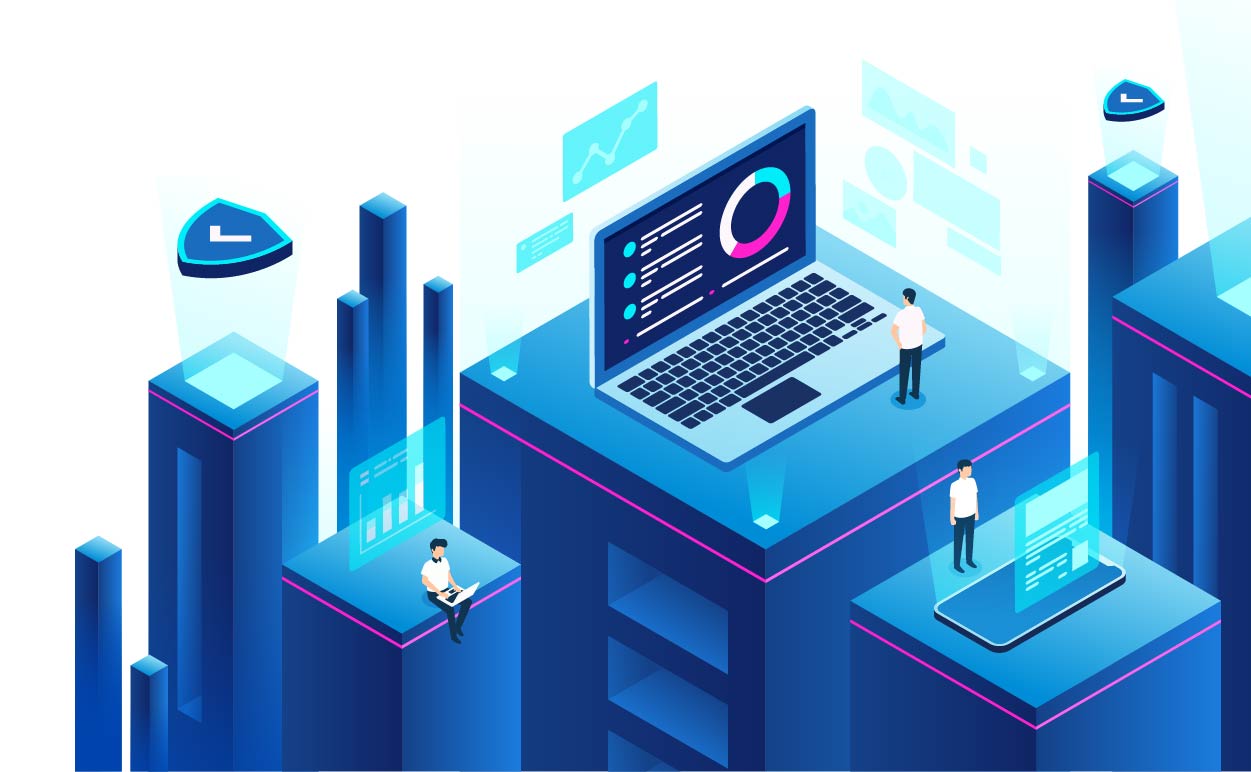 As the end of this year is approaching, we can certainly say that 2020 is a year of unprecedented challenges. The unexpected factors have, more or less, deviated the growing path of technology and its disruptive impacts on businesses. Let's take a look back at the key tech players of 2020 to see what the future technology might hold.
---
A Quick Recap
This time last year, we had an article called "Key Technology Trends to Watch in 2020". Throughout the year, it is indisputable that these mentioned techs, especially 5G and automation, have posed impacts on businesses worldwide in several ways.
5G network: Since the outbreak of Covid-19, 5G network has become a vital solution to boost up the speed of digital collaborative activities such as video-conferencing and remote working. As of 2020 October, the number of announced 5G devices has almost doubled since the end of March [1]. The majority of these devices are for personal use; however, shortly, 5G adoption is expected to spread widely in the manufacturing industry by enabling the next-gen wireless networks in industrial production.
Automation: Covid-19 has changed enterprises' automation agendas rapidly toward business resilience. The exponential growth of automation, especially robotic process automation (RPA), has formed a trend called hyper-automation. Hyper-automation refers to the concept that "anything that can be automated should be", or in other words, it is the act of effectively expanding the possibilities of automation to the highest. As social distancing requires companies to send their employees home, automation has become the competitive differentiator for successful businesses.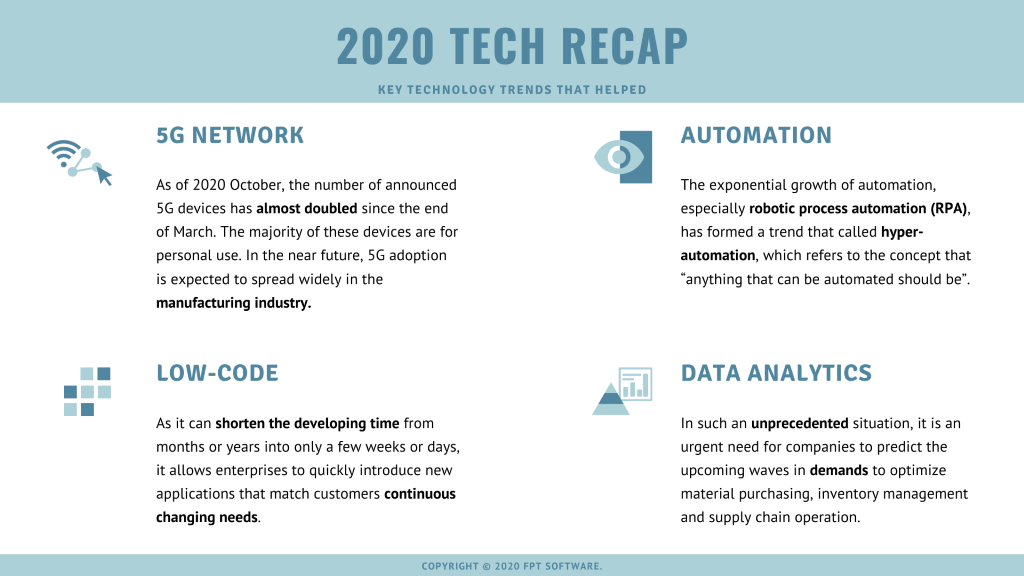 Besides these predicted trends, 2020 also highlights other technologies that contributed greatly to how enterprises overcome this year challenges.
Low-code: Since the pandemic hit us hard, the search for this emerging technology has increased fast. Low-code can shorten the developing time from months or years into only a few weeks or days. It allows enterprises to quickly introduce new applications that match customers' continuously changing needs.
Data analytics: In such an unprecedented situation, it is an urgent need for companies to predict the upcoming waves in demands to optimize material purchasing, inventory management and supply chain operation. Thus, data analytics, especially demand forecasting models, have shown significant effects on how businesses work.
2020 may be coming to an end, but the challenges we faced this year show no sign of fading away soon. Thus, the technology advancements in 2021 are expected to facilitate long-term remote working, enhancing business resilience and managing crisis.
A Future Look: What to Expect in 2021
Foreseeing the growth of the technology in 2021, IDC projects that the industry will reach $5 trillion next year, signaling a return to the trend line that the industry was on before the pandemic. Looking even beyond that, IDC expects also predicts that the pattern will continue with an estimated growth of 5% annually (CAGR) until 2024 [2].
Contributing to what is expected to happen next year; the following are some of the tech trends that might shape how we work and live shortly.
Edge computing complementing existing cloud: As cloud computing has become prevailing anywhere, tech experts are expecting to see increasing investments in edge computing as a complementary tech adding more personalization, higher security, reduced latency and optimized cost to the incumbent cloud infrastructure. According to an IDC report, the edge computing market worldwide is predicted to grow to $250.6 billion by 2024 [3].
Leveraging data to change behaviors: Gartner predicts the Internet of Behaviors (IoB) as the number one promising tech trend to watch in 2021. It is predicted that globally, 40% of the individual activities will be tracked digitally to influence our behavior by 2023 [4]. Health apps can track user diet, sleep, heart rate, and blood sugar then direct them to modify behaviors towards a more positive routine.
Cybersecurity getting a jolt: It is reported that there was a 238% rise in attacks on banks, and a 600% increase in cloud servers was observed from January to April 2020 alone [5]. With fewer employees working onsite on the same secure network, it is imperative that companies shore up their networks and upgrade their cybersecurity strategies, and expand them to home networks and mobile work-from-home devices.
Will these predicted trends affect companies' plans for the coming year? Adopting new techs can be a double-edged sword to enterprises if they don't have proper plans of when, where and how these techs should be adopted. Most importantly, enterprises should cautiously consider if the technology helps achieve their business goals of 2021.
Reference:
[1] 5G Devices Report - GSA
[2] IT Industry 2021 – CompTIA
[3] Worldwide Edge Spending Guide - IDC
[4] What Is the Internet of Behavior? IoB Explained – bcm blogs
[5] Top 10 Digital Transformation Trends For 2021 – Forbes