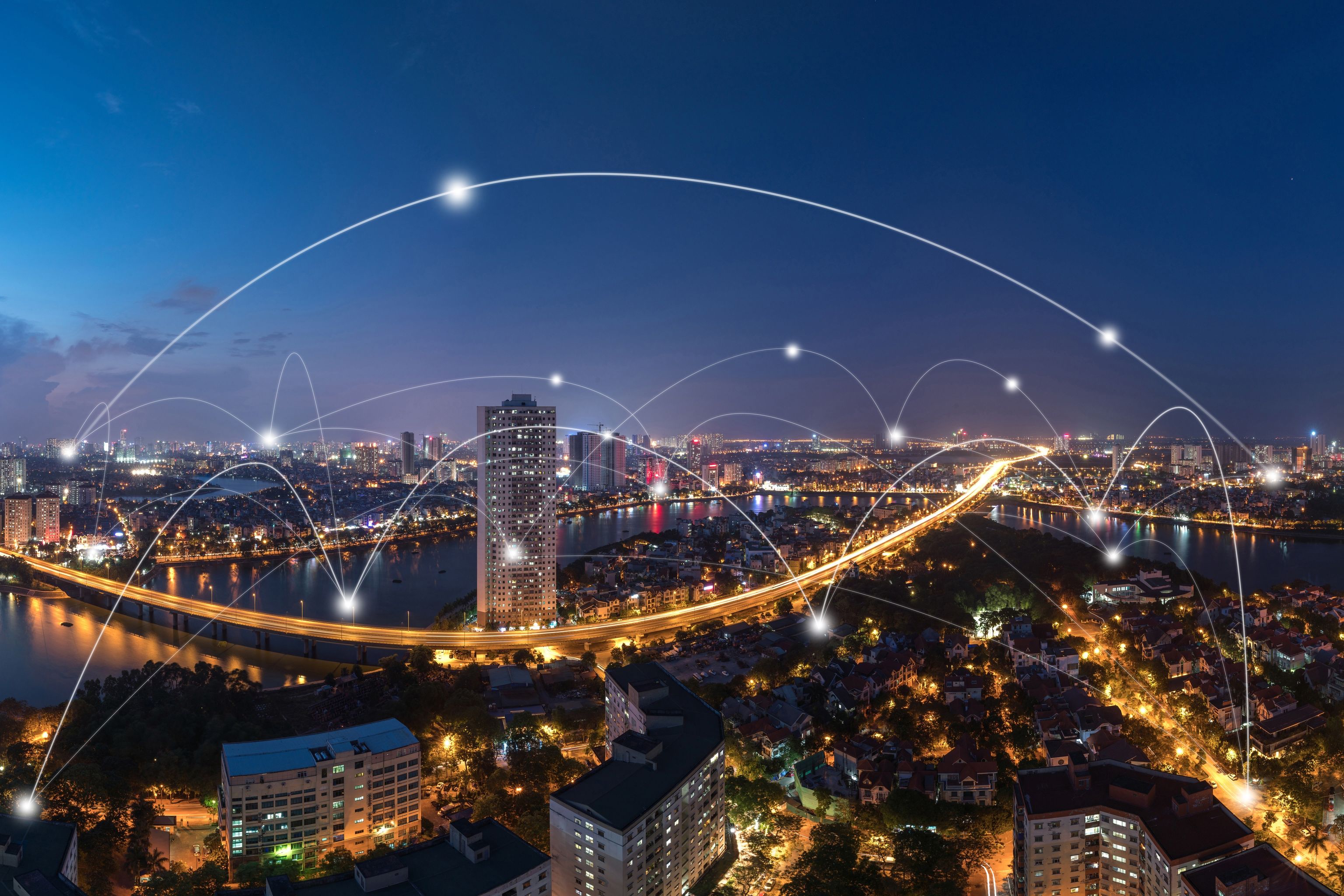 Emerging as a Covid-19 success story, Vietnam has flaunted comparatively strong economic growth and technology development resilience. As digital transformation continues to play the critical success factor, Vietnam is poised to fulfil its "digital confidence" aspirations with large-scale projects and programs focusing strongly on the digitalization of businesses, administration, and production activities.
Vietnam in the digital spotlight
On track for a solid economic rebound, Vietnam closed its 2021 with a positive GDP of 2.58% and unwavering growth prospects underpinned by robust exports and FDI inflow. At the end of 2021, Vietnam recorded US$336.31 billion worth of exported goods, up by 19%, together with a trade surplus of US$4.08 billion [1].
Vietnam's digital economy has been growing at the fastest pace in Southeast Asia, about 38 per cent annually compared to the region's average of 33 per cent since 2015. The country expects the digital economy will make up 20 per cent of its GDP and at least 10 per cent in each sector [2].
The country's ICT sector is also gaining strong momentum with robust digital infrastructure. Mobile networks (2G, 3G, and 4G) cover 99.7% of the population, making the connectivity ecosystem nationwide access. Likewise, the data infrastructure is ramping up its development, with an annual growth rate of cloud computing to be more than 30%, boasting 27 data centres of 11 domestic enterprises with 270,000 servers in 2021 [3].
In addition, Vietnam is emerging as a leader for IT talent in the global sourcing market with its young, tech-savvy workforce. Currently, Vietnam has 236 universities, 149 of which provide education for IT professionals, delivering more than 50,000 IT engineers to the labour market annually [3]. This lands Vietnam on the list of the top 10 nations in the world for the highest number of IT students.
DX - the springboard to economic advancement
According to statistics from the Ministry of Information and Communication (MIC), the sector made a better performance in 2021, signified by digital technology firms' contribution to the national GDP at 6-6.5 per cent in the period. Vietnam is rising as a vital innovation hub with 64,000 digital technology businesses, up 5,600 from 2020 and 1,000 made-in-Vietnam ICT products and services. The ICT industry made $136.15 billion in revenue last year, up from $124.67 billion in 2020 [4].
In 2021, foreign direct investment (FDI) injected the Vietnam ICT sector with a sum of $4 billion, 2,355 projects. This year, the MIC targets 70,000 digital technology businesses, revenues of the ICT industry to reach $148.5 billion, and a growth rate of 9.2 per cent [5]. Such remarkable growth momentum resulted from a high level of information digitalization, technology diffusion and adoption aided through the government's comprehensive reform agenda, along with the nation's digital readiness. Such developments are the firm testimony to the essence of DX as an underlying catalyst to Vietnam's economic boom.
Vital industries driving the digital race
The following sectors have primarily contributed to Vietnam's thriving digital market: Banking, financial services and insurance (BFSI); E-commerce and Manufacturing.
BFSI: Vietnam's fintech industry is on a rising trajectory as it tripled in size within the past five years. As more consumers switch to cashless transaction methods, the banking industry has been deemed a hotbed of investment opportunities and business growth. In 2021, Vietnam ranked third in ASEAN Fintech funding, securing a total of 167 investment deals amounting to US$ 388 million [6]. Leading segments include digital banking, P2P, Blockchain/Cryptocurrency, Wealth management, and POS. Accounting for 85% of the market share and 31% of all Fintech startups, Digital Payment is the current largest segment in the fintech ecosystem [7]. Rapid growth and fierce competition between fintech services, neobanks and traditional banks have urged the financial institutions to push their platforms in the digital race. In the coming 2022-2025 years, all banks, businesses and fintech companies in Vietnam expect to accelerate digital-first strategy.
E-commerce: Vietnam is currently the third booming e-commerce market in Southeast Asia, just after Indonesia and Thailand. Online market activities are burgeoning as approximately 50% of Vietnam's population have endorsed online shopping to their purchase routines, and 53% have adopted e-wallets or online payments [8]. The new purchasing behaviour is attributed mainly to Covid-19's need for social distancing, which fueled the public demand for contactless shopping and required retailers to upskill digitally.
Manufacturing: In 2020, the manufacturing and processing sector continued to take the lead in the country's foreign direct investment (FDI), accounting for 58.2 per cent of the total. Being one of Vietnam's main economic domains, the manufacturing industry has been strongly encouraged by the government's 1.3$B stimulus package, which aims to leverage technologies and boost competitiveness after Covid-19. Robotic process automation, IoT and cloud computing are implemented to improve factory processes, all in a long-term effort to turn Vietnam into one of the leading hubs of manufacturing factories [9].
Government as the fundamental support system
Vietnam recently approved the National Digital Transformation Programme by 2025, oriented towards 2030. The MIC has since submitted a national agenda on Vietnam's digital transformation development, which aims at promoting three pillars (digital government, digital economy, and digital society) delivered on one digital platform. This initiative has shown the government's unflagging commitment to digitalization, further compounded by its completion of the enabling policy mechanism for ICT and electrical telecommunications.
Moreover, Vietnam is currently providing attractive tax incentives for both foreign and domestic investors, with hi-tech and software companies being among the prioritized sectors. Since Jun 2020 - Law on Investment; Law on Enterprises; Public and Private Partnership Investment Law - have been set on the run. The purpose is to engender an open mechanism, increase decentralization and uniformity across all forms of investments.
As the need for tech talent and niche specialization is at an all-time high, the government is placing focus on fostering a domestic talents base. Commence with facilitating an education system founded on digital transformation, with various training programs at post-university and vocational levels on artìicial intelligence (AI), big data, Internet of Things (IoT)...
In the upcoming years, Vietnam's entire digital economy is forecasted to reach $57 Billion worth, quickly enhancing its position as a top ASEAN technology hub. Seated well on top of the nation's agenda, digital transformation shall continue to receive substantial investment flows. Investors can expect digitization to exert industry-wide impacts, particularly on top Vietnamese sectors such as manufacturing, BFSI and retail.
Sources
[1] https://en.vietnamplus.vn/vietnams-exports-rise-sharply-in-2021/220449.vnp
[2] https://www.vietnam-briefing.com/news/why-vietnam-forecast-fastest-growing-internet-economy-southeast-asia.html/
[3] HFS Research, Global enterprises must not overlook the untapped potential of Vietnam, 2021.
[4] https://english.mic.gov.vn/Pages/TinTuc/152056/Vietnam-vows-to-have-10-digital-technology-firms-with-revenue-of-over--1-billion.html
[5] https://vietnamnet.vn/en/business/tech-giants-bet-on-digital-evolution-818574.html
[6] https://www.uobgroup.com/techecosystem/news-insights-fintech-in-asean-2021.html
[7] https://e.vnexpress.net/news/business/industries/digital-payment-market-consolidates-under-big-names-4009441.html
[8] https://en.vietnamplus.vn/ecommerce-important-pillar-of-vietnams-digital-economic-development/220652.vnp
[9] https://ycpsolidiance.com/article/how-will-vietnams-manufacturing-sector-look-like-throughout-this-covid-19-crisis
[10] https://www.pwc.com/vn/en/publications/2021/pwc-vietnam-digital-readiness-financial-services-en.pdf