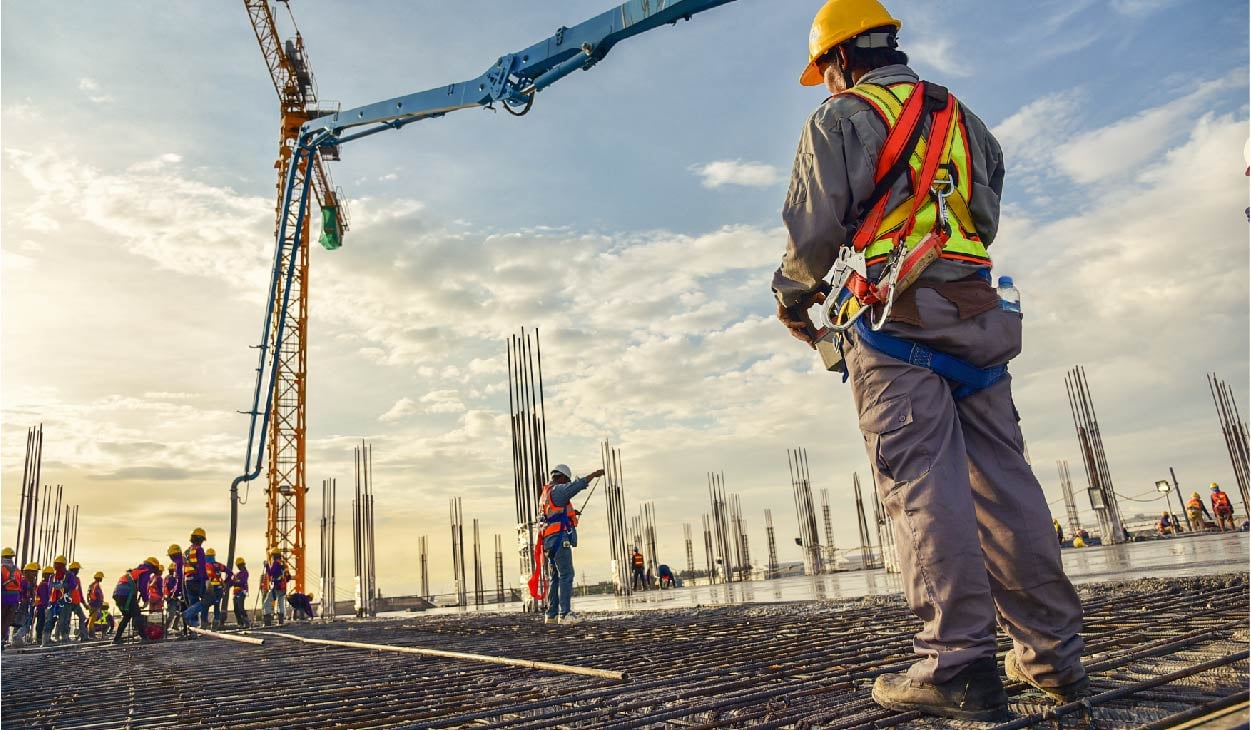 We've broken down three technology trends that are likely to define the construction sector in 2021.
---
Compared to industries like healthcare, finance, education, and entertainment, technology adoption in the construction industry seems to accelerate at a relatively slower rate. Yet, it does not mean that the sector is immune to innovative technologies. Indeed, the construction technology market is predicted to reach over 2.7 billion US dollars by 2023. In the upcoming year, there are three construction technology trends that immediately spring to mind.
Artificial Intelligence
AI has significantly disrupted several industries, and construction is no exception. One of the most valuable applications of AI in the industry is that AI can help firms to use Building Information Modelling to its full advantage. BIM is a 3D model-based process enabling industry experts to gain insights on how to effectively plan and construct buildings and infrastructure. Struggling with manual management, construction firms over the world have established entire divisions devoted to handling BIM-related data. But once a project is done, 95% of the generated data is deleted instead of being analyzed and optimized for other purposes. AI can unlock the full potential of BIM by learning from the collected data and identify patterns, then make decisions on how to improve building processes. This can help firms increase productivity and reduce human errors.
Additionally, the construction sector is known for being one of the most hazardous fields to work in. The importance of increased safety in construction sites seems apparent. These sites are increasingly equipped with IoT devices, sensors, etc. that monitor several facets of construction processes. Adopting facial and object recognition technologies, Ai-powered systems are able to detect perilous behaviors and alert workers of potential hazards.
Augmented and Virtual Reality
Since the built environment is intrinsically associated with three-dimensional space and construction experts highly depend on imagery for communication, AR and VR will continue to disrupt the industry. VR can plan crane routes during the construction of highways to reduce the length and time of the crane trips. Another possible application of VR is that it could facilitate real-time bills of quantities (BoQ). In construction, BoQ is a significantly important document with detailed information of the quantities of materials, workmanship, etc. The purpose of the document is to provide comprehensive cost-related information for clients, yet, as a project launches, costs might be adjusted and the BoQ might not be timely updated. Using VR, users can modify the bill of quantities anytime, hence speeding up design changes during the construction process1.
To ensure timely delivery of projects, AR can be a powerful tool for detecting changes in the construction process. an AR system could automate construction progress monitoring and offers a color-coded overlay to quickly identify sections of the site that are behind, on or ahead of schedule. Through the lens of VR, construction professionals can see a building in 3D, and thereby spot problems before the project is carried out.
Robotics and automated systems
Robotics and automated systems have the ability to revolutionize the construction industry - which is usually beset with efficiencies. Indeed, these applications are able to accelerate several parts of the construction lifecycle, and thereby take some of the back-breaking and mundane jobs off workers' plates. Single-task construction robots have been used for wall painting, bricklaying, welding, demolition, etc.
Additionally, automated drones are being used to map job sides and carry out inspection. They can send the necessary datasets back to land in the absence of a human inspector. This is particularly helpful when it comes to extreme and dangerous environments.
In recent years, other industries have proved that first movers can gain a competitive advantage by adopting innovative technologies. This is likely to be the case in the construction sector.
References
Davidson et al. (2020). Integration of VR with BIM to facilitate real-time creation of bill of quantities during the design phase: a proof of concept study. [Link]
Delgado et al. (2020). A research agenda for augmented and virtual reality in architecture, engineering and construction. [Link]
McKinsey (2018). Artificial intelligence: Construction technology's next frontier. [Link]