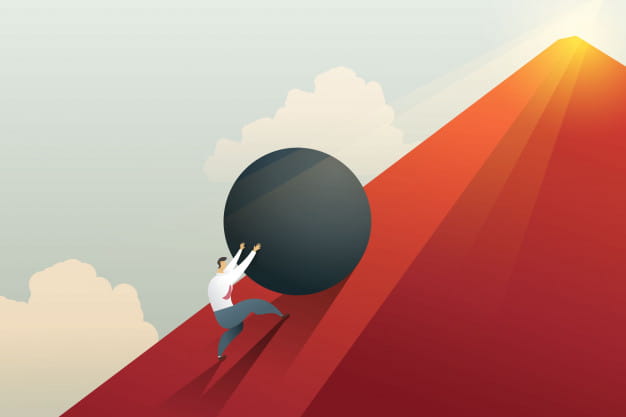 Find out challenges for enterprises in deriving benefits from analytics investments and how to address each one.
Advanced analytics offers potential for better business outcomes and reducing risks of bad decisions. Nonetheless, it is not a simple task to convert data from raw, meaningless material into valuable and actionable insights, since balance of technical and business requirements as well as efforts from multi departments at all levels must be ensured. Due to this complexity, plenty of companies have yet to succeed in achieving competitive advantage from their analytics investments. The reason seems to lie in their failure to realize and overcome challenges in conducting data-driven business transformation.
Unclear business objectives
Analytics in business, after all, is just a means to an end, a tool for companies to achieve answer for their problems. Without a clear vision of the desired business impact, enterprises would struggle with finding the appropriate techniques, be drown in data, waste efforts and money on insights that do not add value to business performances. In fact, it is not a rare case that organization, so caught up in the hype of big data and analytics, throws itself into a variety of projects and try to collect as much data as possible despite not really considering the specific aim. Some might be lucky and hit on valuable findings, but still this grope-in-the-dark approach is highly inefficient and resources-consuming, especially when the volume of data generated is increasing at an exponential rate every passing day.
Henceforth, instead of starting with the data itself, firms should start by defining what trouble they are having, what outcome they want to accomplish, and how advanced analytics could get them there. It might be an attempt to reduce time spent on a tiny step in the process, or an ambitious plan to modernize and transform the entire business operation. No matter what the objective is, it shall be clear and specific, serving as a compass for enterprise to discover deep insights from voluminous amount of data.
Related posts:
Lack of organizational alignment
According to NewVantage Partners' survey (2019) on C-level technology and business executives, 93% of respondents identify people and process as principal challenges to big data/AI investments, of which lack of organizational alignment - a shared mentality across organization on leveraging analytics, accounts for the largest proportion. As analytics projects require close collaboration between lines of business and IT, a failure in achieving common vision or understanding on business objectives and technology capabilities might lead to inappropriate use of data, security and privacy risks, overlap in efforts and many other unfavourable consequences.
There is a wide range of reasons resulting in this alarming finding, but among all, change management is usually paid less attention to or even ignored. In fact, companies often focus mostly on impacts data or AI initiatives would produce on customers while bypassing their influence on employees and current business process. In order to ensure the smooth transition, organizational change management shall be continuously conducted before, during and after the analytics implementations.
In the preparation phase, it is critical to obtain agreement from various stakeholders. Executive commitment shall be combined with the acknowledgement of employees from grassroots level to ensure analytics will be companywide deployed for decision making. Educational campaigns should also be provided so that stakeholders can achieve a clear understanding and expectation for the project's outcomes. Managers are recommended to develop a road map and implement incremental deployment, thereby helping employees to get accustomed to each change and turning analytics rollout to a learning process, rather than an abrupt or immediate switch.
Analytics incompetence
Lack of competencies might remarkably hamper companies' implementation of analytics initiatives. For instance, it would be difficult for the mission team to develop and deploy complicated analytical methods without quantitative background. Similarly, limited knowledge of new technologies and analytics tools on the market would slow down progress toward data-oriented targets. There are two main routes to cultivate data-related competencies: boosting in-house talent and partnering with data analytics service providers.
For the former, enterprises may provide training for their existing employees from internal and external sources. Some prefer this approach due to its economic benefit and the belief that current staff already understand the business to a great extent, yet it usually takes time. Hiring new talents is another option. However, finding talented resources to implement analytics initiatives has long been a headache for enterprises. Despite the advanced analytics talent pool is estimated to double within two years in 2020 (Bain & Company, 2019), competition for skilled staff is still very fierce, as in order to truly do the job well, the job holder must possess both technical know-how and business knowledge, as well as a holistic set of skills, including quantitative analysis, problem solving, critical thinking, communication and teamwork.
This leads to the second route for developing analytics competencies – working with vendors who have the required expertise. Organizations can take advantage of partner's thorough knowledge in analytics and accumulated experience in the domain, thereby jumpstarting their efforts to become data-driven.
How can FPT help?
With plenty of Advanced Analytics experts from various industries and a diverse portfolio of offerings, FPT Software has been serving as a bridge between customer's current position and where it desires to get at. Not only helping customers to address analytics incompetence, FPT's Analytics services also assist them in every aspect of data strategy implementation, including how to structure, operate, analyse, monetize and secure data to facilitate better decision making and accelerate business performance.
Fancy more details? Browse the list of Advanced Analytics case studies here.
To sum up
There are many reasons that cause analytics projects to crash and burn. Being aware of common obstacles and how to overcome them, more or less, would save companies from squandering loads of time and resources on ineffective approaches. Though analytics adoption comes with potential roadblocks and requires intensive work, a huge amount of capital and persistence, the results are undoubtedly rewarding.
References
NewVantage Partners (2019). Big Data and AI Executive Survey 2019. [Link]
Bain & Company (2019). Bain & Company estimates the global advanced analytics talent pool will double by 2020—but bottlenecks will persist. [Link]