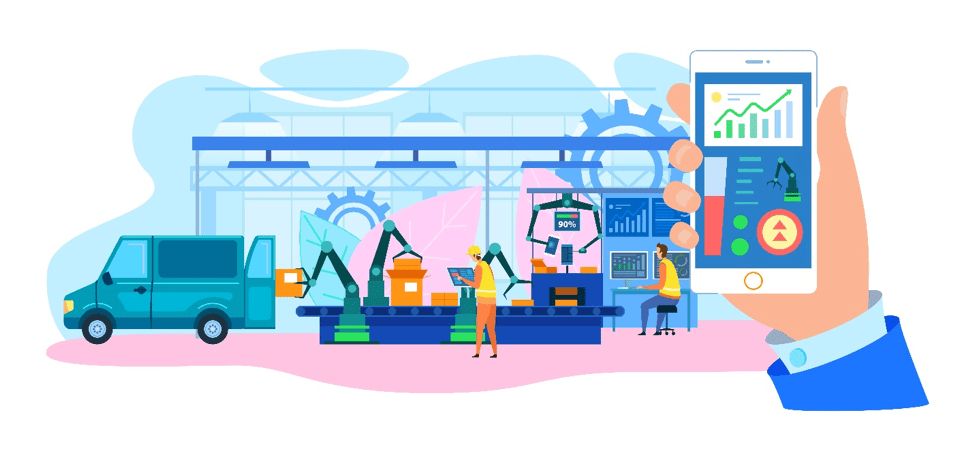 Overview
In the previous article, we have learnt about Artificial Intelligence and how this emerging technology has been penetrating into the business life. The past decade has witnessed the rise of AI, with the investment in AI is growing in a high rate. In 2016, companies have invested $26-$39 Billion in AI (McKinsey, 2016).
In supply chain sector, leaders have been reportedly shown using AI to augment and automate supply chain decision making (Gartner, 2018). According to Gartner, 64 percent of advanced supply chain companies use AI within their corporations. In 2019, one of the top 8 supply chain trends is using AI technology to seek to augment human performance. Thanks to AI, various supply chain processes such as demand forecasting, predictive maintenance and production planning can be automated.
FPT Software has also utilized AI in multiple projects with clients, including Warehouse Optimization, Yard Management System, Quay Crane for Lighter's Auto – tracking, Chatbot in Logistics and AI – powered Visual Inspection; which will be discussed further below.
Warehouse Optimization
A market leader in the logistics of electric precision parts, OA machinery, telecommunication equipment, electronics and machine parts. Their day to day business operation is to pick up different types of goods from different warehouses. The picking up operation is time consuming and not efficient as expected.
To help our customer, FPT has conducted consulting & assessment phase of Automated Data Analytics service to address two major targets and also to plan for implementation phase. The two major targets are:
To find out the root cause of inefficient picking. FPT has analyzed historical log data to find out factors that impact to picking time specifically to each type of goods. Amongst analyzed reasons, loading goods to shelves shows the most impact to picking time. Current loading is managed by a set of basic rules. These rules are fixed and outdated therefore are not optimized. Inefficient goods loading causes difficulties in picking operation.

To design an algorithm to calculate warehouse's remaining space. Remaining space is an important input for an engine to recommend goods loading to shelves.
FPT then has designed and implemented two automated data analytics solutions and then integrate the two solutions to existing warehouse management software.
Automatically analyze data to calculate remaining space of warehouse at any point of time.

AI engine

to recommend optimized goods loading options for a specific type of goods in a specific warehouse status at a specific point of time.
Our solution has reduced pickup time by 15% which is beyond customer expectation, increased customer satisfaction through 91.5% accuracy rate, freed-up IT staff to focus on more value-added initiatives and reduced operational cost.
(Read more: How AI Services Accompany Companies to Conquer The 4.0 Industrial Revolution?)
Yard Management System
The customer is a Vietnamese branch of a multi-national FMCG (Fast Moving Consumer Goods) manufacturer. The dispatching process at the customer's yard is quite manual and takes too long, about 2-4 hours/truck and faces many issues: At dispatch gate, parcels will be checked manually against picking slip for about 45 minutes which is time-consuming. The yard must pay rental cost for renting pallet, it will then be lifted by fork-lift to the truck. The risks of having collision & worker injury are quite high. That drivers follow truck plan and can only know the exact dispatch gate number after entering security gate causes traffic congestion and driver stress due to too many truck's waiting & turning. The communication via email & phone of hauliers and operators are slow, error-prone and inconvenience.
FPT has come up with a solution called Yard management system to semi-automate the way of checking and loading parcels onto trucks and manage tasks. SKU number is printed on the box and can be checked by Computer vision. In most of the cases, the parcel will be off-loaded from the pallet after being put in truck so fork-lift can be replaced by Conveyor belt. In Yard Management System, applying AI helps auto check and count parcels by using Computer vision, manage notification sent to haulier drivers and accountants and make communications better between them.
Yard Management System reduces at least 50% process time per dispatch truck, cuts down fork-lifting stage, saves driver salary and fork-lift rental cost.
(Read more: Text Summarization in Machine Learning)
Auto-tracking of Quay Crane for Lighter
An international multipurpose port headquartered in Singapore, providing integrated solutions for the most complex of logistics operations. Their current situations are facing some problems. Their customer who using seaport cranes for moving cargo between trucks and lighters is charged based on number of Chargeable lifts. The whole operation is monitored from control room and the transactions (consists of several lifts) are being recorded manually.
Whenever there's a mismatch in the bill, tracing back to a specific transaction (paper, video) is taking lots of time. Our customer needs automate the counting, reduce human error, tracing back easily, and tracking of lifting time for optimization.
FPT has developed an Auto-tracking of Quay Crane solution to automate the way of counting lifts and monitoring crane operation. The system will automatically tracking all operation of crane (using Computer Vision & sensor) and derive the type of each lift (chargeable or admin) for billing through analyzing all information collected above. The tracking information will be streaming to the Port's data lake for further visualization and optimization.
The solutions of Auto-tracking of Quay Crane have met customer's expectation of 100% accuracy of counting, which cut down effort of manual lift tracking and easily track real-time all operations for better management and transparency. Time of tracing back to a specific transaction is reduced from around 30-60 minutes to 5 minutes.
Chatbot in Logistics
Customer is one of the leading port operators in Vietnam and ranked in the top 25 in the world. After investigating their business processes, there are many processes can be improved effectively. One of the improvements is the interactive method to customer. When customers need to contact to import/export goods at the port, or have problems in the process of completing the custom documents or have query about their order process; they will call to the port call center. The company supports customer via emails, chat or direct calls (unofficial). These communication methods are not standardized and professionalized yet, the provided information which depends on each advisor/ counselor may be misleading.
The customer would like FPT to build an AI chatbot to standardize the interactive method by answering in a fixed, well-written format. The chatbot application module has the function of managing administrator list. When it does not understand the question or when the customer requests to meet the staff, it will send information to the admin.
Responding time is significantly fast, within only one second, the standard answers in 2 languages Vietnamese and English make customer caring system more professional. Moreover, this chatbot serves 24/7, reduces effort for employees and improves their productivity.
AI-Powered Visual Inspection
The customer is one of the largest manufacturing and logistics companies in Vietnam. Their manual method for inbound quality inspection requires heavy human efforts and cost.
Our system uses AI (cognitive visual recognition) to support checking products before receipt into warehouse. The system can also be used to inspect out coming products on production line.
The system can identify objects that are in abnormal conditions (e.g. dented, torn, crushed) automatically and promptly during the round check process.

FPT develops the AI algorithms, executes the training process, and implements the application that supports the goods inspection procedure.
The benefits of our AI system are high flexibility- Applicable for various products (mixed of different shapes, size or categories). Customers can easily train the model with objects that are more appropriate for their purposes. It reduces 30-40% process time and around 70% human resources used for goods inspection.
Tell us about your business needs!
Conclusion
Supply chain sector is indeed an emerging industry with spaces for technology like Artificial Intelligence to engage in. The potentials of AI are approved by various leaders in the industry, but we can anticipate for more developed plan in the future. If you are curious, stay tuned for more of our article to discuss about AI in Insurance industry.
Interested in more technology articles? Click here to learn more!
Source:
Gartner, 2018. Improve the Supply Chain With Advanced Analytics and AI Improve the Supply Chain With Advanced Analytics and AI. Link: https://www.gartner.com/smarterwithgartner/improve-the-supply-chain-with-advanced-analytics-and-ai/.
Gartner, 2019. Gartner Identifies the Top 8 Supply Chain Technology Trends in 2019. Link: https://www.gartner.com/en/newsroom/press-releases/2019-04-24-gartner-identifies-the-top-8-supply-chain-technology-0