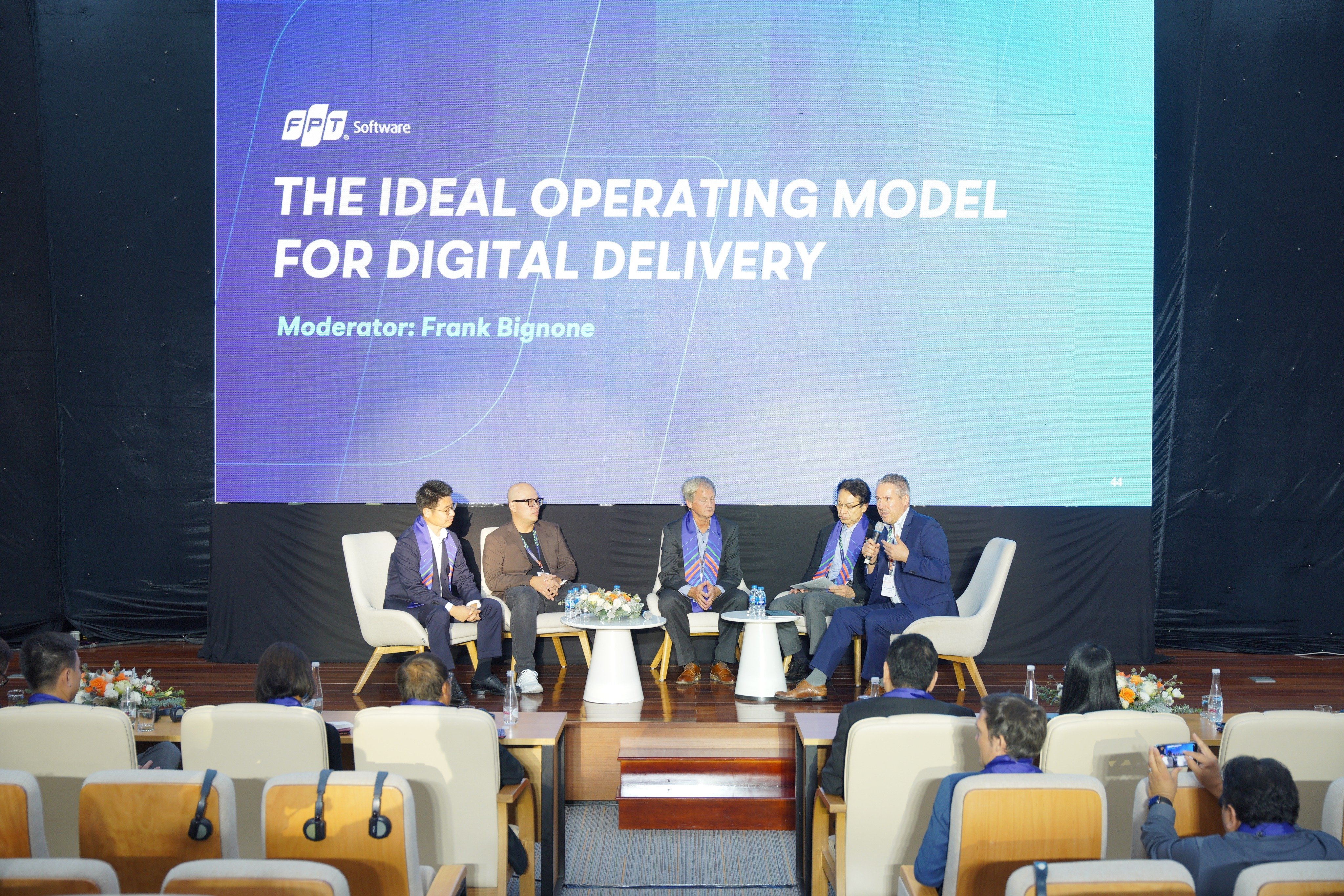 Digital transformation is no longer a "nice to have", but it is now necessary for every business. An organization can only survive in the future if they undergo digital transformation to keep up with changing customer demands.
During the FPT Tower Grand Opening event, FPT Software carried out a technology panel discussion surrounding the topic of "The Ideal Operating Model for Digital Delivery" with Frank Bignone - FPT Software Global Head of Digital Transformation as the moderator. With the attendance of over 500 people, among which are senior leaders from world-leading corporations, the panel took a deep dive into how digital transformation is a change catalyst to companies, and how to apply digital transformation and technology to support businesses.
Digital transformation (DX) in the new normal
According to Liu Zhenmin, UN Under-Secretary-General and Head of UN DESA, the world is entering a new normal in the post-COVID-19 era. This new reality is one that will speed up digital transformations across industries [1]. Companies are now facing an urgent choice: transform or be left behind.
Mark Dahlberg - Director of Service Systems at Sysmex America explained this in the panel talk through a story taken from his own company, about how the digitization of their tools paid great dividends. Not only does it help them to train customers, and troubleshoot instruments all remotely, but it also supports them in embracing borderless recruitment and expands their talents pool.
Adding to that, Takeshi Oga - the Managing Executive Officer of SAP, points out the three Ps that organizations need to remember when executing a transformation: People - Process, and Place.
In Oga's statement, one of a company's most precious resources is its human resources, which is a crucial factor that drives the company forward. Due to that, organizations need to have their training strategy in place and, at the same time, develop a data-driven decision-making culture for the top managers. As for the process, when embarking on something new, changing the business process is inevitable. Since processes are the lifeblood of the business operation, they need constant monitoring and fixing. Lastly, place is similar to testbeds where all the changes happen. Organizations need to have a modern and practical zone where they can challenge the new business changes, as well as an environment where people are encouraged to think out of the box.
Overcoming the DX roadblocks
As estimated by Markets and Markets, the size of the global digital transformation market will reach USD 1247.5 billion by 2026, growing at a 19.1% compound annual growth rate (CAGR) over the projected period. Nobody, however, has brought up the reality that most digital transformation programs fail before they are fully implemented. A recent study by BCG shows that up to 70% of digital transformation projects can not achieve their goals, frequently with serious repercussions.
So how can business transform safely?
Han Boon Siew - Chief Information Officer Asia Pacific at Schaeffler, offers a unique perspective of how Schaeffler overcame the digital transformation roadblocks, using three levels of methodology.
"The first one is always getting our infrastructure and digital solutions right," said Han. "Also, up to now, we are always exploring new digital solutions and platforms, just to make sure we are up to date".
The second level is that during the crisis, when companies are slowing down, Schaeffler pushes hard with the belief that: Every problem comes with an opportunity.
Last but not least is the emphasis on finding the right partners. "FPT is not a vendor, FPT is a friend and a partner," he added. Instead of doing everything alone, Schaeffler has chosen FPT as a trusted partner to accompany them - from the idealization of concepts to advancing technologies and nurturing a lasting partnership.
Deep-dived into how companies should leverage technologies, Hiroyuki Koyama - Vice President & Chief of Digital Officer of Toshiba Tec Corporation, recommended making the change with a partner who understands the changing needs of the market and its customers. In addition, he expressed that he is looking forward to seeing FPT take the ship as a co-creation site, playing a pivotal role in advocating global enterprises in their transformation journey.
Accelerating digital transformation with FPT Software
In closing, while failure comes at a hefty price, success comes with substantial and great rewards. COVID-19 has increased the demand for businesses to transform their digital capabilities across all industries. To stay ahead with the digital race, companies must firmly but carefully strategize their digital transformation.
As a pioneer in digital transformation, FPT Software delivers world-class technology services such as Smart factories, Digital platforms, RPA, AI, IoT, Cloud, AR/VR, BPO, and more. FPT Software is a trusted companion, committed to helping businesses accomplish their digital goals with practical and impactful digital.
Reference:
[1] https://www.un.org/en/desa/new-normal-digital#:~:text=With%20half%20of%20the%20global,space%20and%20even%20our%20dancefloor.
[2] https://www.marketsandmarkets.com/Market-Reports/digital-transformation-market-43010479.html
[3] https://www.bcg.com/publications/2020/increasing-odds-of-success-in-digital-transformation