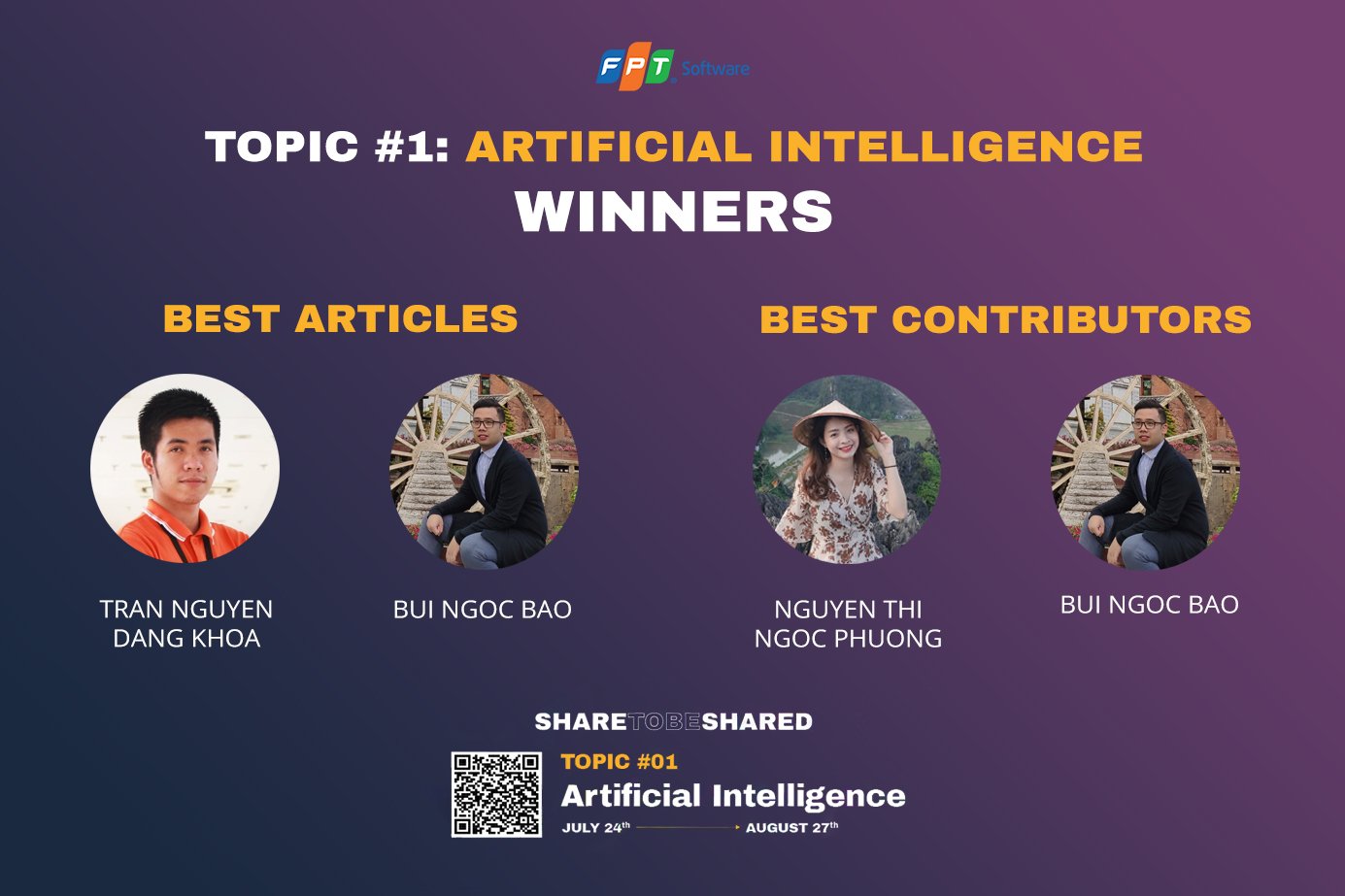 The first topic of SHARE TO BE SHARED: AI had ended and we have received a large number of articles submitted. We have finalized the winner of Best article of the month and Best contributor of the month!
---
Every article that meets the criteria of the contest will be posted on FPT Software's Technology Blog and the author will receive 500,000 VND royalties, and have the opportunity to receive monthly prizes and final prizes up to 96 million VND.
🎉 And the awards go to 🎉
(drum rolls)
Best Articles of The Month
valued at VND 1,000,000
"Text Summarization in Machine Learning" by Bui Ngoc Bao
"Will AI Era Become The End Of Code?" by Tran Nguyen Dang Khoa
Best Contributor of the Month
valued at VND 3,000,000
Bui Ngoc Bao
Nguyen Thi Ngoc Phuong
with 3 articles submitted each person.
CONGRATULATION TO ALL WINNERS!!!
The awards will be sent to the authors the following days. Thank you so much for your participation in the first topic!
The next topic will be announced soon. Please stay tuned for more details!
---
About "SHARE TO BE SHARED":
"SHARE TO BE SHARED" – a FPT Software's technology writing competition - aims establish a technology knowledge sharing platform for not only FPT but also experts outside of the firm. With "SHARE TO BE SHARED", technology knowledge will be shared within experts, creating a friendly environment for audiences to participate in.
By submitting articles related to monthly topics of competition, you will get 500,000 VND royalty for each qualified article and have a chance to receive the big prize UP TO 96 MILLION VND IN CASH.
Contact:
Hotline: 090 622 2460 (Ms. Phuong)