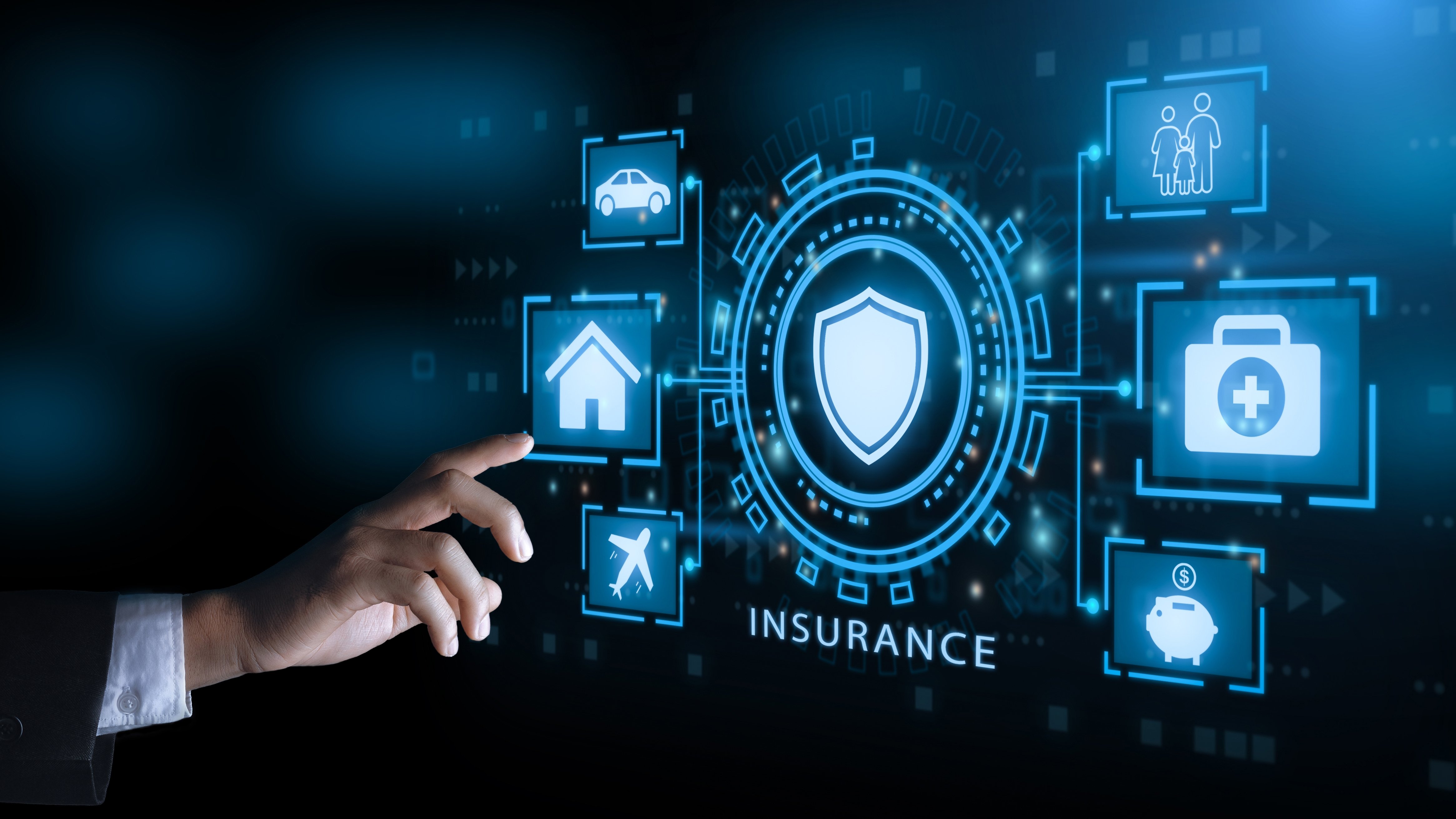 With the advent of digitalization, the insurance sector, once reliant on outdated business models and manual operations, is now undergoing a profound transformation. To stay ahead of the game, industry leaders must grasp the impact of emerging technologies that are reshaping the insurance landscape.
Embracing technology has become imperative for businesses to maintain a competitive edge in an ever-evolving world as we enter the era of change. The insurance market has long been highly saturated and dominated by conventional business models. Thus, to keep the competitive edge, insurance companies have started diversifying their business models, products, and business processes by implementing technological advancements. Nevertheless, many insurance providers are still in the early stages of their digital transformation journey and have just started modernizing their technology infrastructure, leaving them susceptible to being overtaken by more agile competitors. To unlock their maximum capacities, leaders in the insurance industry must gain a comprehensive understanding of how these trending technologies are reshaping the business landscape.
Transforming the Core Process with AI
AI is a valuable tool to help to modernize legacy insurance operations, from claim process, product pricing, and underwriting - one of the core areas of insurance that can benefit from AI. Insurance underwriting is still a labor-intensive and fallible process. As insurance companies expand, customer volumes rise, and data sources multiply, the need to modernize underwriting processes becomes a must to streamline operations, lower costs, and enhance efficiency. According to Gartner, approximately one-third of life and pension underwriting has been partially automated to speed up and lower the cost of policy issuance [1]. Underwriting tasks can be streamlined through automation and the integration of machine and deep learning models within the technological stack. With a combination of internal and external data sets, this model can be accessed through application programming interfaces and analytics providers. By leveraging these data sources, insurers can make accurate underwriting predictions. This allows the business to proactively reach out to customers with tailored product bundles based on their risk profile and coverage needs.
It is forecasted that AI-based automation will replace 50% of all insurance processing tasks [2]. Although it should be noted that AI adoption is still in the early stages for the insurance industry, as more companies take up this trend, more opportunities will become available and increase the sector's efficiency, compliance, and transparency.
Future of Connected Insurance by Applying IoT
Besides AI, the insurance industry has started utilizing IoT technologies, defining a new era of connected insurance. The rise of IoT brings forth numerous benefits for insurance providers, including streamlined automation, improved analysis, enhanced customer experience, and reduced operational costs. By automating the data collection process, IoT helps insurers gain a deeper understanding of risk reduction, resulting in more informed underwriting choices.
In the coming years, we can expect a substantial surge in the number of IoT devices. This expansion will encompass not only existing devices like smartwatches and smart homes but also emerging categories such as smart cities and medical devices. Reports state there will be 42 billion connected devices by 2025 [3]. This soar of connected gadgets generates a flood of new data that will help insurers better understand their customers, leading to the development of new product categories, more tailored pricing, and an increase in the real-time delivery of services.
Moving to the Cloud
As cloud computing develops, migrating essential systems to the cloud can offer significant benefits to the business' data management and customer service. Insurers can utilize cloud infrastructure in a variety of ways to enhance their operations. Among the most typical use cases are the following:
Platform hosting:

Hosting insurance platforms in the cloud enables insurers to roll out new applications and services quickly.

Data storage and backup:

The cloud platform provides the optimal solution for data storage due to its reliability, security, accessibility, and scalability, making it convenient and ideal for backing up critical data.

Customer relationship management (CRM)

: CRM systems allow businesses to manage customer interactions and track sales progress, especially to centralize their customers' data sets, allowing them to get a comprehensive overview of their clientele and facilitate a better customer experience in the long run.

Insurance claim management

: The cloud can manage insurance claims from start to finish. This option includes recording details of the claim, tracking progress, and issuing payments.
Cloud technology offers insurers the opportunity to enhance customer service, accelerate time to market, and achieve greater efficiency and scalability. The market value of cloud computing on the insurance sector is predicted to increase from 70 billion to 110 billion by 2030 [4]. Therefore, by embracing cloud-native solutions, insurers can position themselves at the forefront of the industry.
Overcoming the IT Gap with Low–Code
The Pain Points
Despite technological advancements, many US insurance companies still face operational challenges that hinder their efficiency. One major pain point is workflow inefficiency. Many insurance processes are still performed manually, which requires significant time and resources. This often results in errors, delays, and increased costs. For example, from the moment a customer expresses interest in applying for an insurance policy until the contract is issued, multiple departments are involved in the process, causing overlaps, duplication, and increasing the chance of errors and data discrepancies.
Another significant pain point involves the use of data silos. Different departments or systems within an insurance organization often store their data in separate locations or formats, making it difficult to synchronize between departments. Data silos also lead to missed opportunities, slower decision-making, and the non-comprehensive view of customer data makes it difficult to timely satisfy their needs. Addressing this problem requires the integration of data from different departments and systems, which is a complex process that requires careful planning and execution.
Solution: Optimizing Operations with a Low-code Platform
The Operations department is considered a backbone of an organization. Other than high-tech solutions that require technical expertise and time to develop, deploy, and maintenance, such as AI or Machine Learning, low-code platforms far outweigh any technical-intensive applications thanks to their agility. One such game-changer for the operations team in the insurance businesses is Microsoft Dynamics 365 (D365).
One of the main benefits offered by the D365 platform is a low-code solution to address the challenge of data silos. With its unified data model, it allows businesses to integrate data from different departments and provide a holistic view of their operations. The platform also enables users to create custom apps and workflows, helping to streamline processes and eliminate data duplication. Once data is centralized with the platform's drag-and-drop interface, insurance companies can easily create custom workflows that automate manual operational processes, reducing errors, delays, and costs. Additionally, the platform's AI capabilities can provide insights and analytics that help insurance companies make better decisions and improve risk management, thereby facilitating operational workflow effectiveness.
The following studies outline the effective use of D365's low-code platform in supporting operational tasks.
From assigning tasks to different stakeholders to monitoring progress, the platform automates the entire marketing process. D365 integrated solution enables easy and stress-free campaign management, including developing effective marketing tactics to launching campaigns and measuring results.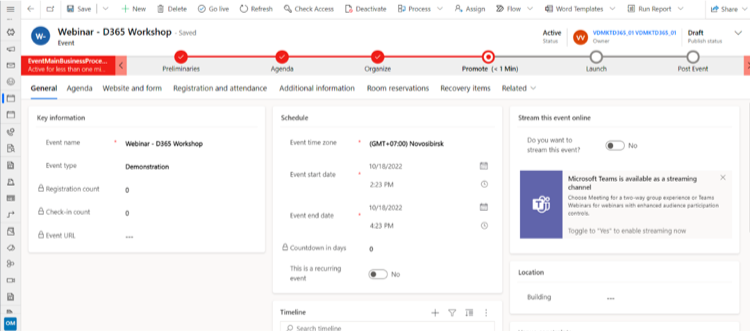 Customer Relationship Management:
The Customer 360 view offers a comprehensive overview of customers' data and history, encompassing the underwriting process and subsequent service requests. This enables companies to centralize and automate the management of their customer database, ensuring seamless information synchronization across departments. By staying updated on each case, businesses can enhance customer satisfaction and deliver more personalized experiences.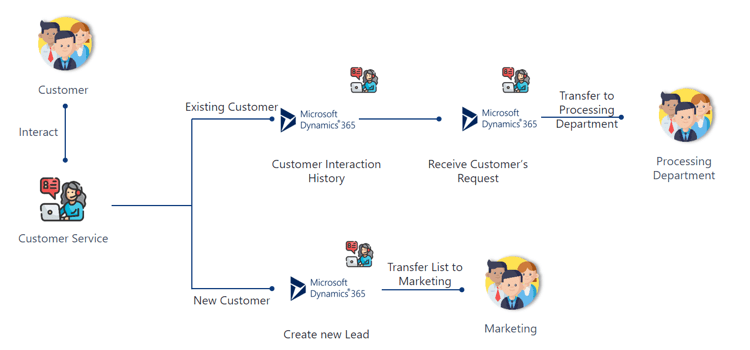 Given the ongoing technological advancements, insurers must proactively devise comprehensive strategies to embrace these changes and elevate their operations. To help organizations stay ahead of the pack, FPT Software provides top-tier insurance solutions equipped with advanced technology and extensive expertise in AI, automation, big data, and low-code capabilities. Our team of specialists have accompanied leading insurers worldwide to drive cost reduction, enhance speed and agility, and improve overall performance through our integrated suite of digital tools and outsourcing approach.
To unlock your company's full potential, reach out to FPT Software today for more information.
References: