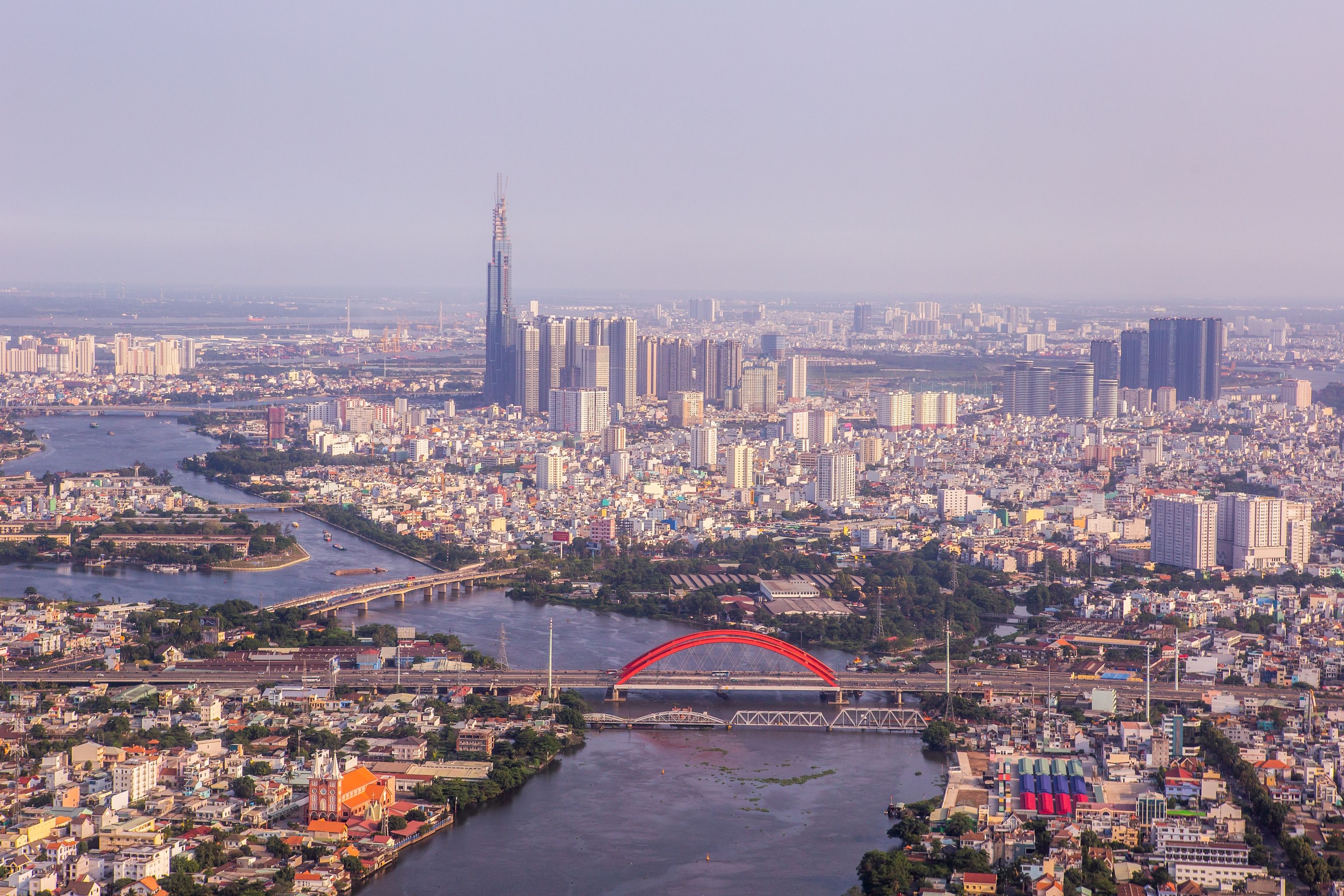 For most of 2020, Vietnam's ability in handling the Covid-19 pandemic had gained recognition as a remarkable success. While many nations were struggling to contain the disease with prolonged lockdowns and reported death toll mounts up to thousands per day, Vietnam was the only economy in Southeast Asia to have experienced astounding economic growth.
Strangles of the pandemic
The outbreak of the Delta variant at the end of April 2021 made swift impacts on the lives and economy of the nation. The fourth wave of Covid-19 turned into an outbreak that even the previously working intervention methods were inadequate to curb, especially when vaccines were in shortage and most of the population was still unvaccinated.
Many industrial zones and factories were hit by the virus and prompted to suspend operations to follow safety protocols and cut costs. Ho Chi Minh City - Vietnam's largest metropolis and financial hub, went under strict "shelter-in-place" lockdown restrictions for almost three months. Consequently, GDP in the third quarter of 2021 took a straight fall to -6.2 percent [1], despite the third quarter and first half of the fourth quarter known to be the high peak for high demands from the United States and Europe, driven by their festive season. By July, retail sales fell by 19.8 percent, the most significant drop since April 2020 [2].
Resilience during hard times
Regardless of these restrictions and bans, the growth forecast for Vietnam's full-year GDP in 2021 is still deemed positive at a maximum of 3 percent. Up to September 2021, Vietnam has reported an increased total capital of foreign-invested projects at 20.6 percent over the same period of 2020 [3]. The manufacturing and processing sectors received the highest capital, followed by gas and electricity production, with Singapore as the top source of FDI, posing a sustained interest in Vietnam as an attractive investment destination in the long run.
Multiple factors backed up these clear signs of a blue sky. In which the first is the Vietnamese government's efforts to contain and curb the pandemic. Adopting a "free-for-all" vaccine policy, Vietnam is accelerating its vaccine program to cover its 98 million population, prioritizing the older, vulnerable in the worst-affected locations. Instead of striving to maintain a Covid-zero policy, the country is seeking to co-exist with the virus.
Besides implementing relief measures, the authority has announced plans to aid economic recovery with six priority pillars. These include restoring supply chains, boosting production, boosting large-scale investments, solving difficulties local and FDI businesses face, improving institutions according to international standards, and improving human resources.
In response to the technology disruptions caused by Covid-19m, companies have quickly adapted, grasped, and applied digital technology in their business models. Many businesses have shifted their focus onto digitizing their services, operational procedures, database and rethinking their workforce culture to one that can thrive beyond the pandemic.
Untapped resources
Vietnam's digital economy and rich talent resources of a young, tech-savvy workforce have established itself as one of the most promising markets in Southeast Asia and a formidable challenger to the usual IT hubs like India and China. Many technology giants like Fujitsu, SAMSUNG, and LG are looking to expand their networks and deploy new projects and business strategies. Hanoi, Ho Chi Minh City, and Da Nang are the three major IT services hubs, boasting a substantial volume of IT and business talent, a digitally focused education system and government support.
The government's focus and investment in the ICT sector is a driving factor to strengthen IT capabilities. Last year, a National Digital Transformation Program was approved. This program aims to accelerate innovation through 2025 with a vision to 2030 and fulfill Vietnam's goal of boosting and cementing digitalization among ASEAN member states, urging smart leaders to unlock the potential of next-gen technologies and meaningful data for their businesses, such as process automation, cyber security, cloud, or artificial intelligence (AI).
Talents and resources shortage are other dynamics playing into Vietnam's growth. Enterprises are pulling levers to sustain their operations in the pandemic economy. Onshore, offshore, nearshore, work from home, and crowdsourcing models are carefully weighted. Demand is at an all-time high that organization leaders have begun to discover new sourcing options than the traditional vehicles and usual markets. Reducing dependence on the Chinese market also plays a crucial factor in diversification supply chains, making Vietnam a viable alternative in the eyes of investors.
With favorable demographics, ideal geographical location, stable politics and government, and keeping an open-door policy towards foreign investors, Vietnam and its blossoming ICT sector would continue to affirm confidence and optimism for its investors in the post-pandemic recovery. "Even with the supply chain and shut down problems they have because of Covid-19 right now, Vietnam is still going to do very well economically and it is becoming, every day, a more important piece of the global supply chain", said Adam Sitkoff, the Executive Director of the American Chamber of Commerce in Vietnam.
Source
[1] https://www.reuters.com/world/asia-pacific/vietnam-posts-record-gdp-slump-q3-due-covid-19-curbs-2021-09-29/
[2] https://www.worldbank.org/en/news/press-release/2021/08/24/vietnam-s-economy-is-forecast-to-grow-by-about-4-8-percent-in-2021
[3] https://vietnamnews.vn/economy/1048675/registered-foreign-investment-up-disbursement-down-in-jan-sep.html