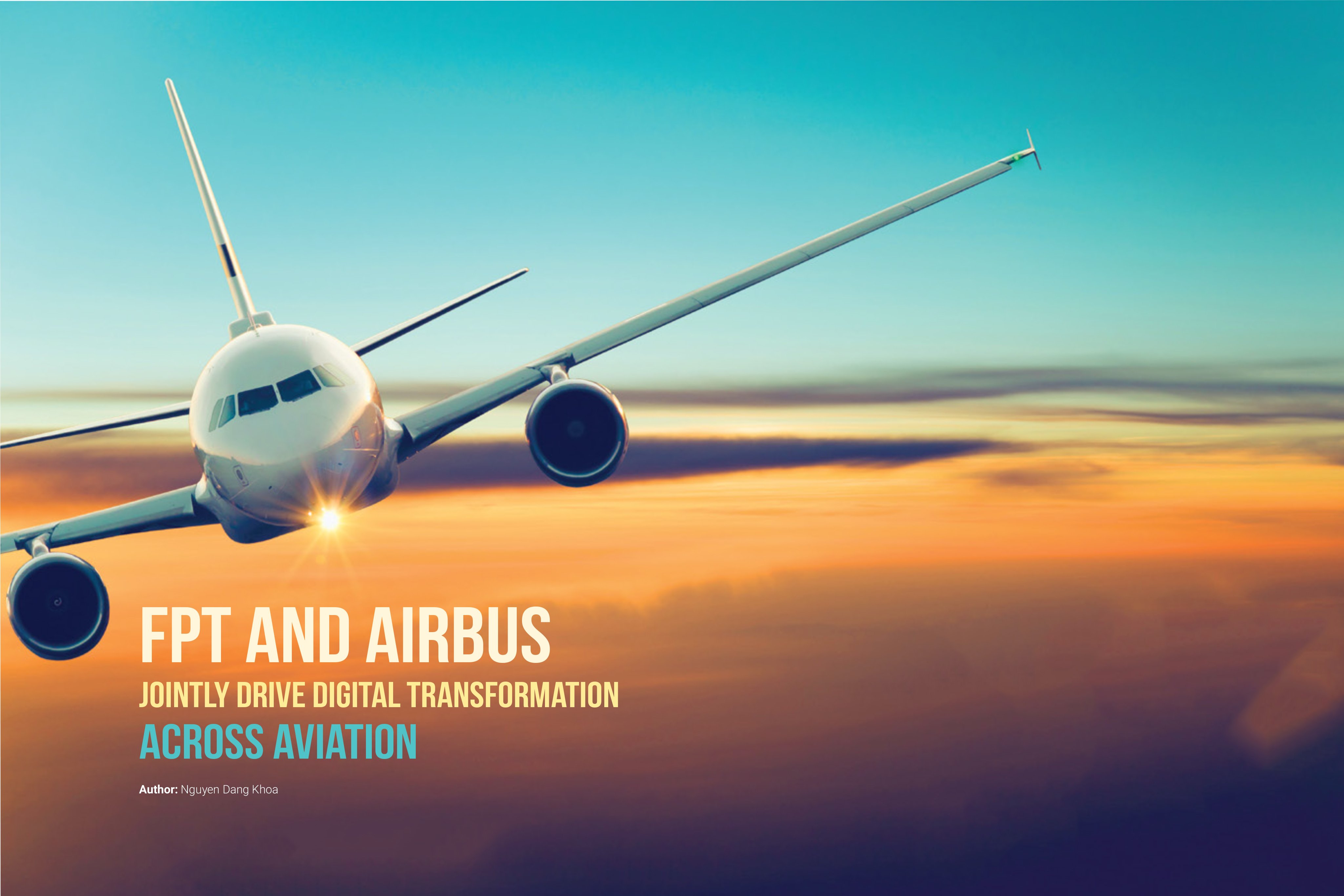 FPT was chosen as the trusted partner to deploy Skywise, firstly pilot in the Asia Pacific. The company has shown its capabilities of a global partner that received handover, transferred knowledge, analyzed data, designed, built and delivered future-ready applications on Skywise.
Airbus is a giant global manufacturer of civil and military aerospace products. Airbus products have performed more than 110 million flights over 215 billion kilometers, carrying 12 billion passengers in multiple countries.
As an industry pioneer, Airbus constantly applies cutting-edge technologies and brings further added values to their business with the most innovative solutions utilized in their robust international network of support, training, maintenance and engineering facilities, as well as its materials and logistics centers around the world.
In the quest to become the best digital aviation of the world, Airbus has an ambition to promote Skywise as a big open aviation data platform launched in 2017. Skywise aims to become the single platform of reference used by all major aviation players to improve their operational performance and business results, as well as to support their own digital transformation.
In time, Skywise will become an aerospace's data platform of reference, with a service offering adapted not only to the aviation ecosystem, but to defense customers and helicopter operators, as well.
Skywise – The beating heart of aviation
Skywise is considered as the "heart" of the aviation industry. It is a digital, hyper-connected and secure platform that enables users to optimize and predict everything from engineering and maintenance to flight operations.
Thanks to cutting-edge data analytics and artificial intelligence tools, Skywise lets users access deep insights previously lost in the noise. The results include fewer operational interruptions, lower fuel burn, generally improved efficiency and reduced workload as well as faster decision-making process to cope with unexpected incidents.
FPT to bring 'hot' technology on Airbus flights
FPT was chosen as the trusted partner to deploy Skywise, firstly pilot in the Asia Pacific. The company has shown its capabilities of a global partner that received handover, transferred knowledge, analyzed data, designed, built and delivered future-ready applications on Skywise.
March 27, in France, FPT signed a contract to strengthen the development of Airbus's Skywise data platform. With this agreement, FPT, along with the big companies such as Palantir and IBM, will deploy the Skywise platform for Airbus customers.
Airlines On-boarding is a project aimed at importing and transforming data of airlines on Skywise platform using Big Data and Spark technology. Then base on the data collected to build applications and workflows on top of the platform, and to guide the airlines to use this platform.
On each on-boarding project, each team consists of 3-4 members (Deployment Strategist, Big Data Engineers) working onsite at the airlines for 6-8 weeks. At the end of the project, airlines' data from multiple discrete sources will be standardized and integrated into a single unit. As a result, they can track the activity status, production and information on these applications.
In the field of Airlines On-boarding, FPT is trusted by Airbus to deliver on-boarding projects not only in the APAC region but also in other areas such as the Middle East and the United States.
Currently, FPT Onboarding teams are deploying Skywise platform in Japan, Taiwan, Vietnam and Korea as well as in Malaysia, Brunei, Pakistan, etc. in the coming time. In additionally, FPT is planning to implement projects at a global level in the coming years.
The project FPT deployed for Airbus on this platform focuses on implementing Airbus data ingestion from Airbus Divisions such as Manufacturing, Engineering, Operation, etc., dispatching ontology format to the client and airlines, maintaining existing pipelines/workflows and developing Skywise applications for Airbus, as well as providing supports to airline squads and carrying out research into further new features or PoCs.
In this project, FPT provides technical support engineers for the Skywise Core platform for Airbus internals and Airbus customers. Engineers in the L2 Support project are required to provide support throughout the regions where Skywise is deployed. Besides, the project also develops Skywise knowledge base, composes training materials, and builds up Skywise community. API Development This is a new project starting from 8/2018. In this project, FPT was initially involved in the development of APIs on the Skywise platform using Java, MuleSoft, etc. and compile API documentation & materials for training. The next stages of the project will be discussed in detail in the upcoming meeting.
FPT Reinvents Airbus' Customers Experience with Receptionist Pepper
Apart from Skywise, in 2018, FPT Software has also successfully developed receptionist Pepper with the aim of serving customers of Airbus - the world's leading aeronautics and space company, participating in this company's plan of increasing the level of automation and robotics.
The robot, named Pepper, has been programmed to greet and engage with visitors coming to Airbus Japan's office. The human-shaped robot features a touch-screen panel allowing visitors to select several options. Visitors can check in on Pepper by scanning a QR code, which will then inform an Airbus's employee about guest's arrival with an e-mail and a notification on the computer desktop. The robot can also entertain and interact with visitors during their waiting time.
FPT Software is responsible for providing an end-to-end solution: consulting, designing, developing and deploying. The company will scale up the project by adding Voice Over Internet Protocol and phone call features to Pepper in the future.
Sharing about the Pepper project, Mr. Frank Bignone said: "FPT was very professional in the previous project. One of the strengths that was quite interesting is the flexibility on the interaction with us. They are able to push very competitive proposal to us compared to all of the providers."
FPT is aiming to become Airbus's leading digital converting and outsourcing partner in Asia. Participating in the development and deployment of the Skywise platform is an important step for FPT to achieve this goal, promising to bring FPT not only big projects and contracts with Airbus, but also opportunities to participate in the supply chain for the aviation industry
---
For more information about the collaboration between FPT and Airbus, visit here