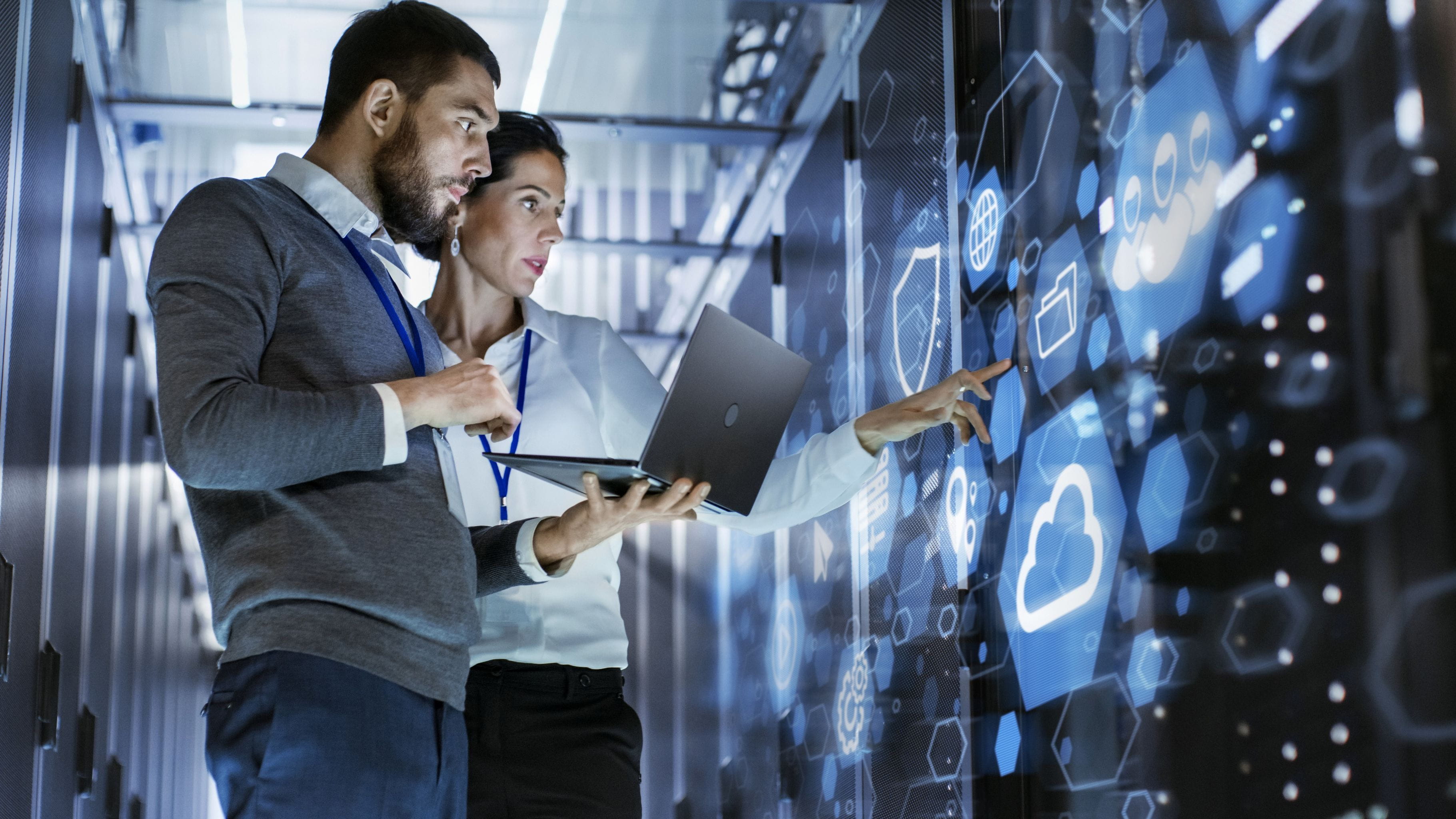 Looking at 2022 and beyond, CIOs and IT leaders shall be eyeing multiple new capabilities in the realm of digital transformation to strategically confront the ongoing hybrid workplace change, long-term cybersecurity risks, and current volatile global supply chain. Let's take a peek into the top technology trends and how business leaders can act on them to ensure resilience and future-proof business.
Adopting AI/ML-enabled applications
To deal with emerging challenges in these uncertain times, Artificial Intelligence (AI) and Machine Learning (ML) has become a key tool in the global response to the pandemic, topping the list of viral technology trends in terms of a company's products and services strategy at 61% [1]. Organizations are shifting from point solutions towards building operation platforms, where a suite of AI-enabled business applications are built upon. Such systems of intelligence is an iterative learning loop where model creation, deployment and maintenance are simultaneously and continuously supported, bettering business operations in the long run.
Respectively, AI is gradually finding its way to operational and project management tools. AI in combination with analytics and ML are used to analyse big volumes of data across a variety of systems. This practice is called AIOps (AI for IT operations). AIOps platform automates IT operations activities such as event correlation, anomaly detection, and causality determination. Consequently, it would give the IT team the much needed control in the midst of accelerating complexity and fast innovation pace of today's business environment. Due to its undenying values, AIOps solutions stay on top of the annual list of IT hype. It is predicted that in 2022, 40% of large companies will adopt AIOps in their efforts to optimize the IT process [2].
Boosting cloud projects
Global spending on cloud integration is predicted to undergo a 50% increase since 2020 and will accumulate at $482 billion by 2022, according to a Gartner research [3].
The demand to leverage applications interchangeably where data is centralized in one place is making cloud transformation an utmost priority, as it offers organizations an independent, security-first data plane with seamless data access and little mobility issues. In this era of information, when more data types and infrastructures are invented, cloud computing is no longer just an option.
Leading the cloud methods are cloud-native platforms, technologies that allow you to build new application architectures that are resilient, elastic and agile — enabling you to respond to rapid digital change. Cloud-native platforms improve on the traditional lift-and-shift approach to cloud - which fails to take advantage of the benefits of cloud and adds complexity to maintenance. Although portability is a concern due to the intricacy of transferring localized applications from one cloud platform to another, Cloud-native adoption still stays at the center stage of IT trends. Businesses are still seeking to improve their enterprise mobility, and cloud-native responds to that by offering the much-needed scalability and connectivity.
Applying Cybersecurity mesh
The global disruption was a wake-up call for CIOs and IT leaders who tightened organizational security through reactive practices. Whether it's ransomware, supply chain attacks or deep fakes, enterprises need to be prepared for an evolving threats landscape. Strategies which primarily focused on preserving what we called "assets" within the enterprise network might be found to be woefully inadequate.
The Cyber Security Mesh Architecture (CSMA) is an integrated strategy to secure all company IT assets regardless of location, is part of the zero trust ideology. CSMA takes a novel approach to digital security by allowing companies to create security measures based on a device's identification rather than its proximity to secured connections. Cybersecurity mesh activates deep collaboration among leading security solutions to improve overall security while bringing control points closer to the assets they are meant to safeguard. It can validate identity, context, and policy adherence in both cloud and non-cloud contexts rapidly and reliably. According to a Gartner research, firms that embrace CSMA will reduce the financial effect of individual security events by 90% by 2024 [4].
Developing autonomic systems
According to Dynatrace's 2020 Global CIO report, 65% of US-based CIOs say "the complexity of their cloud environment has surpassed human ability to manage." [5]. As leaders search for ways to sustain and scale their businesses, autonomic systems arrived as a solution.
Autonomic systems are self-managed physical or software systems that learn from their environments and dynamically modify their own algorithms in real time, to optimize their behavior in complex ecosystems. It is designed to demonstrate an agile set of technology capabilities that are able to support new requirements and situations, optimize performance and defend against attacks - all without human intervention. Autonomic systems learn from their environments, reducing the need for external software updates and management, consequently providing IT leaders with optimization options and predictions about potential future issues. The technology is commonly deployed in complex security environments. In the longer term, it will be part of physical systems such as robots, drones, manufacturing machines and smart spaces.
Harnessing collaborative data platforms
The ability to share data beyond organizational borders is becoming increasingly important to businesses. When asked where they plan to spend their time and money in 2022, CIOs stated that refining their operational model to make it more hybrid was their top priority [6]. This means IT leaders and CIOs must take a holistic approach to integrated data management channels to efficiently address people, processes, automation and suppliers inside out. In fact, organizations that effectively utilize the data of their partners or suppliers may gain twice the market capitalization, according to an early 2021 study [7].
The key technologies here are secure, real-time and more responsive data exchanges, along with solution providers that enable collaboration based on data. Fully automated data pipelines established over time through a central management system will generate insights and analytics capable of reshaping the business's information assets, guaranteeing that the results are always enterprise-wide actionable.
Now is the time for businesses to re-evaluate their organizational priorities and focus on trends that can help maximize their growth and impact. For IT leaders, this means continuing to take a leading role in business strategy and charting the company's golden course for tomorrow - by putting these strategic technology trends at the top of their agenda.
Sources
[1] https://www.pwc.com/us/en/tech-effect/ai-analytics/ai-predictions.html
[2] https://www.gartner.com/en/documents/3772124/market-guide-for-aiops-platforms
[3] https://www.gartner.com/en/newsroom/press-releases/2021-08-02-gartner-says-four-trends-are-shaping-the-future-of-public-cloud
[4] https://www.gartner.com/smarterwithgartner/4-must-have-technologies-that-made-the-gartner-hype-cycle-for-cloud-security-2021
[5] https://assets.dynatrace.com/en/docs/report/cio-report-automatic-and-intelligent-observability.pdf
[6] https://www.forbes.com/sites/martingiles/2022/01/05/cios-top-priorities-for-2022-include-metaverse-ai-and-securing-it-supply-chains/?sh=21ef5d5557da
[7] https://www.capgemini.com/gb-en/wp-content/uploads/sites/3/2021/07/Final-Web-Version-of-Report-Data-Ecosystems.pdf#_blank