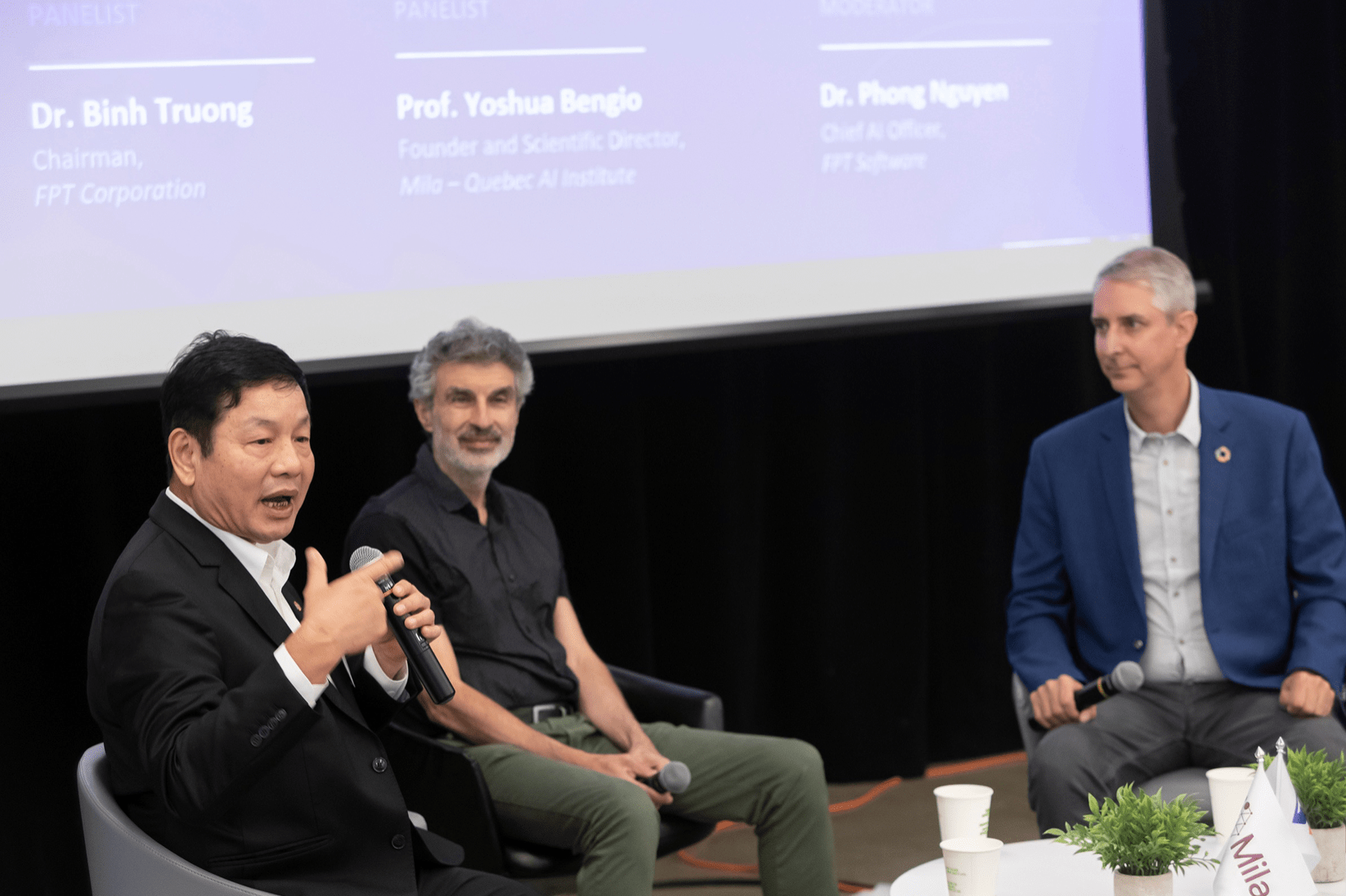 To commemorate 50 years of bilateral relations, FPT and Mila - Quebec Artificial Intelligence Institute, a globally-recognized AI lab and research institute in Canada, joined hands to host a half-day conference focused on AI development and the advancement of technology in both countries. Distinguished guests, including government officials and Canadian tech and business leaders, have gathered to share their experiences and insights.
The conference section illuminated the significance and hurdles associated with AI and LLM applications through engaging panel discussions. The esteemed panelists include:
Professor Yoshua Bengio - Founder and Scientific Director of Mila - Quebec AI Institute
Doctor Jean-Francois Delisle - Manager, AI Innovation of CAE Inc
Mr. Emmanuel Rochette - AI Specialist at Intel
Mr. Alexandre Le Bouthillier -Co-founder & General Partner of Linearis
Mr. Jeremy Pinto - Applied Research Scientist of Mila
Mr. Phong Nguyen - Chief AI Officer of FPT Software
AI and LLMs: Striking a Balance between Progress and Responsibility
Recognizing the significance of responsible AI implementation, the event's first-panel discussion: AI and LLMs: Striking a Balance between Progress and Responsibility, underscored the importance of developing global and national regulations. In Canada, efforts are underway to create a law specifically designed to regulate AI to balance innovation and safeguard the Canadian population. Similarly, the OECD advocates for the European Union to implement more comprehensive regulations, while the G7 has committed to forming a committee to establish guidelines for AI usage.
The absence of comprehensive regulations for AI is a cause for concern. Alexandre Le Bouthillier, Co-founder & General Partner of Linearis, emphasized: "More regulations exist for everyday items like toothbrushes than for AI technologies." This disparity highlights the urgency of establishing clear and enforceable rules for all companies. Without such regulations, irresponsible practices could prevail, leading to negative consequences for society. Additionally, Alexandre stressed the importance of implementing AI regulations and highlighted the need for the technology to be progressive and keep pace with these regulations. "Technology will not be perfect; it could have a 90% accuracy in which errors are inevitable, so logically, you need the model to learn from those errors to perform better", he stated.
"We, as researchers and corporations, have a responsibility to help the government develop rules that will protect the public," said Professor Yoshua Bengio - Founder and Scientific Director of Mila - Quebec AI Institute, agreeing with the rest of the panelists. By actively collaborating with governments, enterprises should ensure that AI technologies are utilized responsibly, ethically, and for the benefit of society, ensuring their positive impact on society while fostering continued innovation.
LLMs: Rethinking the Boundaries of Innovation
Regarding the rising popularity of Chat GPT, LLMs applications have become both a promising and controversial field. Diving into the wide-range implementation of LLMs, the indisputable benefits of adopting such technology are employees' performance enhancement and accurate aviation control. The second-panel discussion elaborated mainly on the long-term scenario of such LLMs implementations.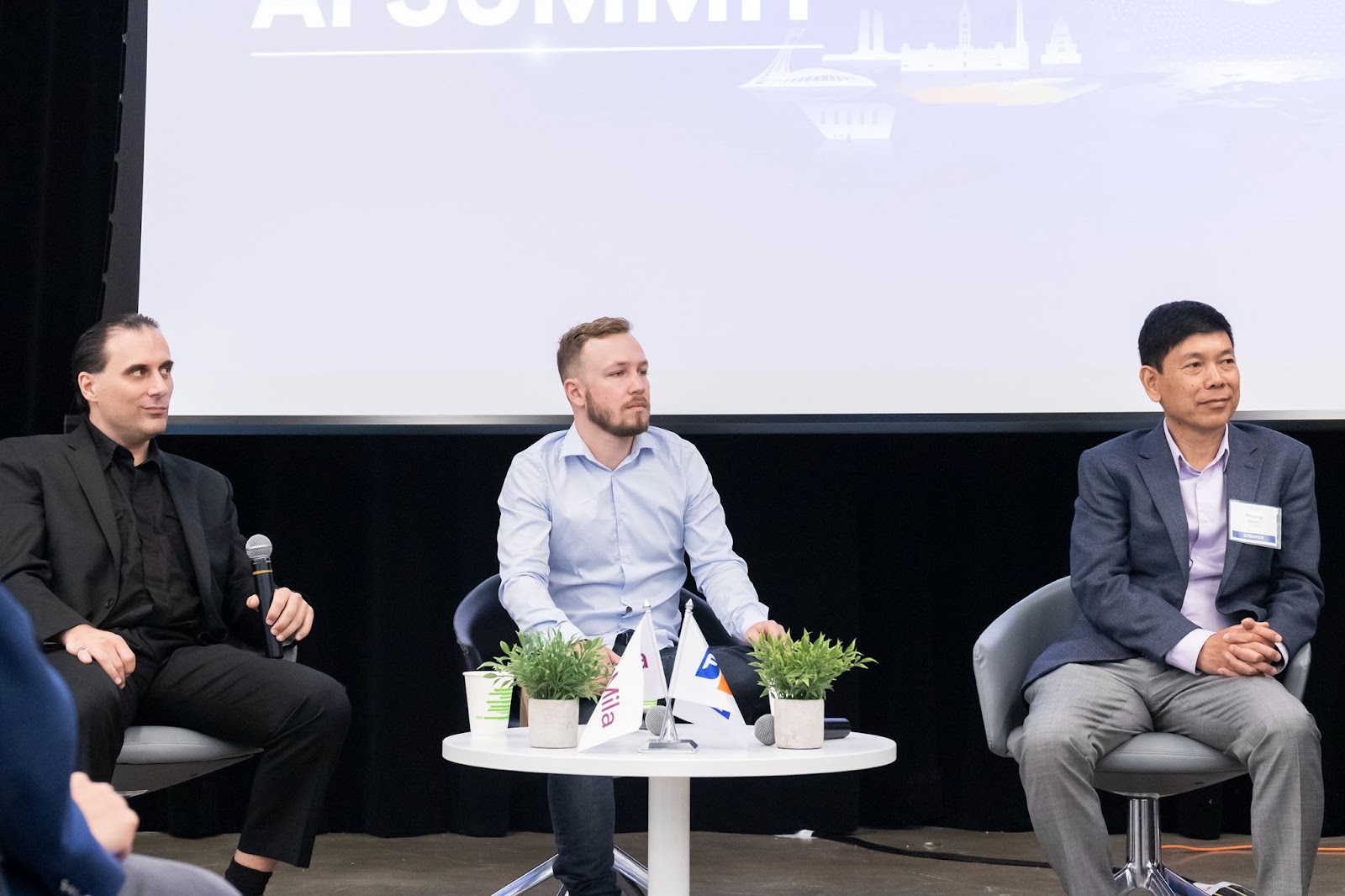 How to integrate Chat GPT/Similar LLMs into corporations' practice?
ChatGPT has been in the spotlight since the beginning of 2023. With its remarkable capabilities, it revolutionizes the way employees work, boosting productivity by leaps and bounds. Not only does it triple performance, but it also offers seamless migration of Java applications and simplifies the HR scanning processes. The transformative impact of ChatGPT is reshaping the landscape of technological advancements, opening new possibilities for businesses and organizations worldwide.
Dr. Jean Francois Delisle, AI Innovation Manager of CAE Inc., emphasized the value of establishing connections with academic partners. Their research identifies two categories for LLM implementation. The first category focuses on improving corporate functions such as performance, pipeline management, training, HR operations, and procurement. The second category centers around aviation products and services, specifically addressing the critical precision required in programming pilots' flights. Implementing AI co-pilot systems incorporating simulation, virtual reality, and real-time learning yields remarkable outcomes.
A two-step approach to LLM implementation was also highlighted. Dr. Delisle believes enterprises should conduct initial experiments on critical systems, diligently measure outcomes, and test the technology while gathering valuable user feedback. Adherence to strict regulations and safety protocols is paramount in their implementation strategy. CAE Inc. also underscores the significance of information research strategies and engineering to promptly identify problems and develop practical solutions.
What are the Challenges and Risks of Implementing LLMs?
Emmanuel Rochette, AI Specialist at Intel, joined Dr. Delisle in underscoring the crucial role of LLMs in managing critical systems, particularly in aviation operations. They highlighted that AI-based LLMs could consistently pay attention to intricate details during flight operations, surpassing human capabilities.
The challenges of implementing LLMs were discussed, particularly regarding training content creators for Chat GPT. Developing suitable training modules for specific applications can be time-consuming and costly for Small and Medium Enterprises (SMEs). Restructuring existing modules to align with the organization's needs poses a significant hurdle. Regarding risks, the limited availability of vendors was identified as a challenge, as smaller organizations may need help finding suitable LLM providers due to the significant investment required. The quality of LLMs from smaller vendors was also mentioned as a potential concern, suggesting that only more giant corporations have the resources to invest in high-quality LLM solutions.
Jeremy Pint, Senior Applied Research Scientist, Mila – Quebec AI Institute, shed some thoughts on the challenges and risks associated with LLM implementation. He indicated the reluctance of major companies to share their data with other organizations, making it challenging to adopt existing models. Moreover, the rapid emergence of new languages further complicates the implementation process. Jeremy also acknowledged the growing interest of companies in utilizing open-source LLMs, yet financial constraints hinder their ability to fully embrace these solutions, posing challenges to the innovation process.
Conclusion
Canada-Vietnam AI Summit has served as a powerful platform for showcasing the significance of collaboration and knowledge exchange between Vietnam and Canada. This event has emphasized the potential for further strengthening the bilateral relationship in the realm of AI and technology. By fostering ongoing collaboration and joint endeavors, both nations can drive innovation, unlock new opportunities, and pave the way for future advancements.
To relive the event, you can watch the full coverage by following this link: Canada - Vietnam AI Summit and FPT x Mila MoU Signing Ceremony