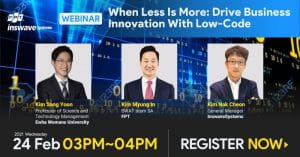 Unprecedented challenges of the COVID-19 pandemic have forced businesses to achieve more with less. Companies looking to stay relevant in the recovery phase are relying on low-code platforms to speed up time to market of their products and services, while at the same time narrowing the skills gap and tightening their belts.
On February 24, mark your calendar for our virtual event on low-code adoption. Experts from FPT and Inswave System will look into the predicted popularity surge of low-code in 2021 and real experiences on how it empowers businesses with the innovation and agility they need to stay afloat during the pandemic era.
Agenda:
15:00 – 15:02 (KST): Welcome
15:02 – 15:15 (KST): Disruptive trend 2021: Low-code and its hypergrowth 
15:15 – 15:30 (KST): The ''Why'': Speed-up overall digital transformation initiatives
15:30 – 15:50 (KST): HTML5 Enterprise UI Platform for Digital Transformation
15:50 – 16:00 (KST): Q&A
To learn more about the webinar and register, visit this page (in Korean only).