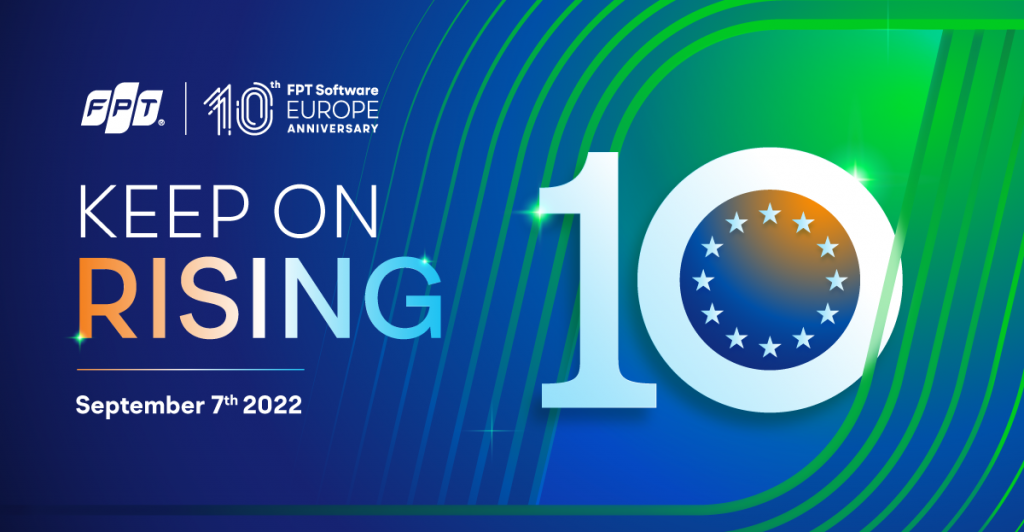 Date: 7th September 2022
Location: Messe Essen, Messeplatz. 1, 45131 Essen, Germany
Europe has always been a market full of potential for technology acceleration and business expansion. Since our first establishment in 2012, FPT Software Europe has been thriving for excellence, striving to provide the most excellent and world-class IT solutions to our potential customers.
On September 7th, we would like to invite you to FPT Software Europe 10th Anniversary. Themed "Keep on Rising", the event is a great chance to revisit and acknowledge our achievements, celebrate the strategic partnerships with respected clients, and honour our employees' constant efforts.
Let FPT Software walk you through our togetherness story, to be told in three chapters:
SEED FIRM
Let's look back at the first days we accompany Europe to be present on the global technology map.
GROW STRONG
With enormous devotion, FPT Software reaches the leading Europe corporation's digital transformation consultant position. Let's join the expert discussion to explore the opportunities and shape Europe's digital future.
EXPAND QUICKLY
Join the gala dinner FPT Software host to show appreciation to the clients who have accompanied us and strengthen friendships to move toward the future.