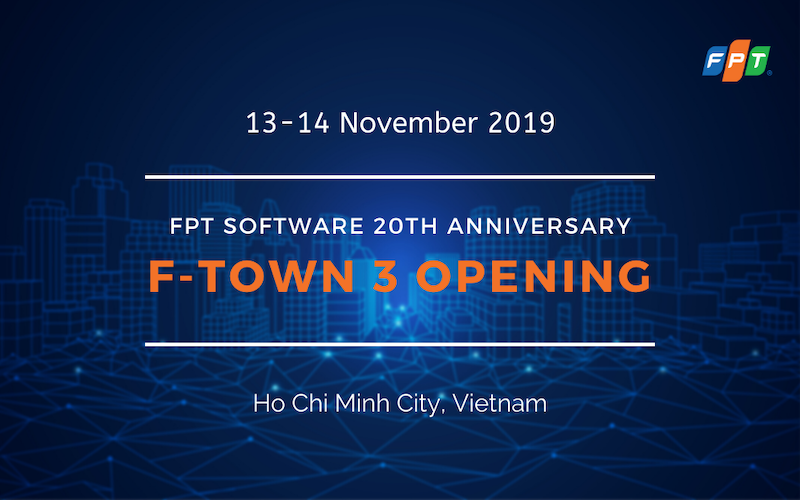 FPT Software will announce the opening of its latest campus F-Town 3 in HCM City as part of its year-long 20th birthday anniversary celebration. Covering the area of 69,000 meter square and accommodating 7,500 employees, F-Town 3 will be its 6th campus in Vietnam, also the company's latest and largest campus in the country.
With the concept "Building in the Park", FPT Software aims to bring a working environment of international standard to its employees. As the campus is located near various universities including Fulbright University, HUTECH University, etc., it is expected to attract qualified human resources from these universities, emphasizing FPT Software commitment to the Vietnamese job market.
The campus opening is expected to help FPT Software better serve its worldwide clients on their digital transformation journey. Also with this move, FPT Software is on track to achieve its goal of recruiting 30,000 employees by 2020.
Key activities
The two-day event features an exclusive summit that brings together Global CXOs and executives from the US, EU, Japan and APAC markets, panel discussion, as well as Technology Exhibition.
Confirmed panelists from Deloitte, Bayer, OutSystems, and Masan Group will be discussing opportunities and challenges in digital transformation, as well as the best practices to transform businesses digitally.
At the event, FPT Software will also showcase its latest digital solutions which leverage advanced technologies such as Blockchain, Artificial Intelligence (AI), Big Data, etc. to address business needs in various domains from manufacturing, automotive, finance to healthcare.
For full agenda, visit this link.
Speakers