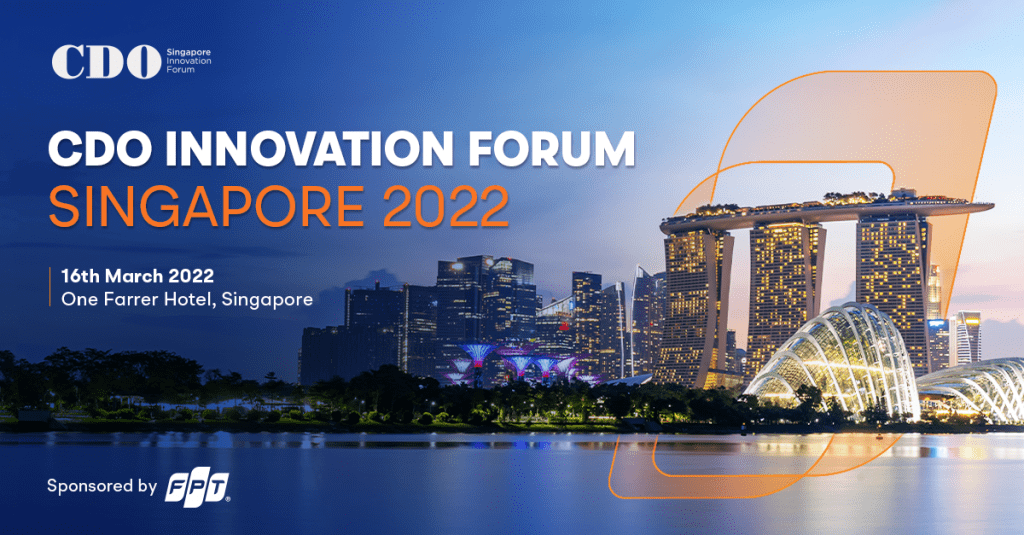 Enterprises are poised to shrug off the lasting impacts of COVID-19 and seize emerging opportunities by redesigning their organizational structures, culture, business models and investment priorities. In this transformation process, Chief Digital Officers (CDOs) are playing a vital role.
On March 16 2022, FPT will be joining Questex Asia's CDO Innovation Forum Singapore as Gold Sponsor. Bringing together 120+ senior executives, the event will discuss how the CDOs in the region can successfully embrace their core responsibilities in the post-pandemic phase, creating value for their digitally-capable enterprises. CDO Innovation Forum Singapore 2022 offers a great opportunity for C-suite executives from various industries to network and exchange insights into such topics as Revisiting Enterprise Architecture, Monetizing Data through Ecosystem Development, Improving Digital Solutioneering, and more.
At the event, FPT will host a 30-minute keynote session on "Enabling Disruptive Financial Innovations".
Speakers:
Adil Antia – Vice President, FPT Asia Pacific
Adeline Toh – Senior Director, FPT Asia Pacific
Neumann Thorsten – CTO & Venture Lead, Standard Charted Venture
The session will discuss:
The power of Fintech Ecosystems: driving new revenue streams and business models
How to tackle sustainability in "Banking of the underbanked" and enhance financial inclusivity
To learn more about the event and register, please visit https://cdoinnovationsg.questex.asia/