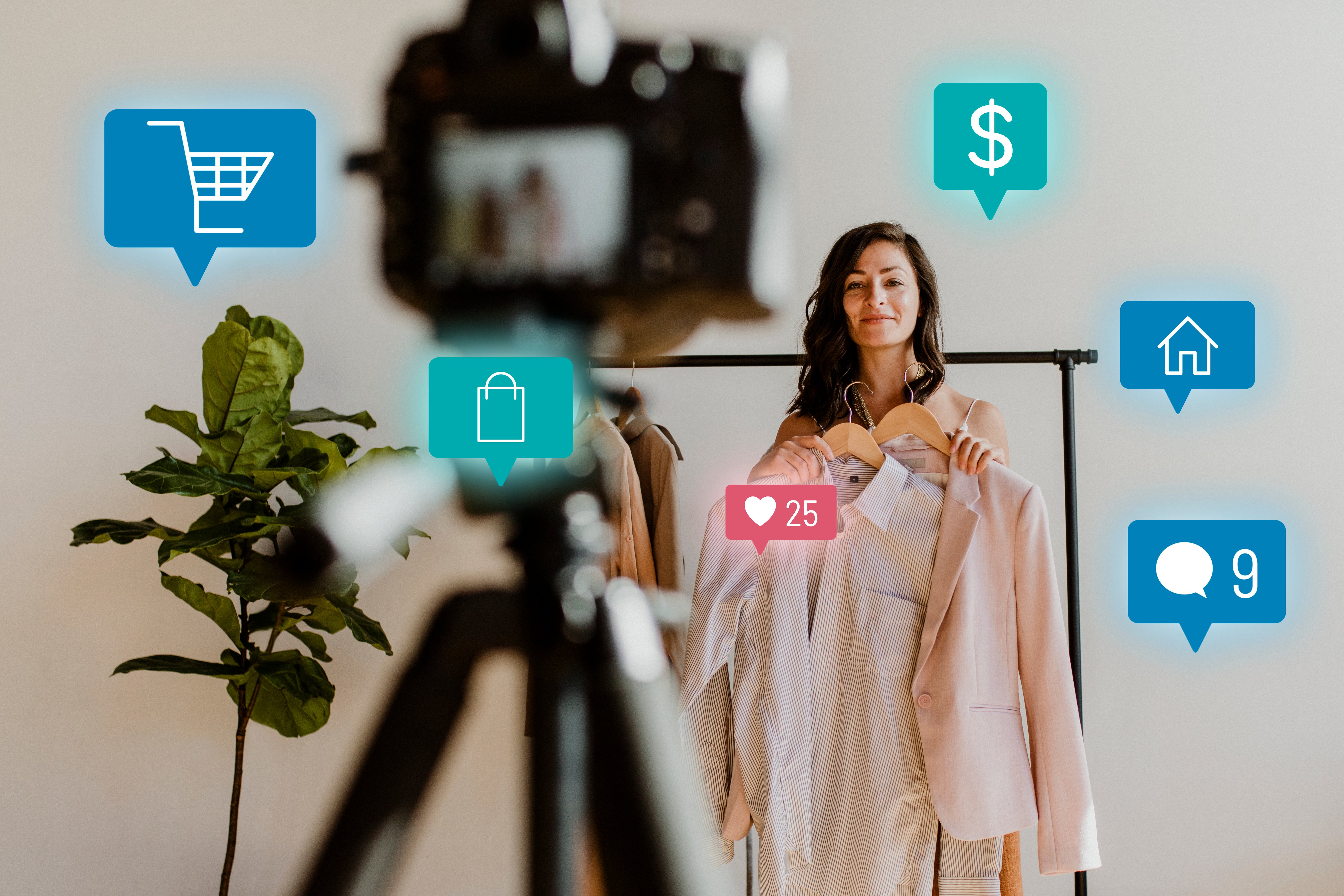 In the ever-evolving e-commerce landscape, social commerce has solidified its position as the new norm for online shopping. Social commerce can revolutionize how consumers interact with brands, as platforms like Facebook, TikTok, and Instagram provide e-commerce businesses with a means to advertise their products.
When social media becomes the new storefront
Social commerce — a consumer experience on a social platform that blends the point of inspiration and the point of purchase — is witnessing a surge in popularity. With an expected 5 billion social media users worldwide in 2023 [1], the social commerce market is growing faster than traditional e-commerce and shows no signs of slowing down. Initially fuelled by a surge in popularity during COVID-19, the market is predicted to surpass USD 1 trillion globally in 2023 [2]. One of the reasons behind social commerce growth is largely attributed to the creator economy – with millions of KOLs (Key Opinion Leaders) who use their online presence to promote, advertise, and sell products to their audiences. According to research, influencer marketing has grown into a USD 21.1 billion industry [3], presenting exciting opportunities for brands and influencers to forge meaningful connections with consumers.
As a result, a significant number of consumers from diverse demographics and countries are progressively turning to social commerce as an alternative to e-commerce. A retail survey by Forrester found that 61% of online adults younger than 25 in the United States said they had completed a purchase on a social and creator platform network without leaving the website or app [4]. Aside from dominating the e-commerce market, China acquired the world's most developed social commerce market, reaching over USD 374 billion [5]. Regarding demographics, social commerce is largely dominated by millennials and Gen Z, with 70% of millennials and 78% of Gen Z in the UK buying directly on social channels [6]. For Gen Z, 97% of consumers say they now use social media as their top source of shopping inspiration [7], exhibiting a strong inclination towards social and online engagement.
This raises an important question: In what ways does social commerce excel beyond e-commerce?
What makes social commerce outpace e-commerce?
Compared to traditional e-commerce, social commerce elevates customer interactions to a higher level according to four main factors: Influencer marketing, user-generated content, shoppable content, and targeting customers with fear of missing out (FOMO) techniques.
Influencer marketing User-generated content (UGC)
Influencer marketing has become a crucial aspect of social commerce. Collaborating with influencers on platforms like Instagram, TikTok, and Facebook has led to significant boosts in visibility and sales, with around 90% of marketers experiencing favorable ROI [8]. The power of influencers can largely be attributed to 5G tech by enhancing the speed and reliability of data transmission. With faster and more stable internet connections, influencers can create and share high-quality content in real-time. With more than 90% of marketing professionals worldwide expect 5G to have an impact on their industry [9], influencers can harness this transformative technology to actively engage with their audiences.
Moreover, social commerce thrives on user-generated content (UGC), including customer reviews, photos, and videos. UGC fosters a sense of community around the brand, driving engagement and fostering customer loyalty. The impact of positive reviews and endorsements from UGC is profound, increasing customer spending by an impressive 31% [10]. Leveraging the potential of AI algorithms, influencers can now curate UGC to the most relevant audiences, analyzing user behavior, preferences, and interactions to optimize content reach. While regular algorithms are designed to follow predefined rules, AI algorithms can adapt their performance based on the data they encounter. With 61.4% of marketers embracing AI in their marketing activities [11], UGC can further be showcased to the right audiences and enhancing the social commerce strategies.
Shoppable images and videos
Social commerce platforms offer an enticing feature where customers can explore galleries of shoppable photographs that showcase various products. Upon clicking an image, users are presented with two options: proceed to an in-app cart for a seamless checkout experience or be redirected to the company's website to finalize their purchase. However, payment security remains a significant concern for 59% of consumers while shopping online [12]. To address this challenge and safeguard users' financial information, social commerce has invested in robust security measures with encryption technologies. Integrating payment methods into social media sites enhances users' loyalty, as they can journey through the sale funnel within a familiar ecosystem. This integration can reduce worries about phishing attacks or fraudulent activities. Besides, this also encourages purchases on social networking sites without the need for external payment transfers. Amazon Live is a prime example of utilizing clickable content to enhance the shopping experience. With Amazon's integrated and centralized checkout system, users can instantly add desired products to their cart without opening a new browser tab or providing personal information on an external vendor's website.
Targeting customers with FOMO
Besides influencer marketing and social proof, social commerce incorporates the fear of missing out (FOMO), which capitalizes on the urgency of making purchases. Time-sensitive offers, flash sales, and exclusive deals shared within social circles create a compelling sense of urgency, motivating customers to make immediate purchases. As 60% of millennial customers purchase within 24 hours of experiencing FOMO [13], this strategy in social commerce fosters a dynamic shopping experience for consumers.
Turning challenges into opportunities
As social commerce appeals to general audiences and businesses with more interaction and brand engagement, it faces major concerns for brand:
Low conversion rates:
Since social media's core purpose revolves around community-driven interactions for entertainment and connectivity, this shopping method attracts small live-stream audiences and conversions.
Social-commerce conversion rates stand at merely 1%, compared to email referrals (3%) and even search (2%) [12].


Lack necessary technologies
:
Only around 50% of consumers find their social commerce experience quick and easy due to the absence of automated tools, often requiring manual chat interactions to confirm orders

[13]

.

According to McKinsey, 76% of customers claimed that receiving personalized communications was a key factor in prompting their consideration of a brand

[14]

.

Inability to capture consumer information.

Prevent businesses from retargeting customers with personalized ads based on browsing and purchase history.

Create a disconnect between the social shopping experience and the brand's website, making it challenging for businesses to understand customers' needs.






To address this challenge of low conversion rates, brands need to:
Actively engage with their followers and potential customers on social media.

Foster a two-way communication and show genuine interest in their audience by responding to comments, messages, and questions.

Create content that adds value to their audience's lives (such as informative posts, helpful tips, tutorials, and entertaining content) instead of focusing solely on promotions.




In terms of technology integration, social commerce can utilize

automation

to:
Provide instant assistance without manual chats by integrating prompts about the product's information and frequently asked questions.
Enable automated order notifications to the customer and the seller after a successful purchase, including order details, payment confirmation, and estimated delivery dates.

Allow automated order tracking to keep customers informed about their package's status, ensuring transparency and reducing inquiries.




Furthermore, social commerce can leverage data analytics to:
Extract valuable insights into customer behavior and preferences.

Create more personalized targeting strategies by analyzing user data and delivering relevant content to individual customers.

Research by McKinsey indicated that companies extensively using customer analytics are reporting 115% higher ROI and 93% higher profits [15].


Opening the next chapter of E-commerce
Although social commerce can enhance customer engagement and brand visibility on social media platforms, it still has untapped growth potential. Through the strategic implementation of advanced analytics and automation technologies, social commerce can potentially shape the next e-commerce chapter.