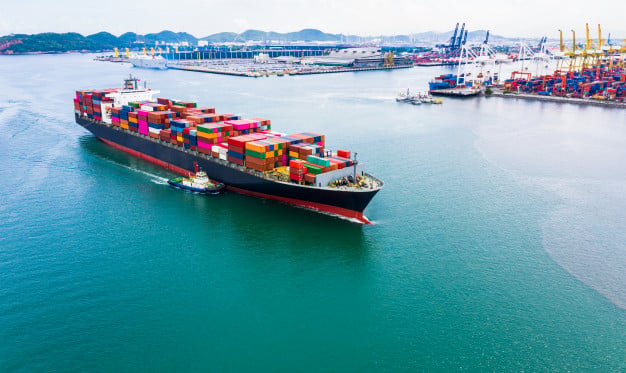 How one of the world's most ancient industries becomes AI-centric.
Accounting for approximately 90% of world trade, shipping has always been considered as the lifeblood of the global economy (OECD, 2020). This industry, however, is also well-known for being conservative when it comes to changes or innovative approaches. But the tide is turning. Maritime companies, who used to rely heavily on traditional methods and stay cautious about the adoption of hi-tech advancements, are seeing the benefits of technology and taking actions to adapt to the digital world.
Among all options, Artificial Intelligence appears to be relatively appealing as it could offer solutions to streamline most of the operations in seaborne trade. From unmanned vessels, port services, document processing to enhancing safety and reducing impacts on the environment, the utilization of AI is able to transform maritime businesses comprehensively.
1. Autonomous ships
It is estimated that more than 75% of marine accidents involve human mistakes (Allianz, 2019), mostly in the forms of fatigue, inadequate communication, bad judgement and incompliance. Autonomous ships, therefore, is a solution to increase safety and relieve humans from dangerous or risky activities in the oceans. A crewless vessel would be equipped with radar, GPS, sensor, camera, satellite, and operated by AI system, allowing data gathering and analysis as well as route planning and hazard avoidance during the ship's course. Since crew-related expenses account for up to 30% of a voyage's total cost (CBInsights, 2018), unmanned ships are also expected to bring remarkable financial benefits to shipping carriers.
The world's first fully autonomous ferry developed by Rolls-Royce and Finferries was demonstrated in 2018. This year, the Mayflower Autonomous Ship using IBM's AI technology will start its trans-Atlantic journey in September. With the exponential growth rate of technology, the future in which unmanned vessels overtake the world's waterways seems not too distant.
2. Digital ports
As ships are getting bigger, ports are facing increasing pressure to adapt their infrastructures to handle bulk cargoes. In the struggle to remain competitive, shipping terminals have no other option but attempting to be quicker, more efficient, more intelligent. Artificial Intelligence optimizes port operations not only via automation but also by leveraging real-time data. For example, data is collected and gathered from various sources to estimate the waiting time of equipment and conduct just-in-time scheduling for trucks entering, off-loading, stacking, etc., thereby reducing idle time of facilities as well as ensuring container handling to be carried out seamlessly. Recently, many ports have succeeded in seizing the AI opportunity to digitalize their operations. The Port of Rotterdam in the Netherlands has developed an application to predict vessel arrival times, while Belgium's port of Antwerp has gained valuable insights on traffic flows from mobility analyses conducted by AI and computer vision.
3. Virtual assistants
In December 2019, Maersk – the shipping giant introduced Captain Peter, the virtual assistant of its revamped Remote Container Management (RCM) platform (Maersk, 2019). The avatar assists customers along the journey of their cargo, keeps an eye on the container's temperature, humidity, CO2 levels, and notifies if any deviations is observed.
In the marine industry, virtual assistants can help with shipment tracking, delivery booking, orders amending as well as quickly retrieve and translate information to assist seafarers or office employees in getting answers or guidance in urgent situations. It would also learn users' preferences and how they communicate to provide the appropriate data. As AI is a rapidly maturing technology, Captain Peter and his future peers will soon be able to significantly reduce the involvement of humans in daily vessel operations, freeing up personnel for more value-added tasks.
(Read more: A Few Thoughts on AIs and Its Impacts on Our Future)
4. Document processing
Maritime businesses have to handle a tremendous amount of paperwork every day, such as bill of lading, commercial invoice, packing list, bank draft, etc. Manually processing such paper documents is not only costly and time-consuming, but also prone to errors. AI solutions are capable of learning thousands of different forms, then read, scan and accurately extract terms from documents, thereby reducing data entry headcount and more importantly, lowering inaccuracies rate.
5. Safety improvement
Probably enhancing voyage safety is one of the most crucial applications AI could bring to the shipping industry. The technology can help to guide seafarers to make more well-informed decisions by analyzing data on weather patterns, port conditions, crime hot spots, as well as detect technical anomalies, allowing operators to take proactive actions to avoid unexpected stoppages, damages, incidents and providing a safer working environment for workers.
Combined with the image recognition system, AI can be used to identify objects in the surrounding area, provide alerts when visibility is poor and minimize marine collisions between large vessels and smaller ones. Navigating is also easier and more intelligent as the navigation system automatically creates safest route based on incidents record as well as enables users to locate and track other ships on the water.
6. Environmentally sound approaches
Even though water transport is by far the most environmentally friendly way to move goods (ABB, 2019), the marine industry still aims to reduce its impact in the years to come with more stringent environmental regulations. AI can take into account various factors to predict the optimal route, thus reducing fuel consumption and carbon emissions. Most of the autonomous ships are currently designed to be fully electric or to get power from solar and wind, which will surely exert positive influences on the planet.
In fact, the uptake of Artificial Intelligence in marine industry has been quite slow compared to other domains, despite the benefits this technology has offered in real cases. Nonetheless, it is just a matter of time before shipping companies consider the adoption of technological advancements as essential to competitiveness and integrate AI into their workflow.
Ready to be intelligent artificially? Let us help you with our AI services.
For more information about our Digital Logistic Solution, click here.
References