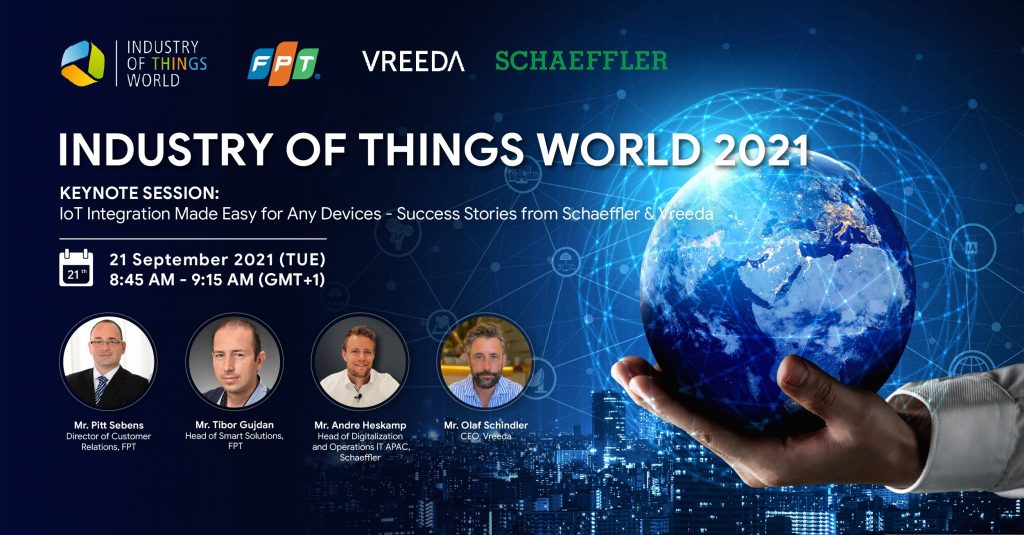 On 21 September 2021, FPT will be joining the Industry of Things World 2021, both live in Berlin, Germany and online. This hybrid event brings together over 450 top experts from leading European manufacturing companies to discuss use and business cases like IIoT Strategy, New Business & Service Models, Smart Factory, Industry 4.0, Smart Supply Chain, and more.
Live at 8:45AM (GMT+1) on 21 September, leaders and experts from FPT, Schaeffler & Vreeda will hold a 30-minute keynote session on "IoT Integration made easy for any devices – Success stories from Schaeffler & Vreeda". During the section, the speakers will share specific use cases on how they make and boost up the independent devices, apps, and data work well together in different industries.
Keynote speakers:
Mr. Pitt Sebens – Director of Customer Relations, FPT
Mr. Tibor Gujdan – Head of Smart Solutions, FPT
Mr. Andre Heskamp – Head of Digitalization and Operations IT APAC, Schaeffler
Mr. Olaf Schindler – CEO, Vreeda
Join the live session to:
Learn how Schaeffler implements IoT Program in their factory: use cases, best practices, and lessons learned.
Learn how Vreeda, an Digital Innovation company builds up the IoT Platform and empowers the industry opportunities.
Learn how FPT Corporation is considered as the ideal IT partner to accelerate and support the IoT integration & platforms.
To learn more about the event and register, please visit this page.